NIKE's VP is Blown Away by his Atherton Bike
Andy Caine is Nike's Vice President of footwear design. He's famous for iconic designs such as the Mercurial football boot and Eliud Kipchoge's Air Zoom Alphafly Next%.
He grew up in Manchester and West Yorkshire where he discovered BMX and after stints in Europe,Singapore and China he's now based in Portland, Oregon where he devotes a super-human amount of hours to his joint passions of design and riding bikes.
Andy rides "a lot of park", street trials, Enduro and BMX with his 13-year-old daughter but his main focus is racing Downhill in the Pacific North. He chats to Gill Harris about progression, product design and his Atherton Bike.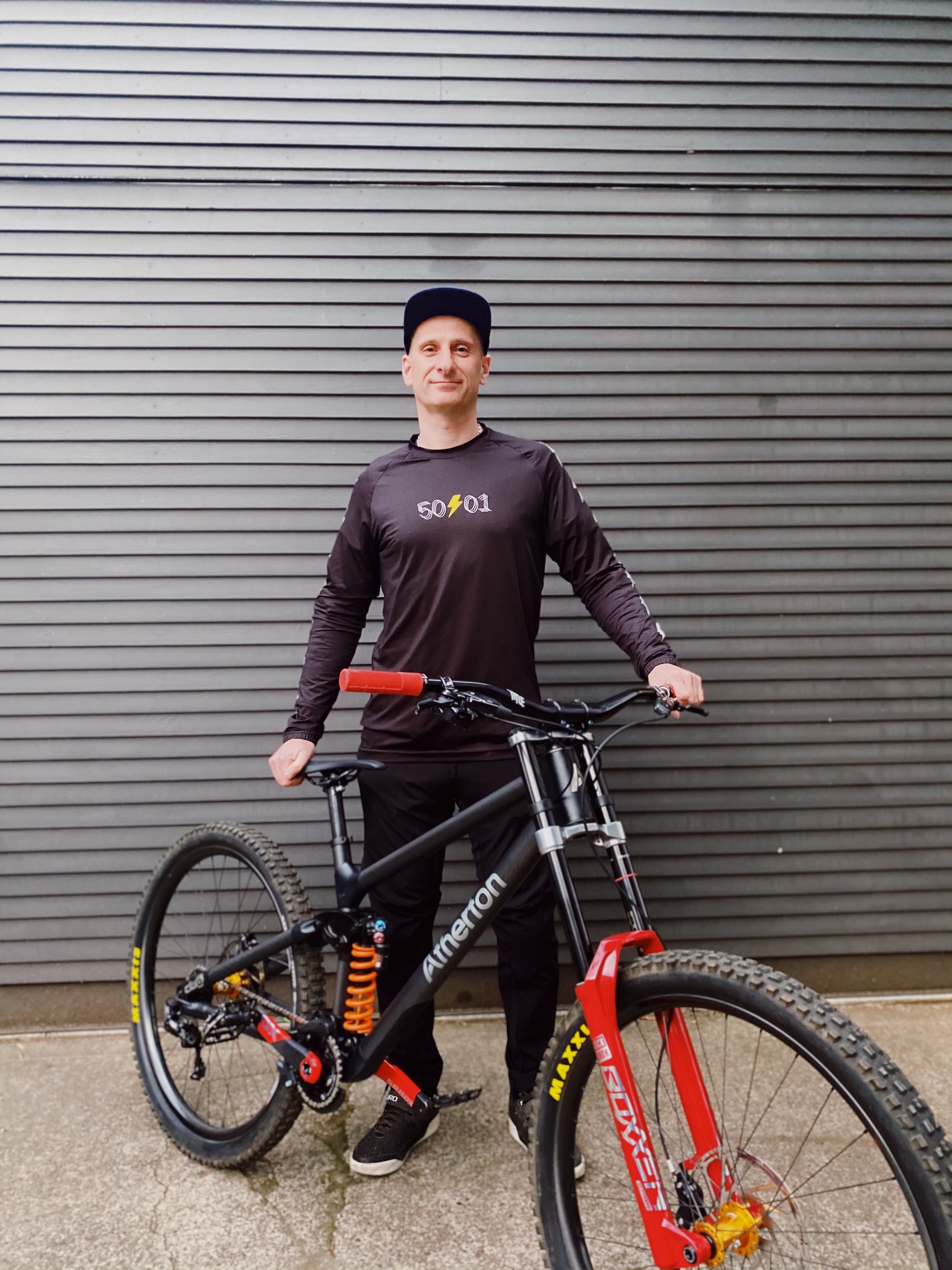 Racing and the creative world share the same understanding of calculated risk, of being always on the limit. Racing is key to my success as a designer and that's why I still race today.
My mindset is progression. I'm in the gym at 5.30 am every morning and I ride with headlamps every night. I use everything I've learnt from Nike and all the great athletes I've worked with on training, nutrition and recovery and then I look to the product, to my bike and what will help me ride better.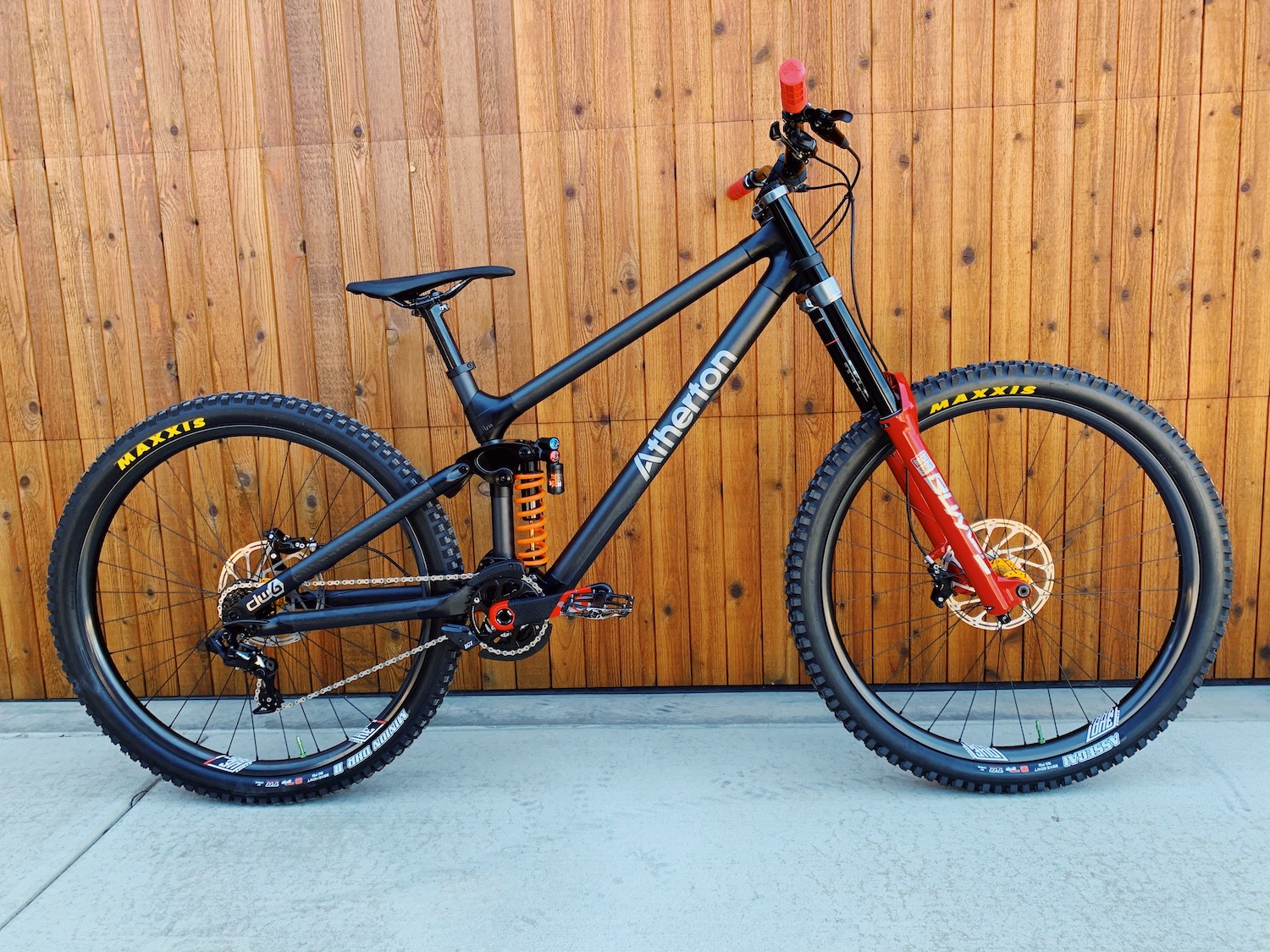 The design language and innovation aspects of this bike are awesome. It's very Bauhaus in its simplicity, its celebration of the materials and the way that it embraces the new possibilities of modern technologies and manufacturing techniques. It has a lot in common with the work we did with Virgil Abloh and Off-White.
But it's the ride experience that really blows me away. I've owned a lot of downhill bikes (I break them). YT, Pivot, Trek, Commencal, Specialised… This is different. The full custom Atherton Bikes frame was built for me.
I've probably got 40 days riding on it already.It feels different to anything else –DH bikes tend to be a little less responsive but The Atherton Bikes' park heritage shines through – it's nimble and playful but still ultra-stable and ultra quick.
My BMX background means I'll hop-pump-push rather than pedal through which is hard on most DH bikes but the Atherton makes it easy. It took me 6-8 runs to get the suspension dialled but now I just switch instantly between DH and park – it'll even hike up!
There's a big jump on Mt Batchelor's Redline that I always cased, on the Atherton Bike I almost flat landed it. The blend of stability and pop definitely allows you to do more. You ride better on this bike. 
For me, racing is freedom. I crave flow, being in the zone where I'm riding instinctually.
I timed myself using litpro, in the most terrible conditions on Mt Hood's Cannonball trail – it's Oregon's oldest, roughest DH track and it was so blown out; straight away I was just 0.2 off my fastest time. Unbelievable.
The bike is phenomenal. I worked on Eliud Kipchoge's sub 2-hour marathon running shoes, there was controversy because the sole is built in such a way that it propels you forward.  That's it in a bike.
I don't do what people expect of me, I'll take a different perspective. I recognised that same trait in the Atherton family. We share a thirst for progression, a need to keep moving and hunger for the win. On a more tangible level, I'm a big fan of 3D printing, I use it at Nike. There is a lot of resonance so buying the bike unseen and un-ridden wasn't an issue. Besides, curiosity fuels creativity.
I like certain things on my bikes. I probably have 14-15 bikes and they all have DMR death grips. I'm British and I race in the Pacific North West so the componentry I chose reflects this, there are lots of Title and We Are One Composite.
I can't overstate how magical this bike is. People in lift queues want to sit on it. It's like a unicorn, they didn't really believe it existed but already the shop I had build it up for me are expecting another 2 orders.  I guess seeing is believing.
If you will make me a mullet version I'll buy it tomorrow.
AC