A Vote of Confidence From One of Germany's Foremost AM Engineers
Florens Lichte is one of Germany's leading proponents of Additive Manufacturing.
He's an expert in leading edge-technologies and their practical applications – but he's also a craftsman who works weekends at his friend's metal-working shop and a new father, as well as a rider who loves to be out in the woods in the early mornings pushing his limits…
Florens ordered a full downhill bike, (frame No 3) spec A with Fox forks and shock, standard size XXL. He was one of the very first to contact us about buying an Atherton Bike - way before the #firstfifty launch. He chats to us about additive manufacturing, the decision making process and being an Atherton Bikes investor.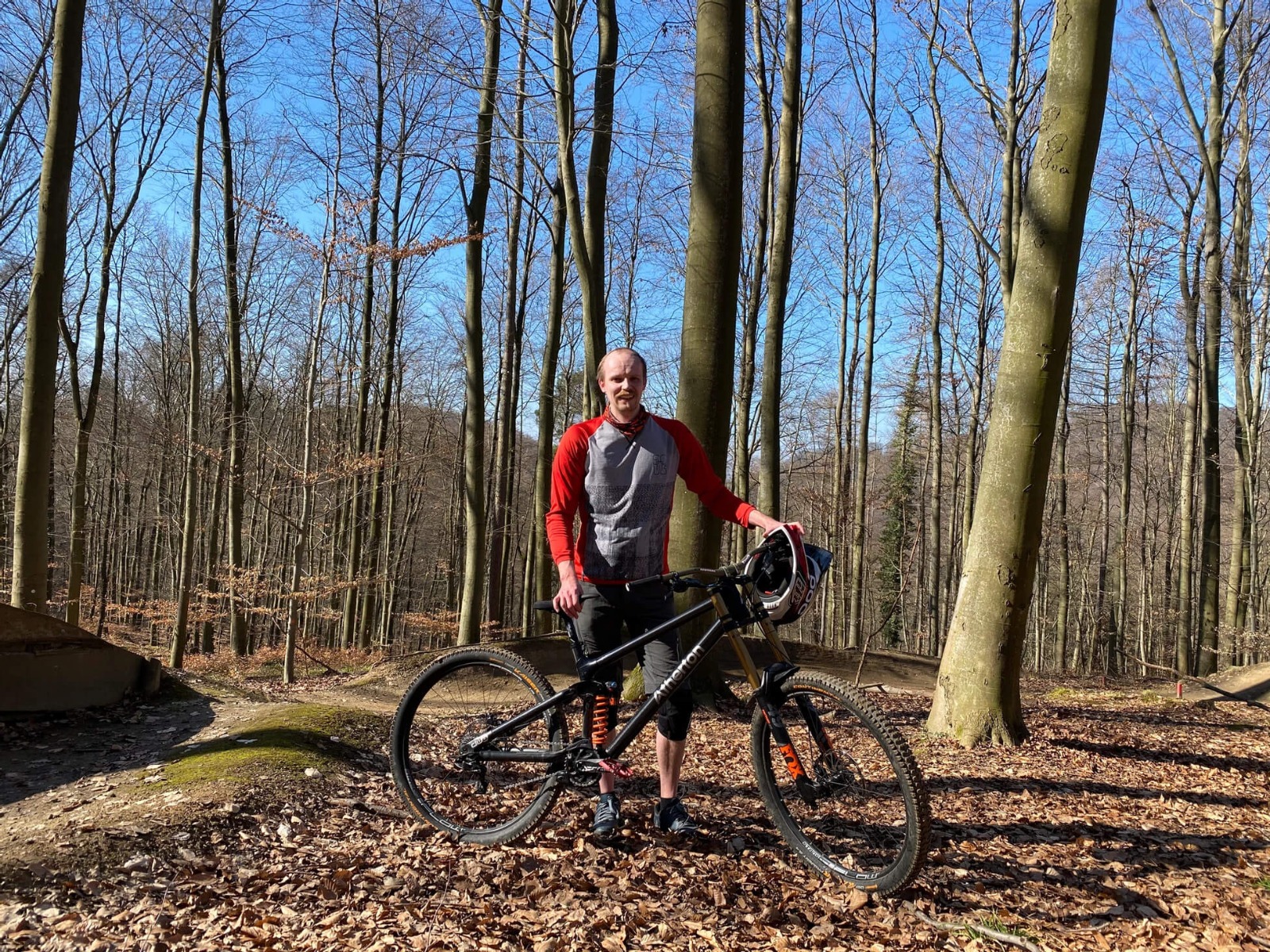 FL: I've always been fascinated by technical things. As a child I loved to draw pictures of machinery like tractors, excavators, cranes… I loved to work with power tools for woodworking and later on chainsaws to cut wood in the forest. I was always curious about how machines work, how machines were designed, so after school was done I decided to study mechanical engineering.
I lead the Additive Manufacturing (AM) initiative at Deutsche Bahn, Europe's biggest railway operator. Apart from tooling applications, we mainly use AM to increase spare part availability. In the last five years we have printed over 20,000 parts, from small plastic parts up to heavy steel components weighing 27 kilos. In the metal area, we focus on aluminum or steel alloys but we have used titanium - for a part that distributes the brake sand in the sanding system of a locomotive.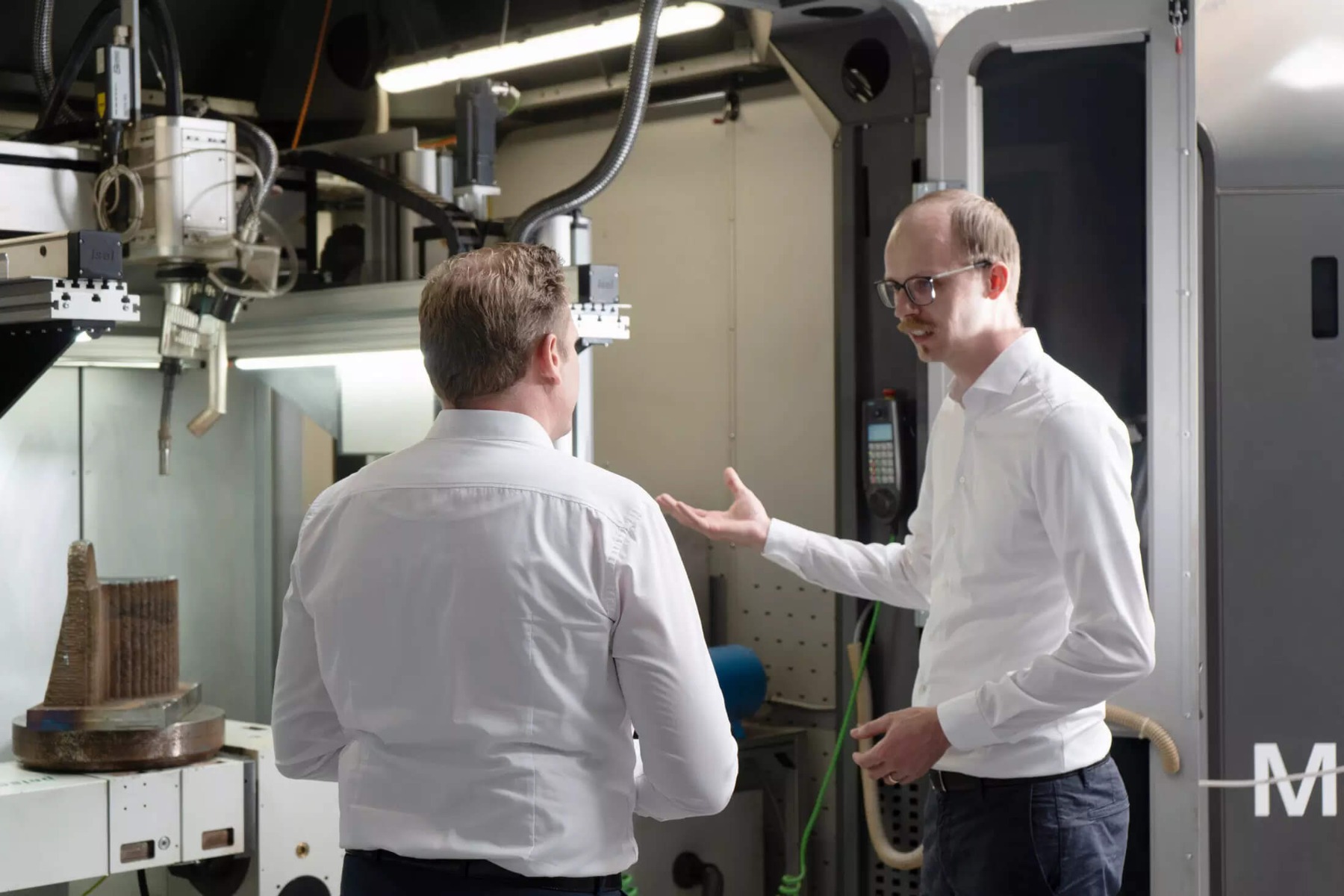 So I was very excited when I saw the Atherton Bike on Renishaw's trade stand at Formnext show. The design of the bike immediately caught my attention, the combination of materials made perfect sense, the fact that all lugs can be placed on one single build plate, the way the lugs and carbon tubes were joined… And of course, the fact that the lugs are produced by AM. I know from my own professional experience how capable the technology is and that titanium 64 is the perfect material to use here.
When I first saw the bike, I didn't know the Athertons, I didn't follow Downhill World Cups or read mountain bike magazines so I started investigating. I watched the Atherton Project, Redbull Hardline and a heap of other stuff. I realised that the people behind the bike must have the perfect knowledge to design it. This clinched it for me, because you have to bring it all together: the knowledge about the different materials, the technology but also the experience of designing test bikes, developing geometries, linkage systems, etc. I got straight on to the website and subscribed to the newsletter, I couldn't wait for the bike to be available.
And then one afternoon, the launch of the first 50 started. Half an hour after Gee's email I'd secured myself a build slot.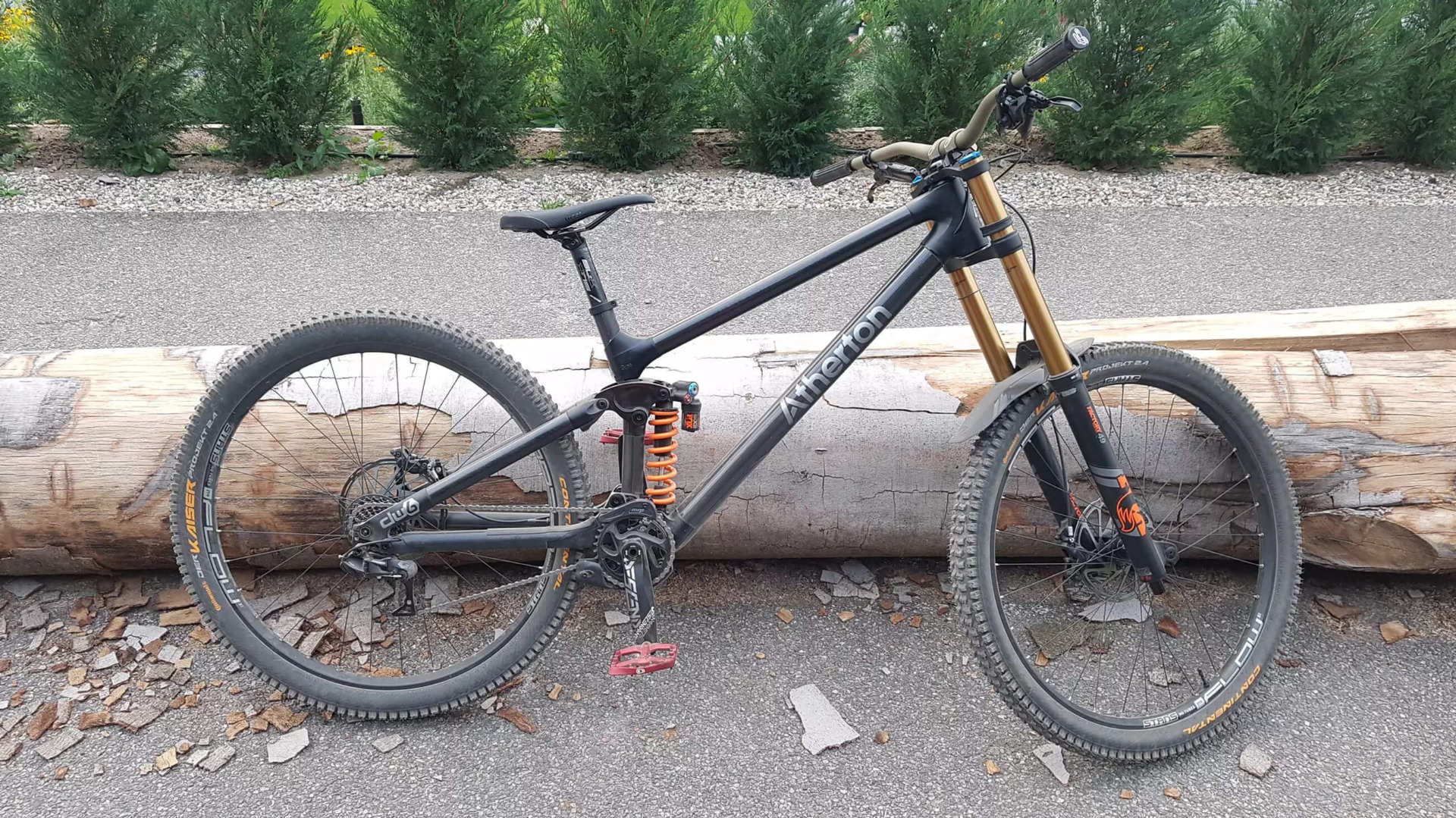 I have been riding all my life, but my first run on a downhill track was in the beginning of 2019 in Thale (which is in the east of Germany) with my enduro bike.
The Atherton Bike is my first Downhill bike.
As a child I mainly cycled on the road. We did a lot of bike trips into Alps for holidays. I got into mountain biking for the first time at the age of 15 during a French exchange. My host was passionate about mountain biking and we did a lot of trail riding on hardtails. I remember trying a two foot kicker for the first time and going directly over the bars. But I didn't get hurt, nor did I lose my enthusiasm for mountain biking. Later, at uni, me and my best friend rode rigid steel frames with no suspension; we couldn't afford to buy a proper mountain bike or we were spending money on other stuff! We had a ton of fun, but we got shaken to bits.
We didn't really do a lot of jumping but were still riding some steep and gnarly lines. I bought my first full suspension mountain bike at the end of 2017, a Rotwild R.X1 that I am still riding today.
I started learning to jump in 2018 with a self-built wooden ramp and started riding the first doubles out in the woods at the end of that year. I worked hard on my skills, studying riding techniques, steadily clearing bigger jumps and drops.
I usually ride Fuchstrail in the forest near Bensheim. At the moment there are two lines, a blue flow line and a red / black jumpline with a lot of nice jumps, road gaps and drops. There is no uplift so you have to pedal or push your bike up. On the Atherton DH bike I can pedal up 70% of the trail that leads to the top, it's a good warm up.
Otherwise I ride natural secret enduro trails in the local woods.
I recently bought myself a Transition PBJ frame to build myself a dirt jump bike. I love trail rides but I am passionate about jumps, getting air time and constantly progressing my skills to clear bigger gaps. The Atherton bike feels like it's perfectly designed for taking big hits and that it's forgiving if I need it. It's perfect for my plans to progress.
Riding downhill not only trains your body but also trains your mental strength.
I like the speed, the focus, adrenaline rushing through your body. By taking calculated risks, pushing yourself to the limit and beyond you build up mental strength. You learn that confidence and commitment is crucial in difficult situations. You have to tell yourself that the bike is designed for and set up for the job, you have the skills, you just have to do it. You learn to deal with bad days and recover from setbacks, to know your (current) limitations. These kinds of skills are totally transferable to my professional life, but on the other hand I just love being out in the woods on my bike, especially early in the morning when it's nice and quiet.
I would definitely like to race downhill but not yet– we have a baby girl (new priorities!) and with pressure of work and a stupid crash which took me out for weeks in November/December I've probably been on the bike for about 20 hours.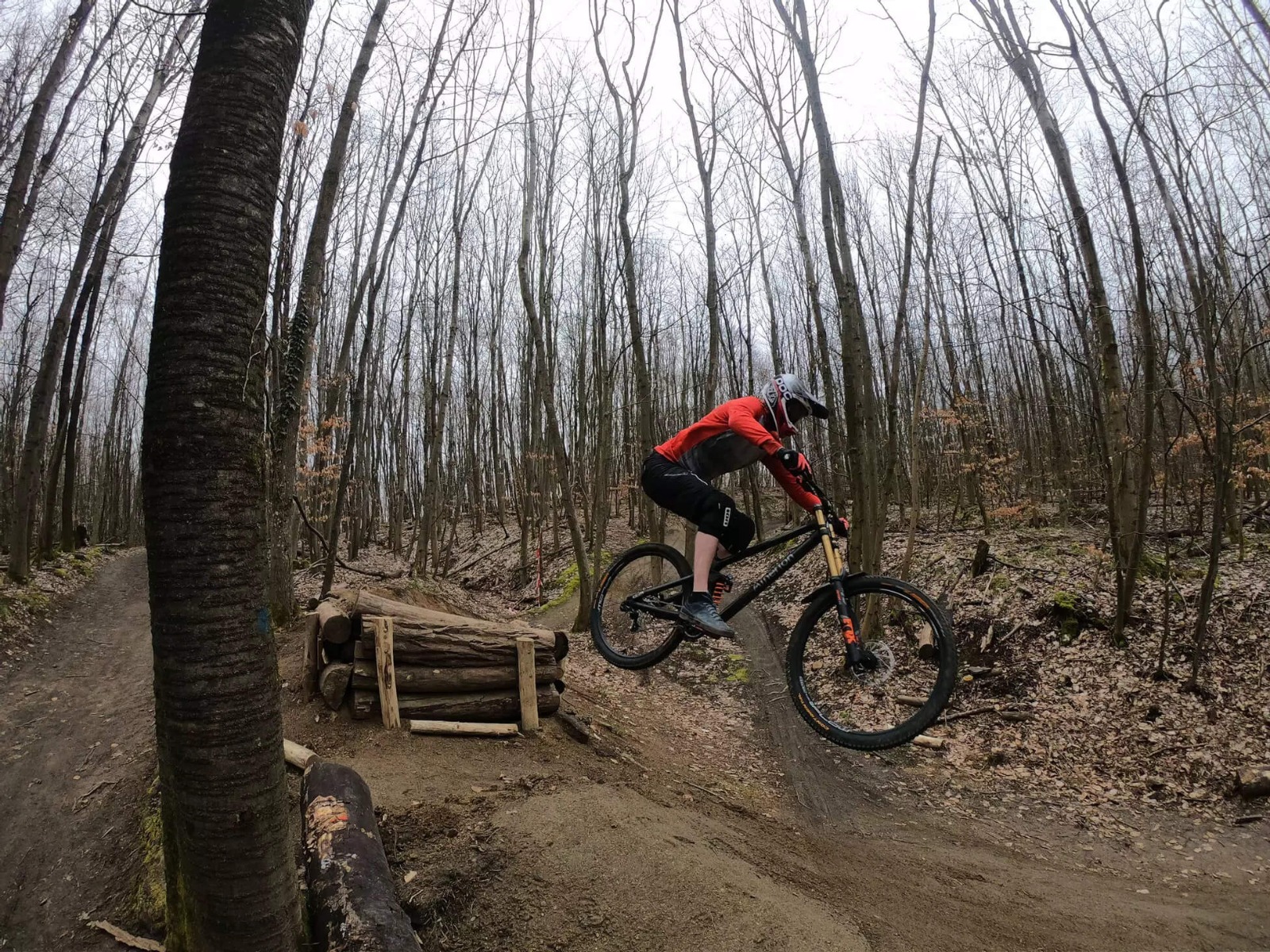 If I had a concern when I ordered my bike it was about the long wheel base and the 29ers but it turns out that the bike is more nimble and more playful than I'd thought. The frame feels stiff, but not too stiff, the 29ers work great - though I think my next bike will be a model that can be switched from normal to mullet for those tech tracks with really tight turns…I definitely have the feeling that I'm riding faster and I feel more confident.
I'm 2.02 cm tall so the support to select the right frame size helped me a lot. In fact the whole process has been very interactive, as one of the very first customers and with my engineering hat on I sent a feedback document with some tiny snags – all of my suggestions have been actioned so I feel proud to be a small part of the bike's development - that's one of the joys of Additive Manufacturing, improvements are so immediate, it also significantly reduces waste.
As well as buying my bike I'm an investor through the recent Crowdcube raise - It's not a vast amount but I really believe in this company.
In my work life I'm used to being in the spotlight but at home I prefer it quieter…the Atherton bike has blurred that line a bit to be honest! Everybody seems to know the bike; from teenagers up to riders in their late 40s, even if they don't approach me directly, I can see by the look on their faces, that they are wondering if this is for real. Usually when people see it for the first time they say: "Cool bike!", with a smile on their faces. Most of them want to know how it feels, how much I paid… and they are fascinated by the design. I remember a young father with his wife and a baby who approached me, he couldn't stop smiling. He talked with me about the bike and asked if he could take photos. I guess if I told people that it's number 3 out of the 50, they would freak out!