In October this year Gee was at Red Bull Rampage in Utah, hosting rather than riding this time   - Gee's been visiting Utah since 2004, but he's never ventured beyond the Rampage site before so once work was done he set off with a couple of mates in search of adventure in Moab … they certainly found it
Gee: When we left Rampage we had no idea what to expect so we took both the DH bikes and the AM.150. Spoiler Alert; I didn't touch the Downhill bike the entire trip!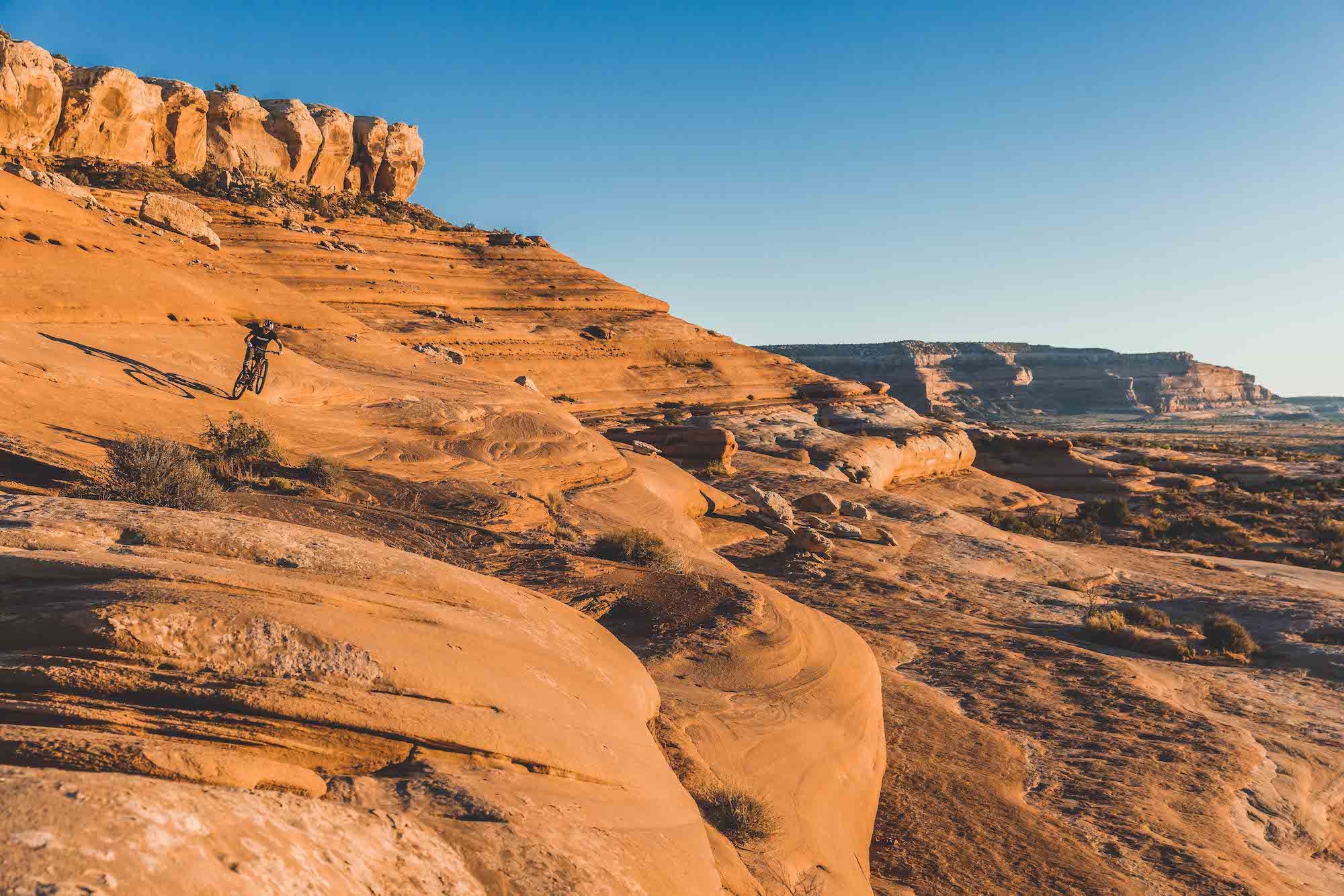 The AM.150 is ridiculously capable and so versatile, I rode it every day in that crazy landscape. It's so different to what I'm used to riding in the Dyfi with sandstone in place of the slate, some really sketchy surfaces with sand and gravel washed down on top of the slickrock after the rains, some really big drops and boulders littering the corners. It's big and it's untamed, at times we were pedalling really long stretches, at times taking on legit DH tracks, the 150 ate it up.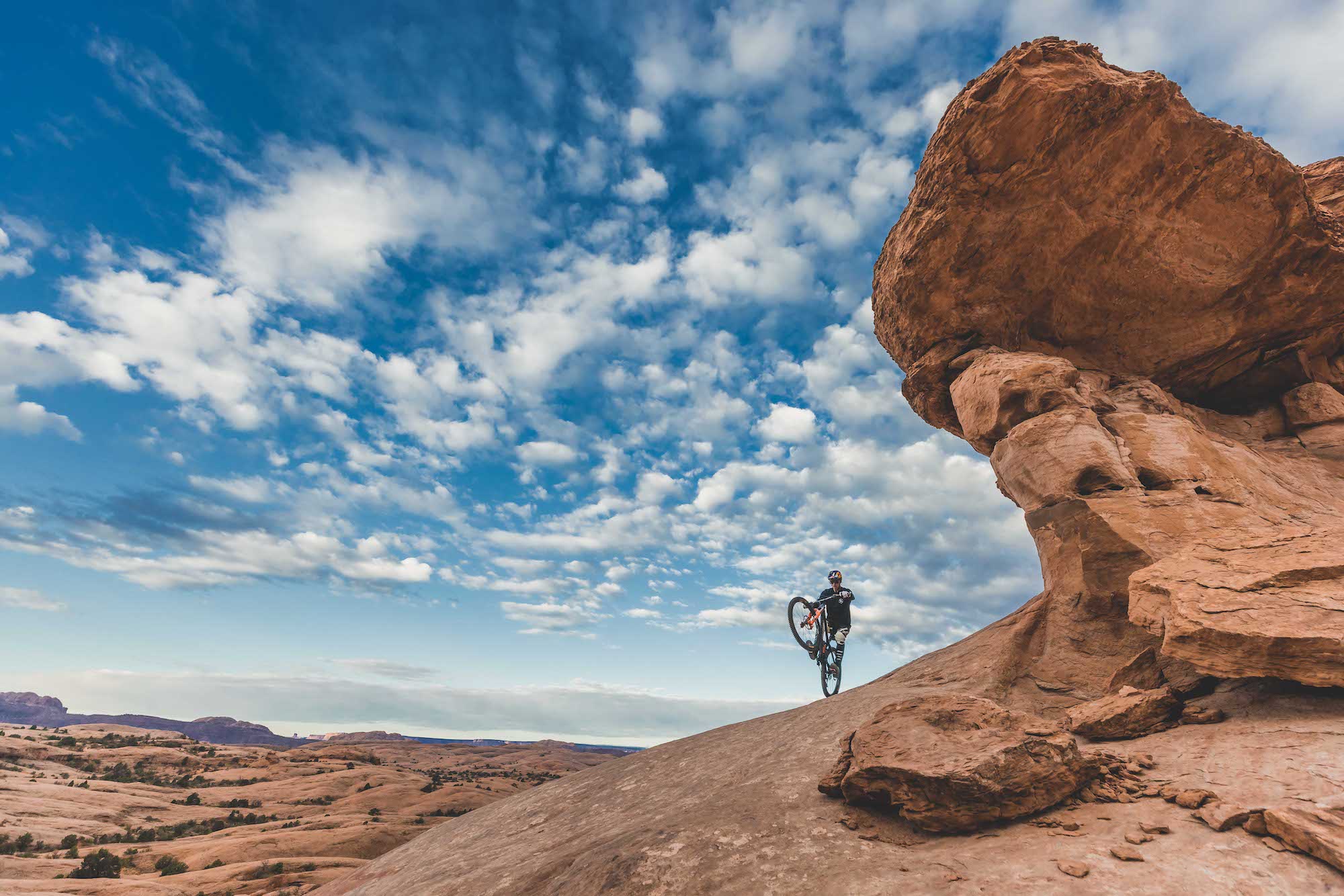 I tend to switch between coil and air shocks on my trail bike so for this trip I was running a coil shock. When the riding is likely to feature some DH sections I tend to favour the coil because it makes the bike feel a bit more " Downhill" and I appreciate the extra sensitivity. Going along with that same DH vibe I swapped out my forks for some Fox 38s with 170mm of travel  - that slightly changed the geometry  slackening the head angle and raising the BB a touch, no bad thing in this terrain, and I was running 200mm rotors ( see the exposure on some of these trails) and full on DH tyres, the Continental Kryptotal, soft rubber on the dry and sandy Moab rock, the grip was incredible.  Even with the DH focused set-up it still pedalled like a dream.
Our first day we left Virgin in Utah and headed more than 200 miles North East to Moab, it was shaping up to be this amazing sunset so we raced straight to Jedi, absolutely no idea where the tracks were so we just followed the trail until we found cool stuff  - we were playing on this big slab rock just enjoying the amazing light and the colours and trying not to roll off the cliff edges.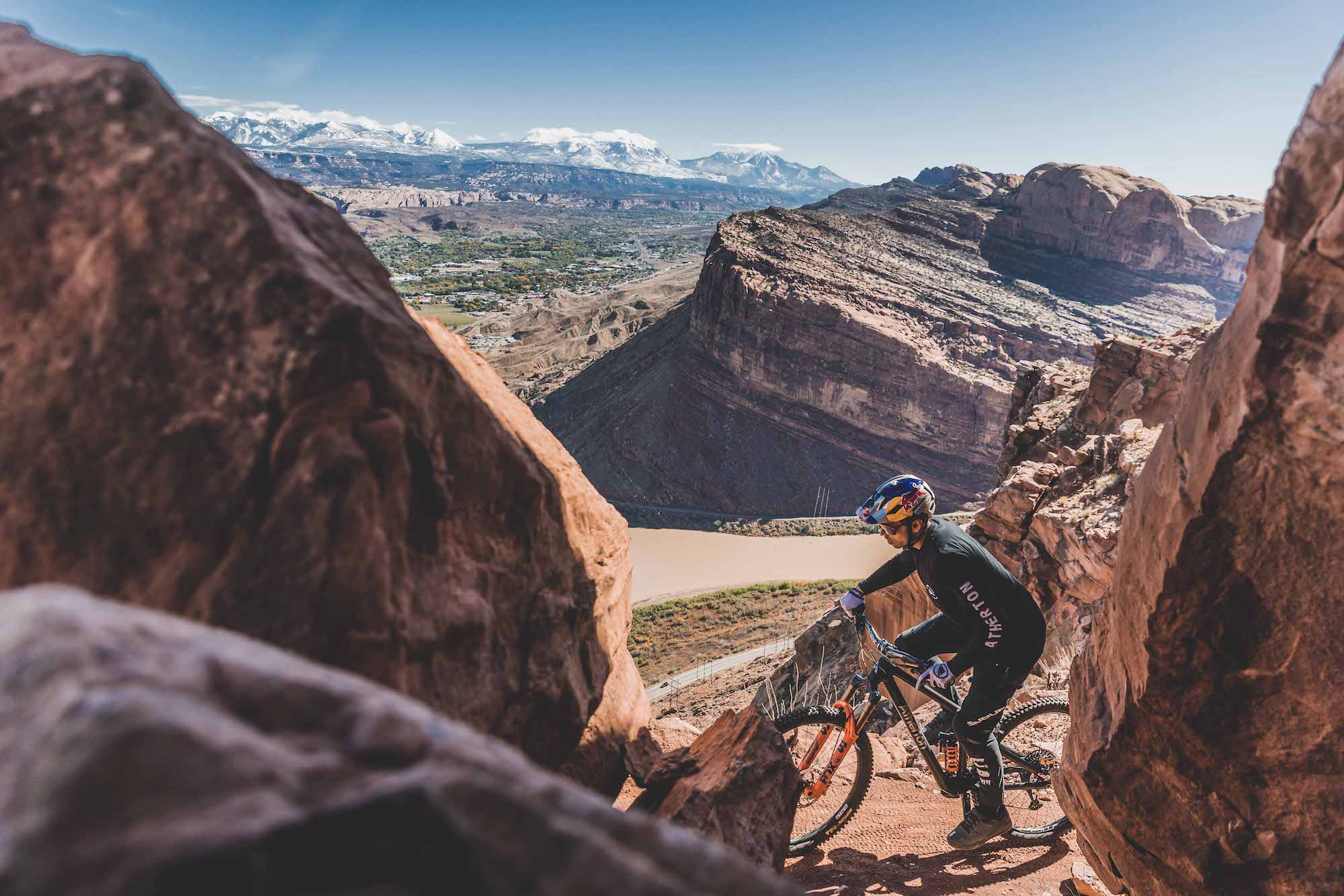 The next day we got up in the dark to catch the sunrise in the Sand Flats area (would definitely recommend) The riding was as good as the backdrop – fast, slick, rolling rock with plenty of drops and cliffs to keep us on our toes.
Then on to Gold Bar Rim for some fast singletrack and onto Poison Spider, a 13km trail to access the Portal Trail.  It's hard to see how this place could be more different from my Welsh trail rides, rougher, longer, faster… entirely more DH. In places the trail is super-exposed, with a cliff immediately to the left plunging hundreds of feet, it's narrow, it's rocky, there's dust everywhere and there is absolutely no room for mistakes … I'm a massive fan of the AM.150 and how composed the ride is but even so I'd expected to take a while to get comfortable on this new terrain, but straight away it felt good, the bike is so planted and it does exactly what you expect it to do.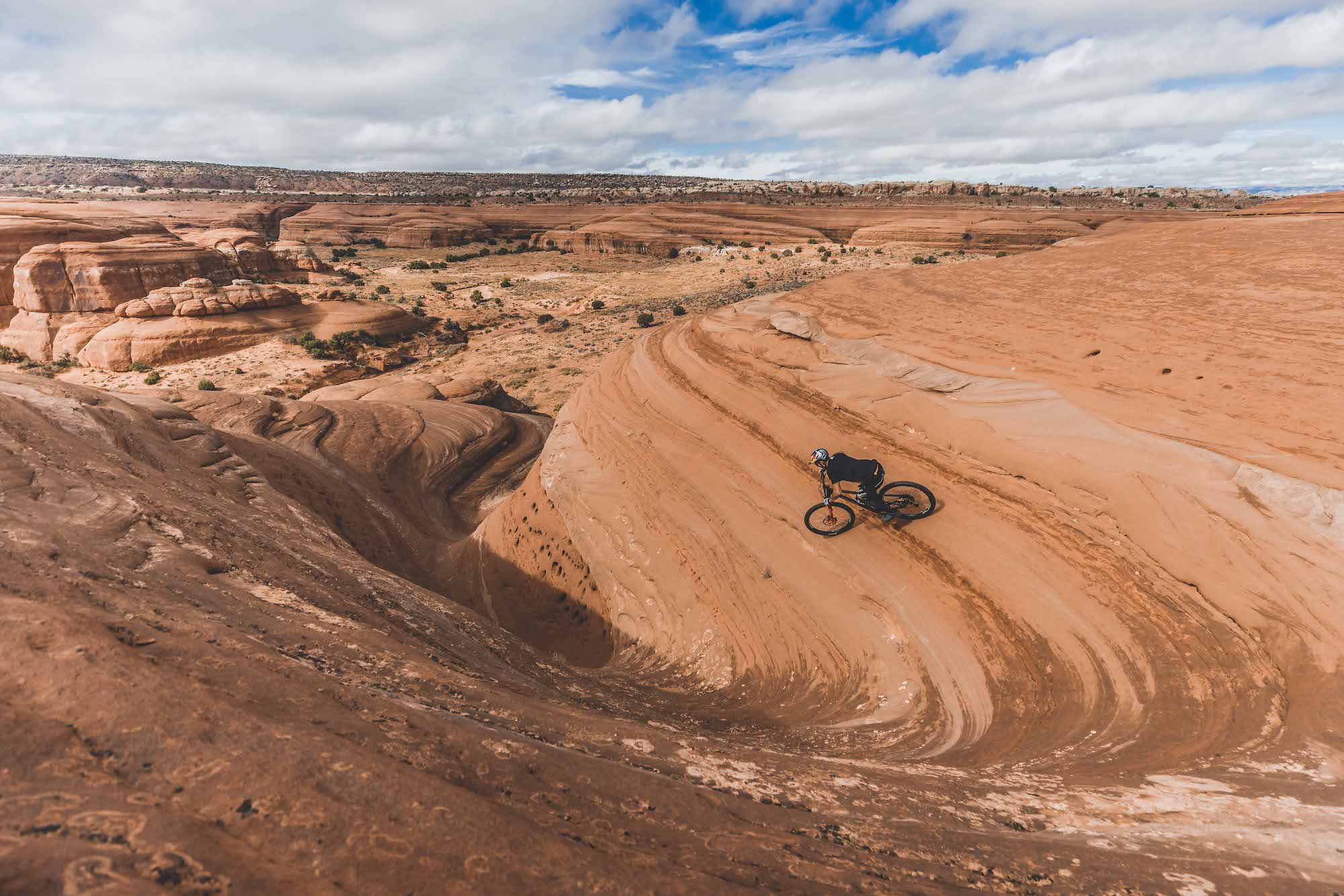 We pedalled up to the trailhead, rather than a long grind up a straight fire road you find your own route up, we're talking steep, technical climbs with loads of turns, switchbacks and rock steps. Despite my DH focused set-up the AM.150 climbed unbelievably well, and I'm not usually a fan of climbing! The way the bike fit and seat angle work together mean that you're always in a great position on the bike and it was great to have my dropper so high, but I think what stood out for me the most was the bike's agility on the tech.
Rocks, sandy, gravelly, sketchy surface big drops and a huge cliff, the DW6 platform was spot on. Once you get around the point the trail becomes less exposed but it's even more wickedly technical!
For a bit of light relief we headed up to Bartlett Wash and the toilet bowl, a massive slick rock playground with these bowls and cool chutes in the sandstone and big slabs and drops where the bike's sturdiness comes to the fore.
Moab was a lot of fun. But it was also really important for me to ride the bike in an entirely different environment – and I couldn't be more stoked, we set out to do some general trail -riding but I pushed the bike far beyond that on some properly gnarly DH tracks; throughout it all the AM.150 was super – agile, super -planted, and so capable;  whatever craziness I found up there the 150 could do it all.
FRAME: Atherton A150
REAR SHOCK: Fox DHX Coil 
FORK: Fox 38 Factory, 170mm
DROPPER: Fox Factory 200mm
SEAT: WTB SL8 Team
CRANKS: FSA Gravity 170mm
DRIVETRAIN: Sram x01 12 speedHEADSET FSA Semi-Integrated
STEM: FSA Gradient 50mm
BARS: FSA Gradient 20mm rise 
GRIPS: ODI Ruffian 
BRAKES: Trickstuff Maxima 200mm rotors
WHEELSET: Stans Flow MK3 29" 110mm Front, 148mm Rear
TYRES: Continental Kryptotal 29x2.4 DH supersoft, front and rear