Atherton Bikes bag two podiums on their first World Cup Outing Maribor Round 1 2019
After the long winter break all of the World Cup riders were dying to get on track but no-one more so than Gee and Rachel who would be piloting the bike they designed and built themselves – a massive departure from the title sponsorship model.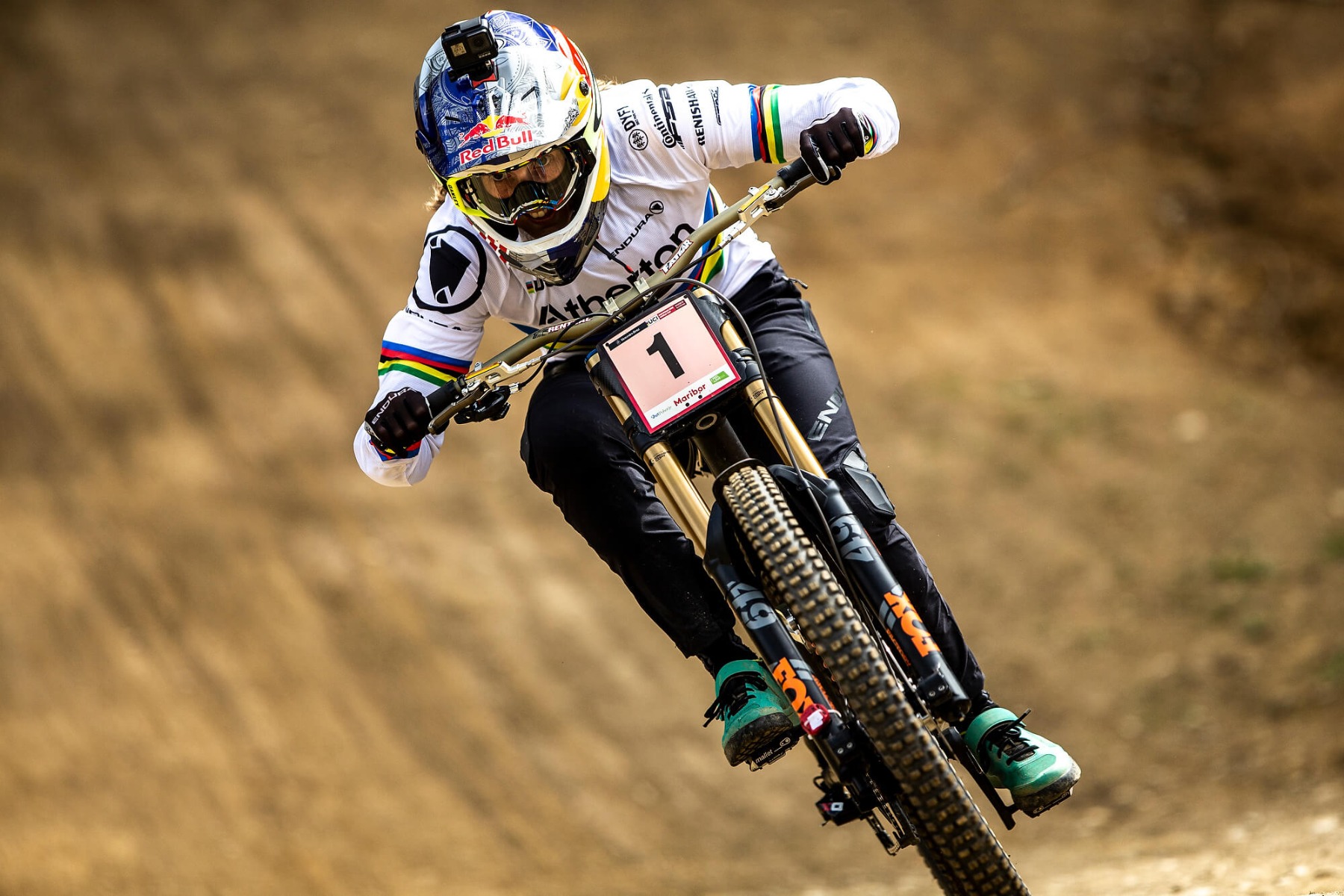 Rach takes P6 to Atherton Bikes second World Cup podium
"They've done well to arrive here with such a competitive bike" - Rob Warner, Commentator
Commentator Rob Warner paid tribute to the speed of the prototypes' development "They've done well to arrive here with such a competitive bike"
It's been nine years since the World Cup has come to Maribor, the track, high in the beautiful Pohorje mountains, is relatively short but boasts a host of natural features, tight turns and tricky jumps, complicated by of plenty off-camber sections and massive holes!
In Friday's timed training Rach chose to ease in gently but Gee showed that both he and prototype 5 were right up to race pace - just 0.22 back from reigning World Champ Loic Bruni! Saturday's rains showed up just as Rach came on track for qualifications, she was undeterred and posted a very comfortable 2nd in 3.32.68. By the time the Men were on track the rising storm was causing chaos with several of the fast men failing to qualify, Charlie delivered a solid 18th but a crash for Gee pushed him back into 33rd.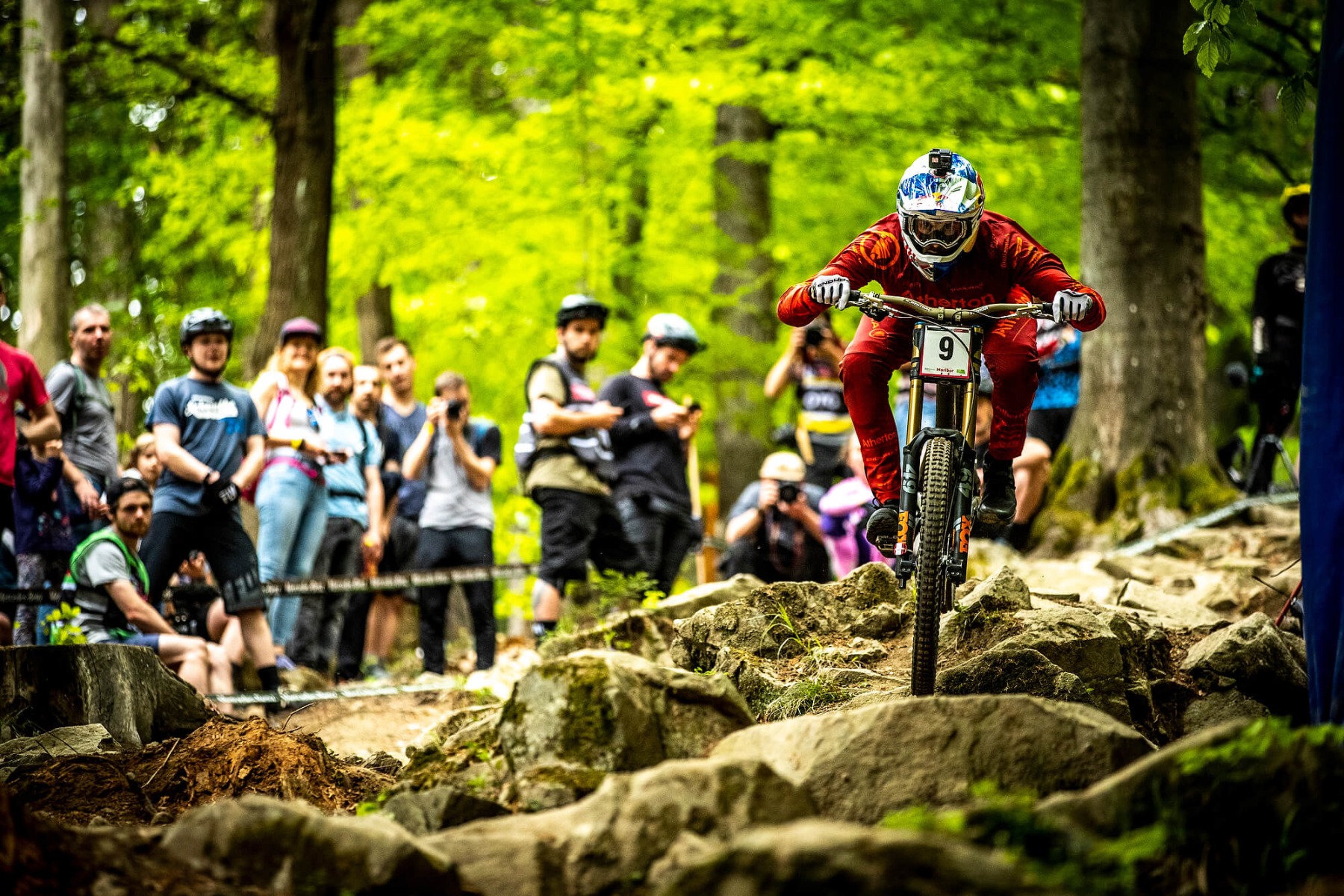 Gee tackles the rock garden on his way to 2nd in Timed training
For Finals the morning track was sticky and hard going for the juniors but dried rapidly throughout the day.

Mille was first up for an exciting battle with Anna Newkirk which saw Mille just 0.1second back in 3rd place, enough to claim the first ever Atherton Bikes Podium!

Mille said "What an exciting race. Happy to finish the weekend without any crashes!"

In the Women's Final Tahnee was in the hot seat when Rachel charged onto the track – into the green by split one. But the battle became real as she lost time by split 2 to go 0.5 back! Through the rock garden Rachel was fastest, back into the green by 0.087 but in the technical bottom woods she lost another half second to go back into the red by split 4, she crossed into 2nd. Last rider on track, Tracey Hannah crossed into 3rd.

Rachel said "Wow, mixed feelings! Of course I came into this first round looking for the win. However much training you've done at 85% race runs are a totally different ballgame … I feel like I'm still learning a lot and there's a lot still to work on, But it's a good start and it's going to be a good year!"

Charlie's ride in the Men's Elite was smooth with no major mistakes but he couldn't get amongst the front-runners crossing into 13th, enough for an eventual

Then Gee was on track, he didn't manage to get into the green today, losing time in the pedal section, a smooth ride from there on down wasn't enough to make amends. 33rd today.

Gee said " It felt ace to get the World Cups underway, I felt fast all weekend but I pushed too hard. Good start."
Junior Women
1. Valentina Holl - Sram TLD Racing - 3.35.77
2. Anna Newkirk - Sram Young Guns Racing - 3.45.71 +9.94
3. Mille Johnset - Atherton Bikes - 3.45.88 + 10.1
Elite Women
1. Tahnee Seagrave - Transition Bikes/Muc-off - 3.25.88
2. Rachel Atherton - Atherton Bikes - 3.26.74 + 0.85
3. Tracey Hannah - Polygon UR - 3.28.52 + 2.63
4. Marine Cabirou - Scott Downhill Factory - 3.29.43 +3.54
5. Monica Hrastnik - Dorval AM - 3.30.21 +4.32
Elite Men
1 Loic Bruni - Specialized Gravity - 2.58.83
2 Danny Hart - Madison Saracen Factory Team - 2.59.24 + 0.40
3 Troy Brosnan - Canyon Factory Downhill Team - 2.59.60 + 0.76
4 Charlie Harrison - Trek Factory Racing DH - 2.59.76 +0.92
5 Matt Walker - Madison Saracen Factory Team - 3.00.44 +1.6
26 Gee Atherton - Atherton Bikes - 3.05.19 +6.35
33 Charlie Hatton - Atherton Bikes - 3.06.03 +7.19