Falling in love with the AM.150 : Enduro racer and Bike mechanic Caroline Van Velthoven
Caroline Van Velthoven is a bit of an MTB heroine. The proud owner of AM150 #97 lives in Antwerp, Belgium. She "really caught the bike bug" during a post-break-up solo mission to New Zealand; she rides XC with her dad, races Enduro, "loves downhill" and snagged her first job as a bike mechanic before she knew how to change a tyre… this is a woman who knows what she wants!
I live in the lovely city of Westerlo, Antwerp. It is only 1.5 km to the bike shop I work in, 30 min drive to the closest bike park of Beringen and 1-hour drive to the Ardennes, Belgium's Enduro place to be!
When I was a kid, I didn't enjoy playing with dolls or anything like that, I wanted to play outside all the time and try to skateboard, and play basketball. I always went skiing with my parents. I remember one time when I was snowboarding with my dad, late in the season so some parts of the snow were already gone. We saw some guys with bikes on the ski lift, and they were going down on very steep rocky parts. I was so stoked to see this, a whole world opened up for me.
So I started to go with my dad and uncle on local XC rides, I got the hang of it and started to watch World Cups on Red Bull TV, Rachel was my idol!  Rach's first win on the Atherton Bike in Fort William was amazing! I felt thrilled in her place!
My eagerness to get an Athy Bike grew more from that day!
As a female rider starting out I rode on my own a lot, I simply didn't know any other girl riders. And the guys I knew were so much better, I was a bit intimidated so I'd rather ride alone. So I was stuck on the same level for a long time, I had no one to tell me how to do stuff or teach me new things.  So yeah it was hard at the start, but things got better luckily, I think the real game changer was me becoming a bike mechanic! Now that I'm more known in the enduro community, the Belgian female riders know each other and we ride together sometimes. I have a very good friend (Dorien Van Dyck), she rides better than me and I can learn from her, she is good in riding steep, technical sections, and knows how to maintain speed in a corner, but I'm more confident on the bigger features…
When I saw a job opening at the Decathlon bike workshop, I knew I had to take my chances. Even though at that time I even couldn't change a tyre! But I had a good interview and they gave me a chance to join the team and learn everything I can about bike mechanics. I got better over time and I was so happy it worked out and I found something I can do with passion every day.
When me and Brian (my new fiancee!) wanted to go to Winterberg for a few days, we rented a bike for Brian at G-bikes. That's when I really wanted to work in this shop. I'd never been to an MTB-specific shop, but this one was so nice. After some time Gerry (owner) offered me a job and I love every bit of it! When you work in a mountain bike-minded shop, you automatically meet other bikers, also girls! My riding really took off.
Myself and Gerry are great friends now, We went to Wales, to ride Dyfi Bike Park in 2021, and we had such a great time, and met Rachel and Dan! We met Gee at Malverns Classic and a woman on their stand gave us an explanation of all the ground-breaking tech. It didn't take long after I got back home, to send an e-mail for more information.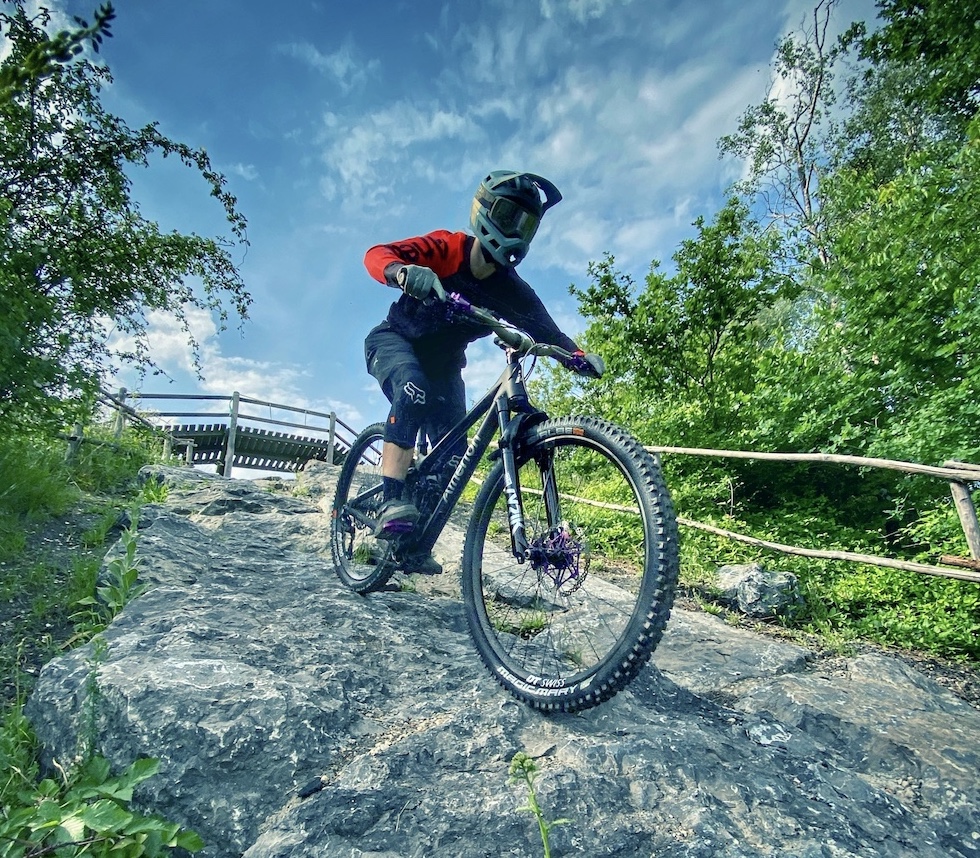 I love the feeling of riding of a steep section and totally nailing it safely to the bottom! Or when you pump yourself up to go off that big road gap, and actually do it! Like adrenaline rushing through your veins, these are moments you truly feel alive… My Atherton Bike strengthens this feeling even more!
It's not just the bike (though that's obviously totally amazing), for me, it's also the whole thing about the Athertons! Their lifestyle and approach to mountain biking really inspire me…And now I have my very own Atherton AM150! Every time I look at it (almost every day) I still cannot believe it is mine! SUPER STOKED!
When I'm riding bike park or downhill tracks, I feel more in my comfort zone, I love to go big on jumps and drops. In my heart I really I'm a downhill rider. So I might be buying the AM.200.M next!
I like to race! I already did my first XC race in 2016 just for fun. Then I did a few more over time; I even did a DH race in the Netherlands in 2019 but it was just for the experience, In retrospect, my riding was not good at all.
My first race on the Atherton was in fact a Belgian Enduro Cup race, in Chaudfontaine, where I got third! the Athy felt sooo good!
Chaudfontaine is very rocky and slippery, or very loose when it is dry, with some very very steep climbs, I don't like to climb, I only do it because of the downhill reward afterwards! But with the Atherton, I felt like I could push much more uphill than when I could on the Santa. I really enjoyed the race more because of the bike! Mostly I stay nervous through the whole race, before every stage, but now I felt good after the first two stages (there were 8 in total, about 27k and 1000 meters of altitude) and I wasn't nervous anymore.
I feel like I can push myself even more, especially when I go fast. The AM.150 fits like a glove for me. It's playful and feels light on the climbs but so strong in the downhills. I've ridden my best result yet on my first race with the Atherton so I think this proves it!
I've tested it a lot now and on many different terrains. I even did an XC tour with it! It's crazy how good it pedals! I have almost done 300k of riding now and I think around 6000m - 7000m of climbing. I've done bike park with it, and the progressive suspension set-up makes it so forgiving, when you go off a drop, it's like you land on clouds!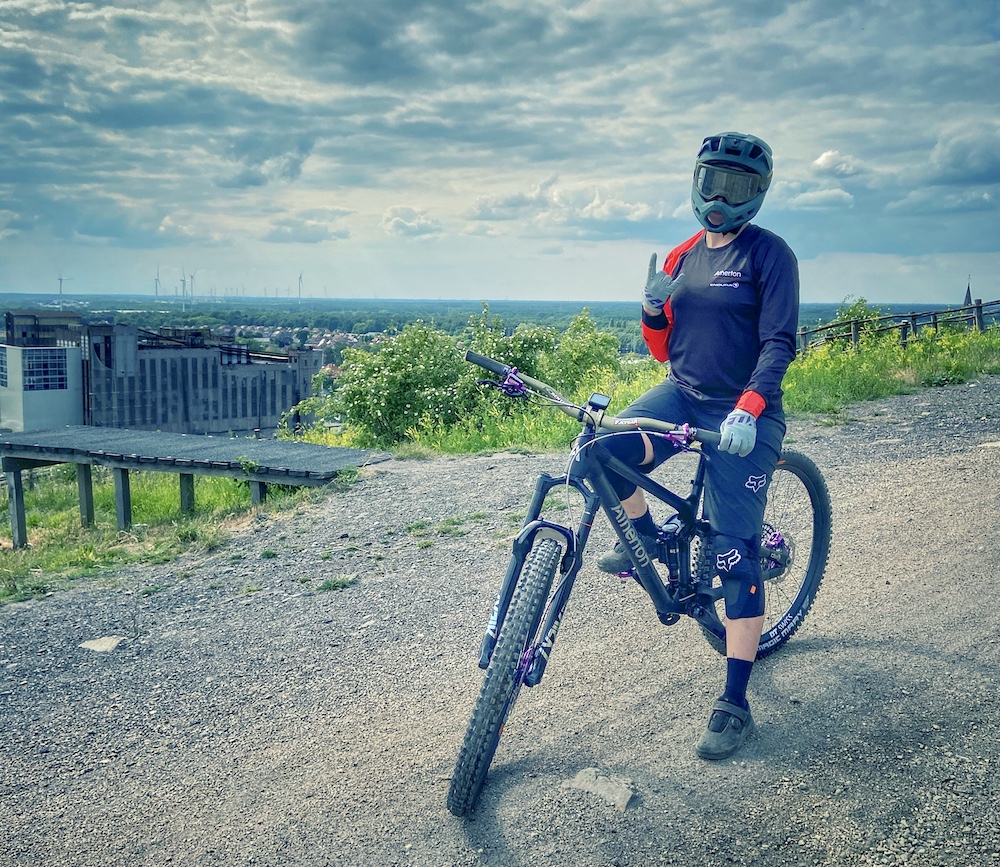 I must say, I've ridden quite a few bikes but I never felt the same way on a bike like on the Atherton. I knew it would be good, but it really blew my mind how every single bit of the frame works so well! The DW6 linkage is ridiculous! I've never felt anything like it!
I've always been a fan of Rockshox suspension, so I completed the frame with a Lyrik Ultimate 160mm. Which works perfectly with the Superdeluxe ultimate rear suspension. It is playful, very balanced, rides smooth, and when you go fast, It becomes a stable beast, eager to get you down even faster.
And when I need to pedal up, I can even do it without locking my rear suspension, which was a no go on the Santa! The pedal efficiency has really blown my mind. 
I do get a lot of questions about it which is really nice. Some people thought it was a bit weird when they saw it on the internet. But the moment they see it in real life, they all think it looks great! People always ask about the lugs, and how it rides. A friend tried it in the parking lot, and the first reaction was, "wow I can pop this bike so easily in the air!"  I always let them see the beautiful details on the frame.

It's been a couple of months now and I still cannot believe I have my own Atherton bike! I'm falling in love more every day!