Charlie Baxter's AM.200.M "The best thing you'll ever buy"
14-year-old Charlie Baxter is a young rider with bags of promise…  He lives 30 minutes from Dyfi Bike Park and has caught the eye of Dan Atherton who often puts in a couple of laps with Charlie and his friends. Charlie is growing fast in more ways than one!
Dad Steve invested in Charlie's first DH bike in the summer of 2022 when Charlie was just topping 5 foot 6, he chose the AM.200.M build 1 in size 4 (440mm reach). One year on, a couple of inches taller and heaps more confident, he's just ordered a replacement frame in size 6 (460mm reach) in preparation for the 2024 race season.
CH: I love riding bikes, especially racing but even mucking around in the woods after school is awesome… I've always ridden, I guess at first it was because my dad (Steve) rides. One of my earliest memories is of him going off to Nant y Arian with his mates, they used to go a lot. I had a balance bike when I was a real baby, like one or two, so I skipped stabilizers and went straight to pedals… I've always ridden with my dad at home and started racing XC bikes when I was five  -  Dad's not the pushy dad type though– maybe because he's not a racer himself,  he just wants me to have fun with it and is happy to be my mechanic, cook, driver at the weekends which I'm super grateful for...
I did one DH race at the Royal Welsh show when I was 6 or 7, I had a yellow Mondraker … I came 3rd but after it was four years till my next DH podium! It was a win though at Hartlhill mini DH … I did better in XC, I was Welsh Series Champ when I was ten.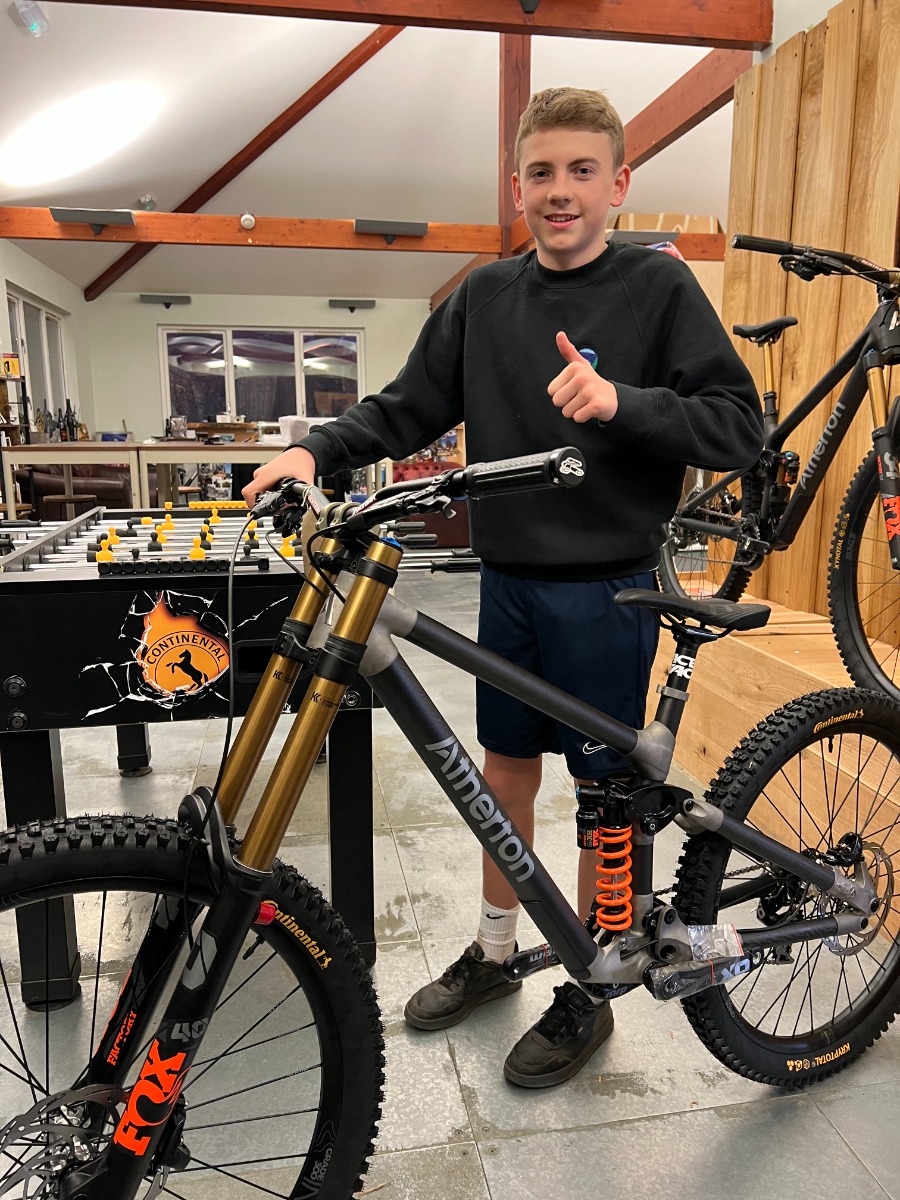 I live in a village called Llangwyryfron , I've lived here since I was two. While this house was being built we had a chalet by the sea over-looking a secret surf spot; the whole family surf as much as we can still, me and dad and my mum and sister Erin. It's fab here, I can ride right out of the door, it's quite hilly with these little dips full of trees, so I've got an ebike now…
I've built some tracks in the woods with my friend Nathan (Trailrippers) it's just down the lane from the house so when my friends come over, we just take the fire road up to ride some nice tight, bermy tracks.  It's pretty good for kids being into mountain-biking round here, my friend Osian Clarke is at my school (Penweddig), he and Tomas Brickley helped dig too, there's a few guys in the year above as well, we all get on and all ride at Dyfi.
I'm alright at school, I do OK, but don't like it, I'd rather ride!!! I like to go fishing and I've got footy practice in half an hour. I've got a gym at home and I train with Rico Martin every Wednesday at the gym in Aber and I'm on his app; it makes a big difference. This last year since I've been training I've definitely got stronger through the braking bumps.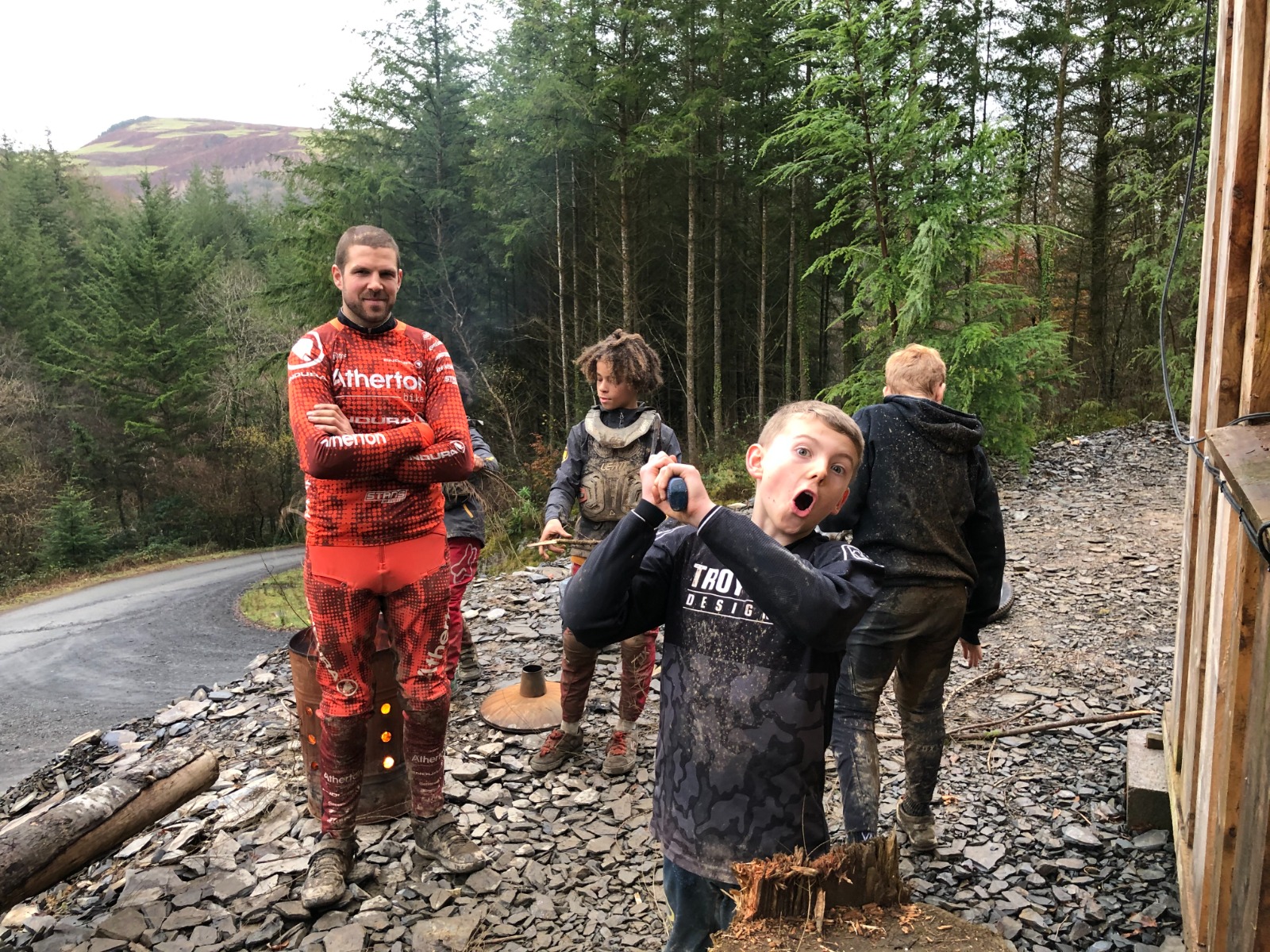 I don't pedal much! Especially now I've got the e-bike, though Dad keeps talking about it! But instead, we go to Dyfi for uplifts nearly every weekend… I was only about 10 when I first went there when it was just a few local riders and two or three tracks; sign on was in a tin shed and the fire was in an oil drum, not the posh stove they have now … I kind of miss those times!  That first weekend I met Nathan and Ruben and Athy. Meeting Dan Atherton was unreal, I didn't expect to meet him or talk to him but he's always ridden laps with us, it definitely makes me want to go faster. I always used to crash in front of him though! Especially if he was filming!

So I feel like I've been around the Atherton bikes most of my life too; ever since they started it was the dream, they looked so good and so fast.  Dad rode Athy's DH bike at the Park and said "it's awesome"  there wasn't one small enough around for me to demo but I didn't care, I knew I was going to love it the minute I saw it. And I'd heard so much over the years about how those bikes were designed and what they were trying to do  - I wanted to feel more stable and the AM.200.M is such a calm, predictable ride,  I like how the geometry is placed, you feel like it's made for you because it actually is! I love the look of the bikes too, particularly the raw lugs.

My first ride was at Dyfi, with Nathan and Ruben. We took it down Superswooper first and tried out some jumps, then onto Racetrack. I went straight onto clips which is what I'm used to and even those first runs were definitely as fast or faster than my old bike, I've always loved it from then on. I feel like if a rider hops on to an Atherton for the very first time they'll feel like they've had it for a year … recently I tried out a bigger size, my friend Nick's 460mm, it felt so fast… the order is in for the bigger size.

 
Before I got my AM.200.M I was definitely more out of control, crashing all the time. The Atherton makes me ride faster and more aggressively but I'm more in control which has a big impact on my racing.  My jumping has come on massively and people have been saying that I look really smooth and fluid which I'm stoked about; now I just need to work on my steeze! I'm in second-year juveniles for 2023 and I'm just coming out of my first season on the Atherton, I missed the end of 2022 when I first had the bike because I'd been injured while it was still on order so I was a bit rubbish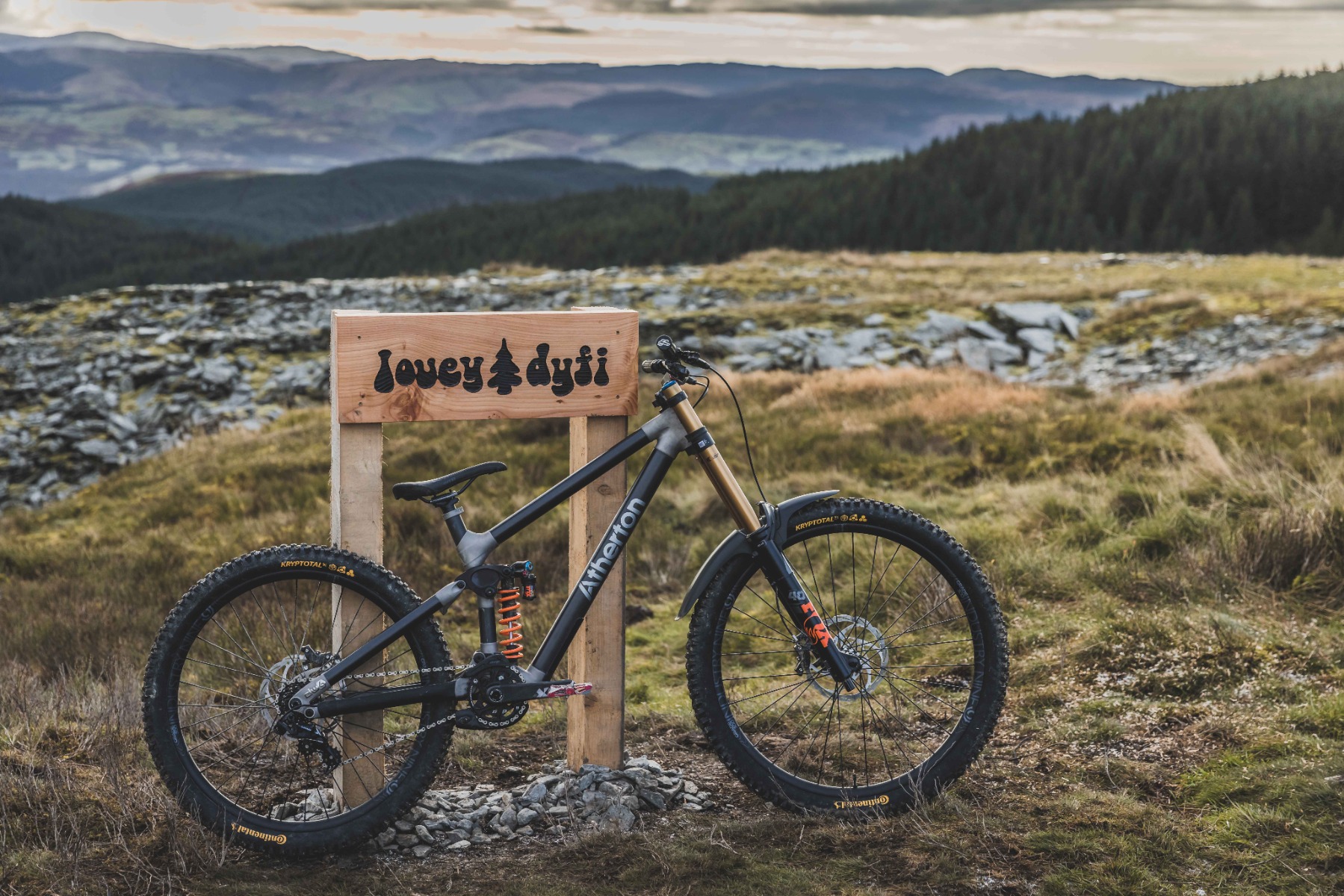 I love racing Nationals, everyone is really friendly and good fun. I work with Nathan a lot, following each other down and stuff, comparing lines, it's like having a team-mate
So, my first race on the Atherton was my first race in ages and the first of the '23 season at Rheola, one of the hardest tracks. It was really rainy and slippery, mud everywhere! I've always been better in the mud, I live in Wales! But the bike took that to another level, Charlie said when he won the World Champs at Fort William that he "rode like it was dry" and I totally get what he meant - it does feel like that, the stability is amazing.  Pretty much everything felt different from being on my Enduro bike (a Canyon Torque with 180mm forks).  I couldn't even feel the bumps and was way more in control, I didn't feel I was leaning in as much as on the enduro bike but 100% I was carrying more speed out of the corners… altogether I felt more comfortable, solid instead of hanging over the bike all wobbly and I just hammered through the rocks and roots…  you have to be really switched on to ride Rheola, ruts send you off the track, it's steep, and there's trees in the way! You have to trust the bike and trust yourself; I've had some close moments but the gym training helps and the bike helps you fifty times more… it definitely looks after me, without it I'd be all over the place.
2nd place, awesome!
Then Fort William  - I got 6th but with a massive crash on the first run when I caught my front tyre on the logs – I had a huge bruised thigh but I still managed to race; I felt like I had to do it, I hate that pro-line section at the top but love the rest of the track  - and again the bike was just great.
I skipped a National to have a go at the European Champs where I was 20th out of about 60; not too bad but the track was really disappointing, loads of pedalling and everything had been taken out for the under 16s – all the tricky rock sections and jumps were taped… all the bits the bike would have just flown over; the enduro guys smashed it!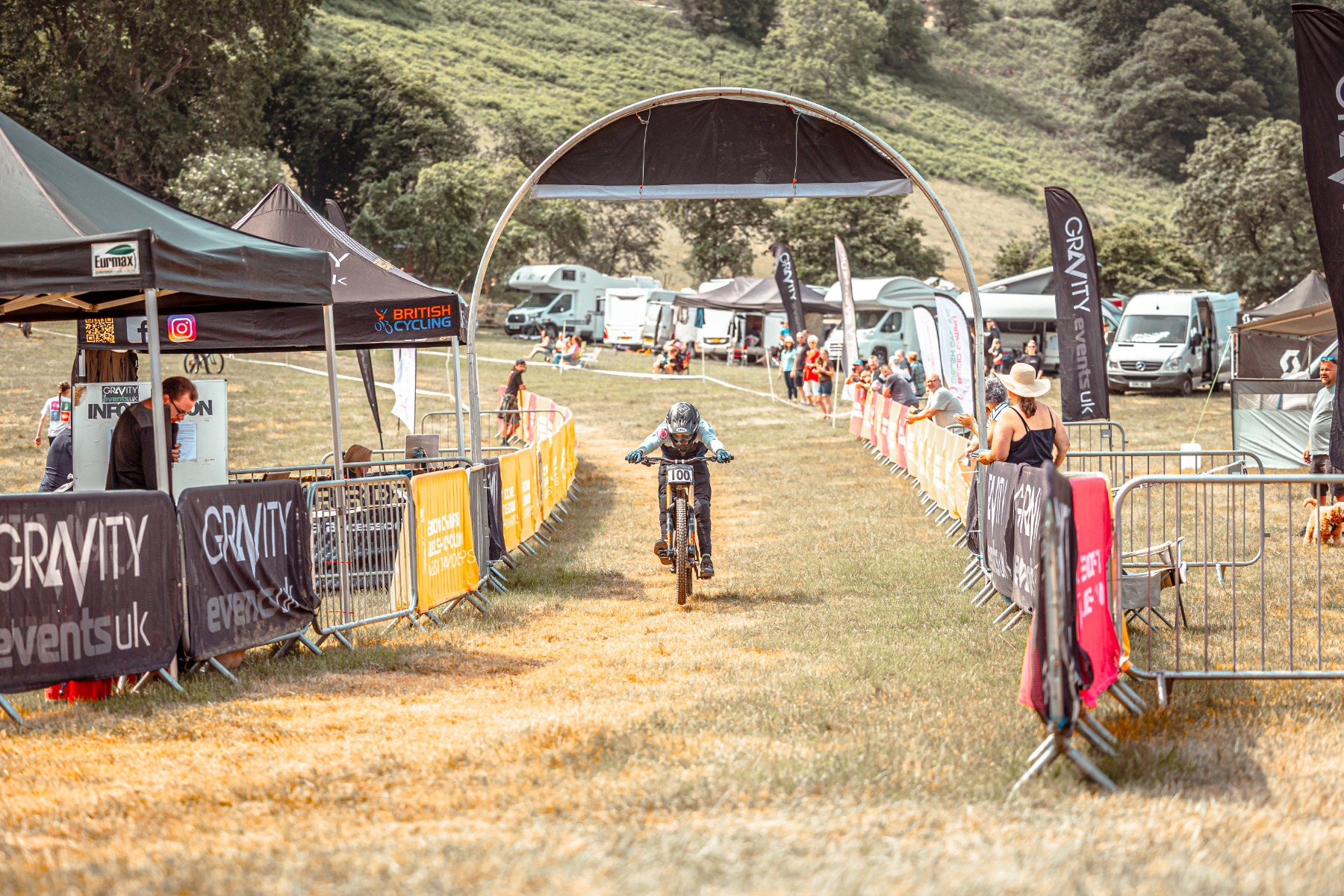 This season I've learned that I can ride on the very edge, the mullet performs so well in corners so you can brake later, I feel like the bike's fit puts you in a place where you feel more natural… I was so excited and confident for racing at Rhyd y Felin, ankle deep in mud! I was loving it more and more while everyone else hated it.  But we'd put these old tyres on for extra grip and they just didn't hold; the front one blew off in the second corner – it was so scary,  I was on my front wheel all the way down the fast straight, I didn't crash though! I'm definitely motivated for Youth next year.
I just really love riding my bike, being with my friends and how fast and how free you feel. Riding the Atherton is better still – I feel like I'm progressing every ride, you just feel so good on it.
We went to Morzine for two weeks this summer too, it was intense, there's so many speed bumps and stuff. My arms were burning. The Atherton was the only reason I didn't quit at lunchtime! Dad had way worse arm pump, he had to stop for a few days. The Pleney steep is my favourite but I still couldn't wait to be back on Dyfi's mellow trails…though I did feel like a rockstar in Morzine and that definitely doesn't happen in the Dyfi! People were recording me going past them, filming me washing the bike even! It felt really special, loads of people were asking me how it felt to ride and if they should get one – I told them all "You should get one, it's the best thing you'll ever buy."