Customer review - Adam Williams
"I WONDER HOW I MANAGED WITHOUT THIS BIKE"
We're a little bit envious of Adam Williams! He climbs trees for a living, rides a different bike park every other weekend with old school friends and is the proud owner of Atherton Bikes Enduro frame No. 30.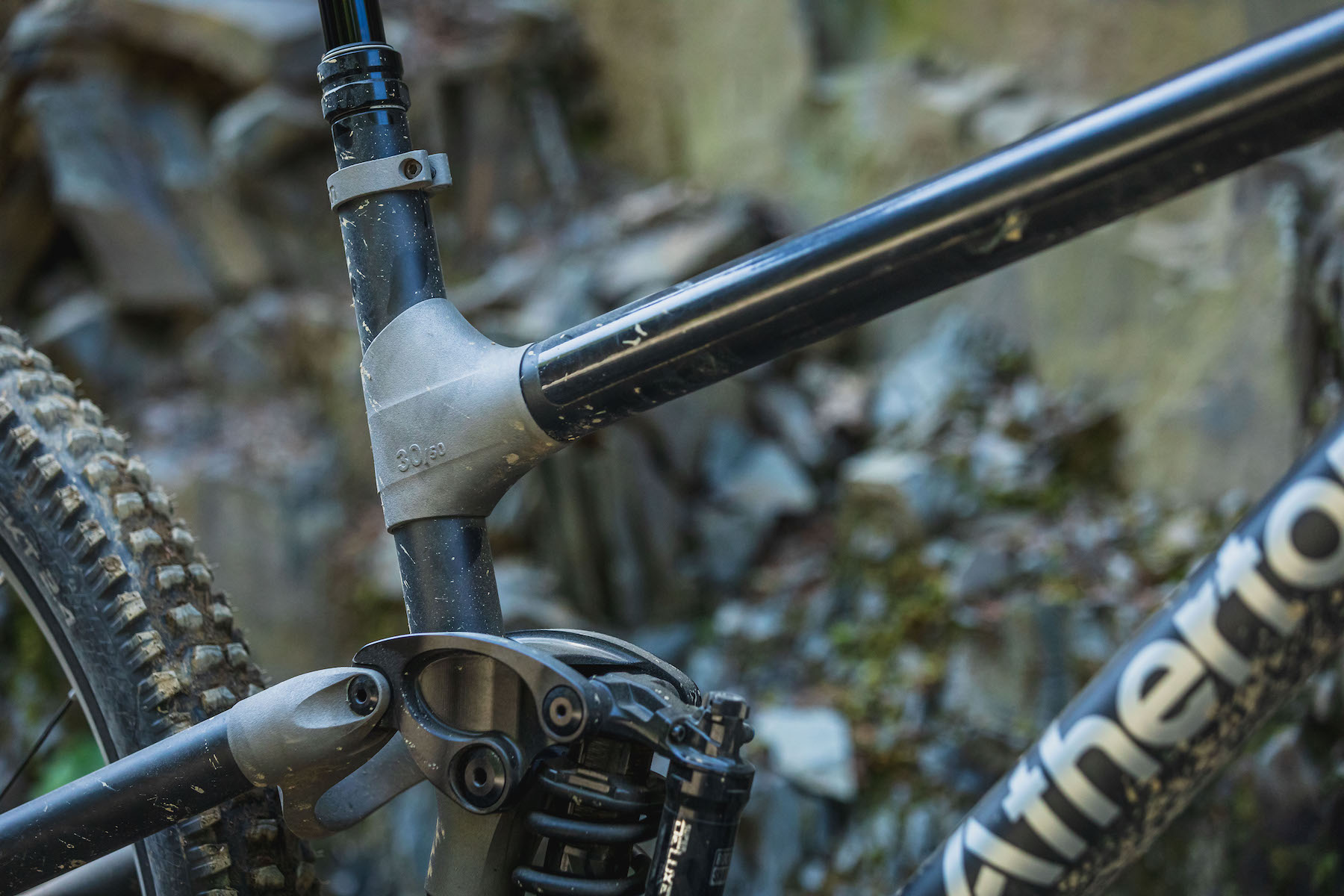 Adam chats about life in the Midlands, realising the full potential of his new ride and a special delivery last Xmas eve!
AW: I'm a pretty laid back kind of person. I'm an arborist so I get to climb trees for a living, I have a gorgeous 18 month old daughter and my wife still lets me ride with my mates every other weekend – I'm a lucky guy!
I live in the Midlands so there aren't many trails near where I live, we ride at Clint Hills sometimes and we used to have Ribbersford but the Forestry Commission closed it down.
I grew up round here so when we were kids we'd build our own trails. There was a tiny woods behind the village pub and we built jumps there after school. I had a Spooky Bandwagon – still have it in fact!
It was a great way to grow up, it's countryside where we live so we were all mad on being outside, building treehouses, riding our bikes.I hope my daughter will have the same. The guys I rode with then are the same group of guys I ride with now – but now we drive to the big lines – Black Mountain, Revs, Dyfi – I Love Dyfi!!
We were all mad for bikes as kids and teenagers but when we started work it fell off a bit. My main riding buddy is Luke, I'd known him since school but we lost touch after he had his son, then he rode past me on his new Trek. That chance meeting inspired me to buy a new bike (a Santa Cruz) and soon six or eight of the old crowd were buying bikes too. Mostly e-bikes…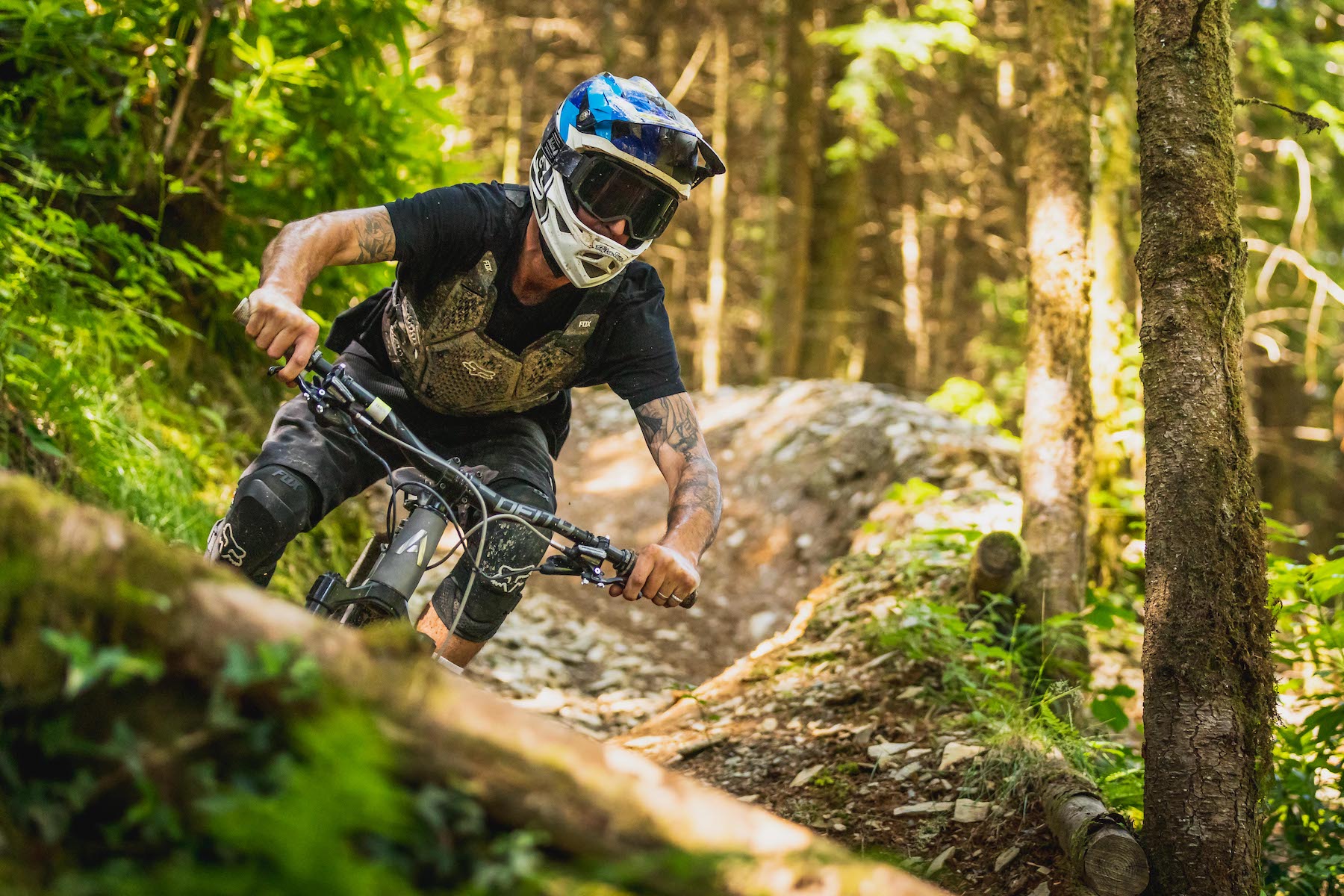 A lot of our riding these days is uplifts but in winter we go for night rides at Clint Hills, that's mega. It's National Trust so it's too busy in the daytime but it's only five minutes drive from the house and once it's dark you can ride without a care in the world.
Before the Atherton I had a Santa Cruz Nomad. It was amazing. But then I went to Dyfi Bike Park and there was a bike on a display stand – it was just " Wow, love at first sight" I wanted to get the Downhill bike to start with but I chatted to Rach and for a lot of the bike parks now you don't need a DH bike. Dan said the same. It was really early in the Atherton Bikes' journey so I toyed with it for a couple of weeks but in the end I couldn't resist.
I ordered the 150mm, 29" Enduro, frame only, and had most of the parts I needed already. I'm 6'4" and the standard Tall - X Long was a perfect fit for me.
I was expecting delivery just before Christmas, my mate had his new Santa Cruz delivered and I was really jealous that he was going to have his new bike in time for Christmas but it seemed mine was going to be delayed – but then the phone rang. Dan Brown (Atherton Bikes CEO) said "I'm on my way" and 7pm on Christmas Eve, in the hammering rain he was on my doorstep with a bike box!
The first time I rode it was just on the local trails, to be honest I didn't see its full potential, I'd loved my Santa Cruz and that first ride I felt a bit doubtful, I couldn't see that much improvement, but once I got it on to the bigger stuff, wow! Straight away I was saying "How have I managed until now?" Everything works. The DW6 link is more progressive than I've been used to, I'm riding at higher pressures than I ever have before but it's sensitive at the top of the stroke so you can feel the track really well but you stay attached!
I'm not naturally a jumper, I prefer natural tech which Is why I love Dyfi but this bike has made me ride so much better! I remember standing in the middle of Vision line at Revs when I still had the Nomad feeling a bit despondent, now I cruise down. I rode Full Moto at Black Mountain a few weeks ago and kept gaining on my mates. The Atherton 29" accelerates that fast it's hard to slow down, and it never stalls in the corners!
I love riding the bike at Dyfi. Dan said I was the first customer of Atherton Bikes to ride there, they always make me feel special, like one of the family, you can tell that they really appreciate people buying their bike.
I coincidentally loaded my bike on the uplift trailer next to Oscar the Atherton Bikes frame technician and he said " I built that." He recognised the raw lugs. He was explaining the carbon weaves to me so that was pretty cool.
People stop me all the time to ask about how it rides and they're blown away by the look of it, especially by the raw lugs. Everyone says they've seen nothing like it.
I tell them that it makes you ride like you're better than you actually are! It hugs the ground, skips over the roots in the woods and it's so fast. You have to pilot it though, in some ways the Nomad was easier to ride but I'd say it was a bit wallowy and nowhere near as much fun as the Atherton.