How to nail Queenstown on the head
Top team mechanic Ben Lovell and Continental Atherton's Jim Monro just had the trip of a lifetime to Queenstown in New Zealand, full of good vibes, great people and great riding

Both would 100% recommend it! The boys had an awesome time on their Atherton Bikes but you can't ride 24 hours a day …here's a look at where they rode, where they played, ate and stayed to inspire your own plans for a stay in the South!

Planning your trip to NZ:
You're going to need some paperwork, actually two sets if you plan to do any paid work…
1. The NZ ETA is a very simple visa waiver and at time of writing this it costs $23 NZD if you apply online or $17 NZD if you apply through the free app. Most international visitors will also pay a conservation Levy of NZD $35. You pay this when you apply for a visa or request an NZeTA (New Zealand Electronic Travel Authority).
2. If you want to work you'll also need a New Zealand Working Holiday Visa – NZ$245 
For getting there you can't beat Air New Zealand. (They don't actually fly all the way from Uk so your first leg will be with a Star Alliance partner) that's all good though, the  key point is that Air NZ will only charge per item for excess baggage – so if you book on one bike bag, that's one excess charge – the other airlines charge per kg which can mount up fast when you've got a 32kg bike bag
Top tip: Book with Air New Zealand and pack your jump bike in with your trail bike – you'll be glad to have it
URL: https://www.immigration.govt.nz/new-zealand-visas/visas/visa/nzeta
Accommodation:
You won't be the only one heading to Queenstown for the summer down under so if you need to book accommodation, get on it ASAP; trying to find accommodation in Queenstown is "harder than trying to find the Loch Ness monster".
Consider van life – Ben chose this route for his two-month stay and managed some pretty cool road-trips around South Island with the bikes and the surfboard. If you do go the van route take a look at expanding your trip by buying a vehicle in Auckland and driving down the North island take in riding spots like Rotorua and Wellington then hit the East Coast on South island working your way down …
Top tip: Book accommodation early or buy a van and plan a route
App: Download Rankers Camping NZ for best places to park up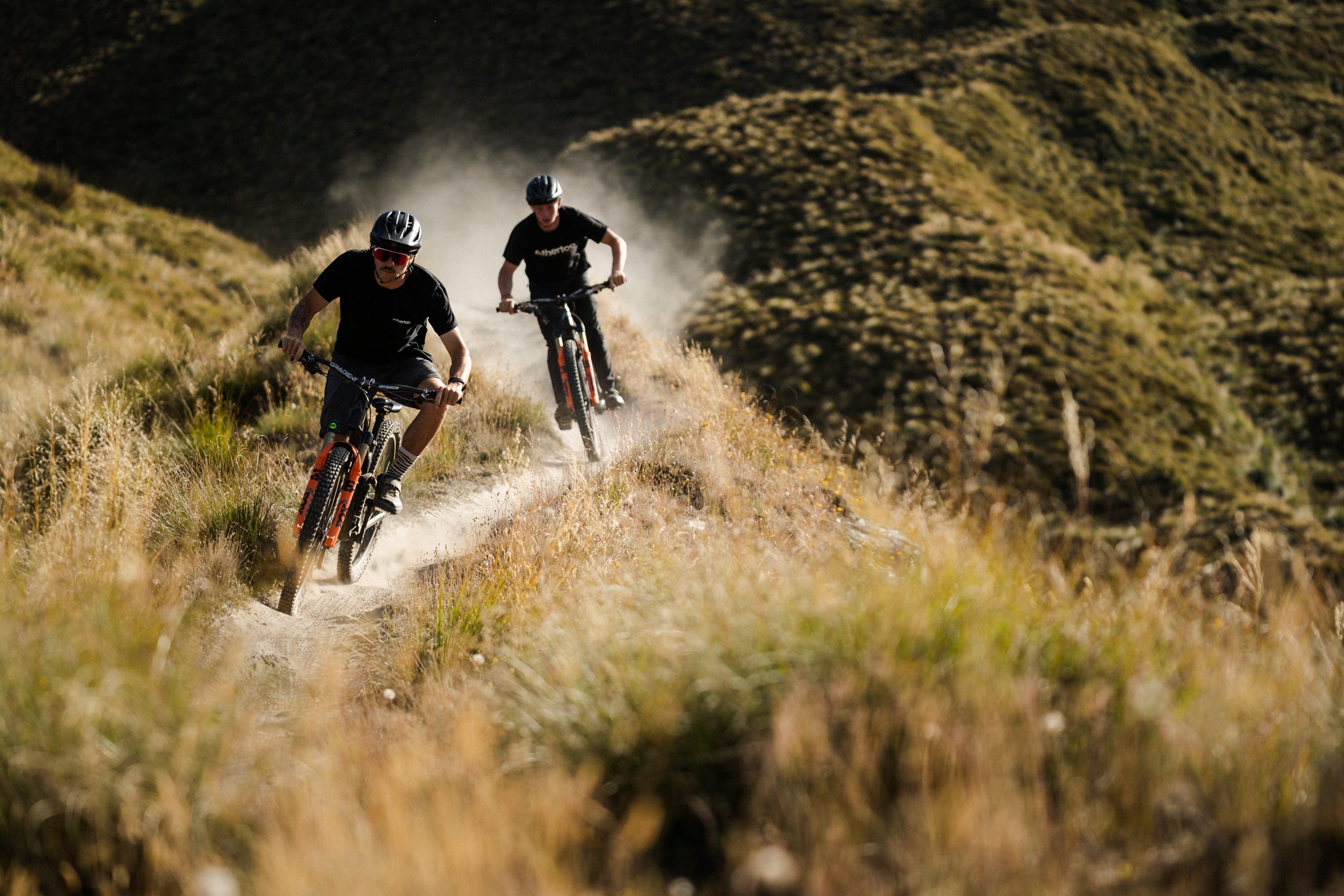 Before you do anything else…
Join QT MTB club.
It costs $50NZD but you'll save $100 NZD when you book your lift pass as well as load of cool offers on hostels, food, bike shops, taxis, chiropractors… they organise a full schedule of events, social rides, trail-building, basically you need to know these guys, follow them on insta and FB  to be in the loop…
URL: https://www.queenstownmtb.co.nz/membership
Insta: QMTBC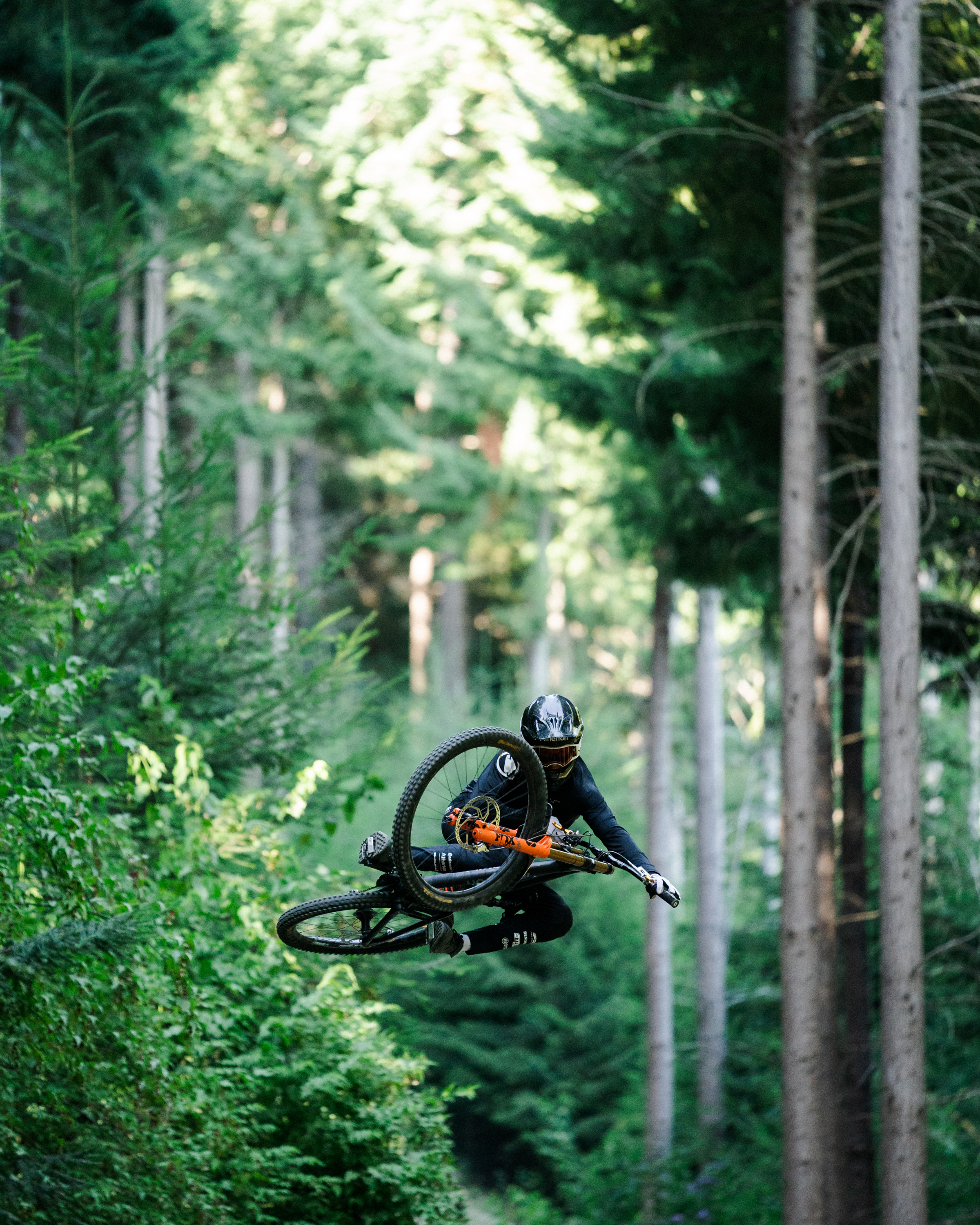 Where to ride Downhill in New Zealand:
Queenstown has three bike parks within 45 minutes, it's an uplift Paradise with enough trails to keep you fresh for months of riding … Skyline is the most central, with the gondola leaving right from the town centre… Huck Yeah and G.S.D. are probably their most famous trails. 
Five minutes outside of town you've got Coronet (try Ben's favourites, DH track and Rude Rock) and 40 mins or so past that you've got Cardrona Bike Park (Cardies). Both Coronet and Cardies are ski fields so you have to drive up to the base camp then you can get a chairlift…
Top Tips: Coronet Peak after the rain is heaven on a DH Bike
Don't miss: "Peak to Pub" at Cardies, always the last run of the day it offers a massive 1270m descent, the last one to the bar the night before should drive the van down…
Useful Links:
https://www.skyline.co.nz/en/queenstown/things-to-do/queenstown-bike-park-access/
https://www.coronetpeak.co.nz/summer/mountain-biking/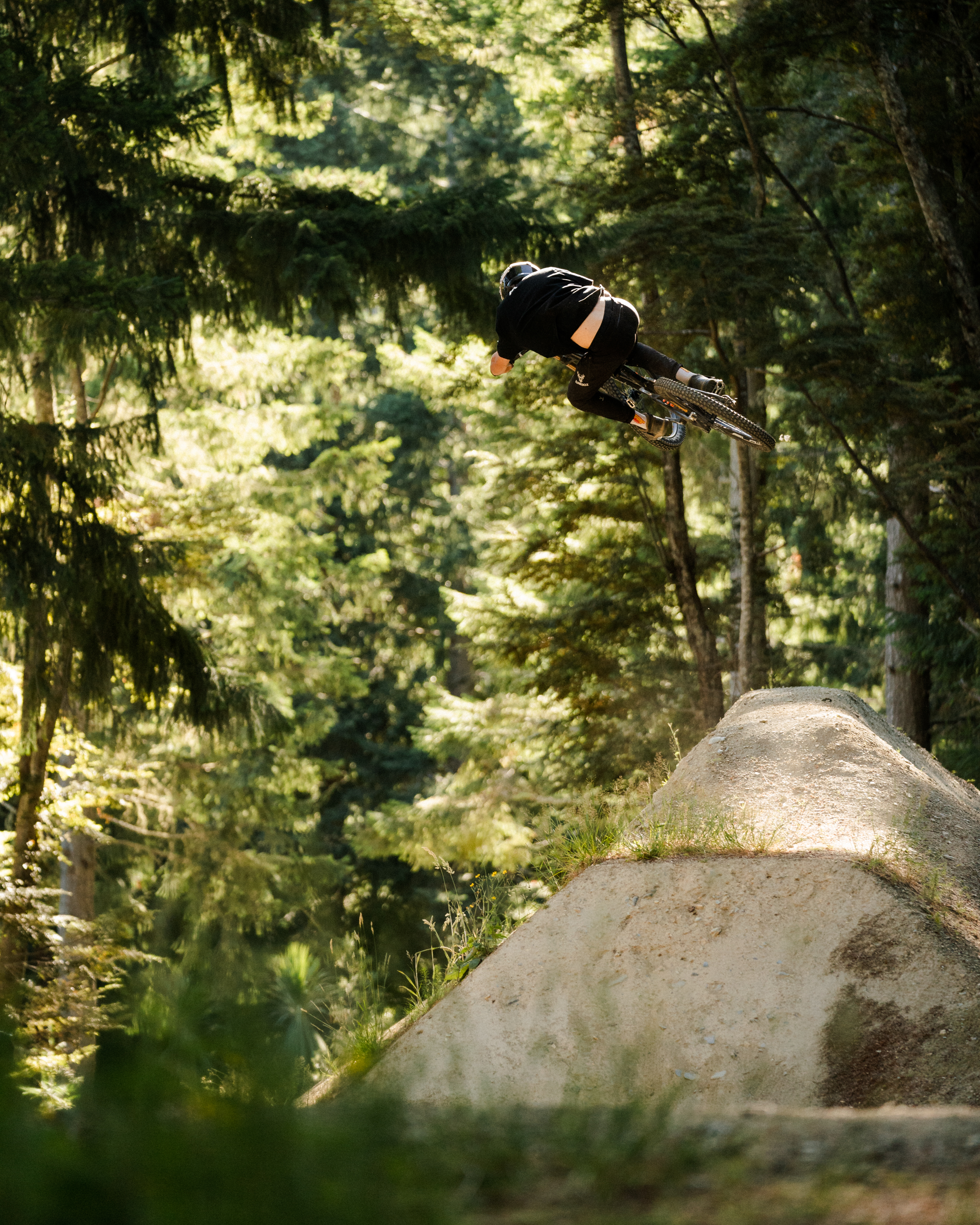 Trails and freeride:
South Island trail riding is next level! The boys rode spots in Christchurch, Craigeburn, Lake Lyndon, Middle Hill, Nelson and loads more. Find all the best spots on Trailforks or by talking to the locals; you'll find endless scree slopes and beech forest to explore in a nice contrast to home
For the free-riders be sure to check out Skippers Canyon  - you can just drive down there and explore, ride what you find at the side of the road. Jim said " this is a mad spot, we took the DH bikes and the 4x4 trucks out and rode some huge screes, it was my first time doing that sort of riding but it was super fun."  
Top tips: Don't miss Cheeseman, especially Cockayne Alley
At Skippers Canyon there iss no phone service and not very good access roads so take it easy and you'll have a sick time.
URL: https://www.trailforks.com/region/craigieburn-trails/
Dirt Jumps:
Gorge Road Jump Park is a world-famous institution, its open mid -Nov to May ( though it'll close after rain) 40 jumps suitable for beginners to Pro can be found at the top end of town, they're maintained by the awesome Queenstown MTB club and they are free to ride. Such fun that Jim rode here four or five times a week for his entire stay. And when you've finished riding it's just a two-minute roll back to town. Or try Lizzie's at Wanaka
Top Tips: Don't miss a stop at the Searchlight brewery right by Gorge Road 
URL: https://www.queenstownnz.co.nz/listing/queenstown-mountain-bike-club/9254/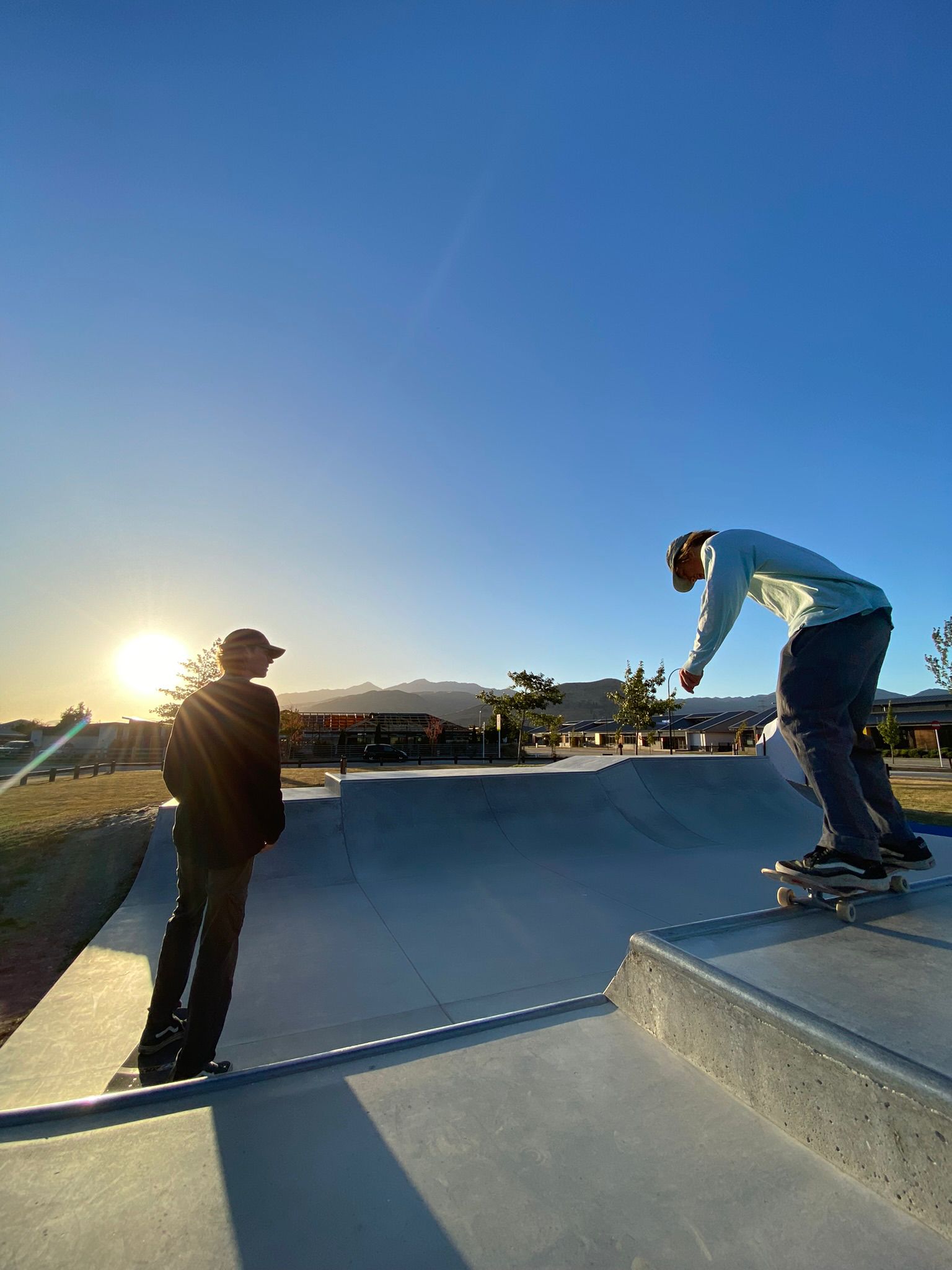 Surf and skate:
You can't ride bikes ALL the time! Be like Ben and head for the surf (Collac Bay and Riverton Rocks were his favourite spots) or chill on the beach and watch the dolphins!
Queenstown also has a great skate scene, Jim's choice of fun off the bike,  head for Queenstown Central Gardens or there's a cool skatepark in the centre of Wanaka – next to the famous Wanaka tree.
Top Tip: Quest is a really cool skate shop built up by locals since '93, definitely worth a look

Food and drink spots:
It doesn't get much better than meeting up at Drop Cafe in the morning, grabbing a coffee and a toastie, going riding all day then finishing up in Atlas bar for a beer or five watching the sun go down over the lake. Or treat yourself to the Atlas steak which is awesome.  
For pizza try Fat Badgers – they do a cool lunchtime deal for QTMTBC members with a big slice of pizza, chips  and a beer for 12 bucks… or for something lighter Taco Medic is cool
Queenstown has loads of really cool micro breweries and we'd recommend a thorough sample!
Top tips: Don't miss "Iggy Hop" at Searchlight Brewery it's mushroom infused!

Events:
Every January Queenstown Bike Festival and then McGazza Fest, take QT riding to the next level. Riders from all over the world flock to this super chill event which offers everything from DH races to Slopestyle, heli-biking, BBQs and parties kids coaching to bungee jump on a bike (Jim had a go and loved it though he's not sure he'd do it again!!)
Top tip: For pure spectacle don't miss the McGazza Jam
Get involved with the QTMTB mates race series within the bike park, you'll probably get smoked by a World Cup rider or two…