Japan's MTB Evangelists Race Atherton Bikes to the Top Step.
Hiroshi Ato and Keiko Tomita live together in in Minoh City, Osaka prefecture, Japan. They are the proud owners of Atherton Bikes 16 and 17 and within 6 weeks of delivery Hiroshi had raced his new bike to its first victory on Japanese soil.
Hiroshi grew up in Osaka hooked on Dirt Bros movies and magazines. He discovered mountain-biking when he was 12 years old; riding in parks with his friends and making jumps in the street. He entered his first DH race on his GT hardtail in 1997, and now has a National Series win and several podiums to his credit, he has raced World Cups at Maribor, Mont St Anne and Wyndham.
Keiko was born in Nara city and started riding mountain bikes as a 20 year old university student; she can boast 3 National Series wins. With Hiroshi she co-runs the Acciarpone race team, and distributes Deity, Ellsworth and Topknot products. They designed and manage Up MTB Park in Kannabe.
The power-couple chat to us about their big ambitions for the Japanese MTB scene, bikes and baked goods!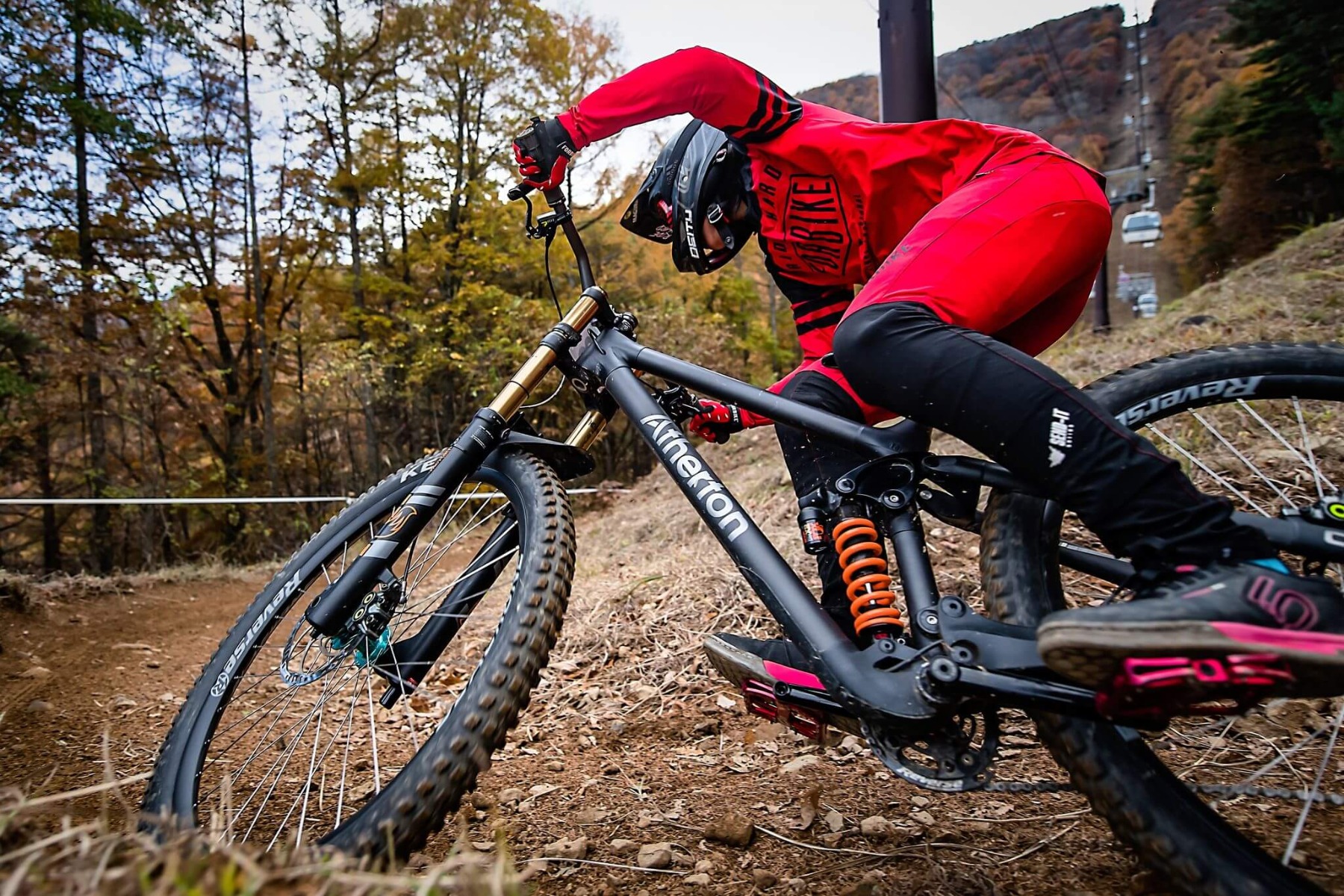 KT: The race team is named Acciarpone for my bakery. I lived in California for 6 years after university and it got me thinking, "I could live anywhere in the world if I could make bread!" Most Japanese bread has additives, Acciarpone does not, I bake what I want to eat, concentrating on wholesome ingredients simply presented...
I close Thursday and Friday so I can ride and also when I go racing but customers still come, they cheer me on at the track!
HA: I run the race team and distribution full time. We've won the National team victory every year since it was established - at times we've had 5 riders on the team, at the moment it's the 2 of us - It can be difficult to manage young guns!
Instead of running a traditional race team Acciarpone supports different types of riders because they all have different roles in expanding MTB. We work with some great people – racers, trail builders, Yujiro who works in a bike shop and inspires loads of beginners to give MTB a try… I want MTB to be a major sport in Japan. We're both passionate about increasing the number of riders so it runs through everything we do.
HA: During the summer season we race all over Japan, from Hokkaido to Kyushu island. In 2020 Covid really messed things up, we had only had one official race, but usually we have 5 Japan Nationals and 1 National Championships. We also have a 7 race Downhill Series. Numbers are building, slowly, about 250 boys race but maybe 10 girls… we want to change that.
HA I love racing because I get to push the limits. Taking the win at Syobudani on the Atherton bike only weeks after the frames landed in our living room was very special, especially the way that run made me feel onboard the bike.
KT: Outside of racing Japan has a lot of trails but most of them are illegal, kind of a secret for people who've been riding for a long time or have riding friends. Or they have a lot of hikers.
That's why we started our bikepark at Kannabe, we didn't have a big bike park on the west side of Japan and we wanted to give beginners an easy, official place they could go and ride. It's been a ski resort for 100 years but it's getting less snow so they were keen to work with us.
HA: it's close to the city and we can use the chairlifts…we have special trails for ebikes – we both think ebike is going to be huge. We're building a paradise!
KT: During the off-season we'll ride secret trails all over the country but in summer we ride local trails close to our house. Minoh city has mountains even though the city is very close! It takes 20 minutes to pedal to the trails.
HA: I've wanted an Atherton Bike from the very start. I remember reading about the Atherton family joining forces with the Robot engineers and thinking "Yes, that it! No doubt, that's the bike we should ride!"
The technology is very important for us, especially the intersection of speed with a feeling of safety and security. I was looking for bikes which have DW link with the unit vertically attached. I loved the PIVOT aluminum 26 inch Fenix and had some great results on it. The combination of titanium lugs, the engineering expertise and the huge experience that the Athertons bring won me over straight away.
We bought frames, HA is 177cm and KT is 164cm – we both chose standard sizes at the smaller end of the recommended range for us and they feel great.
We built up our bikes with components from our sponsors : Fox suspension, Deity cockpit, Magura brakes, TRP drivetrain, Profile Racing hubs, Revers rims and Kenda tires.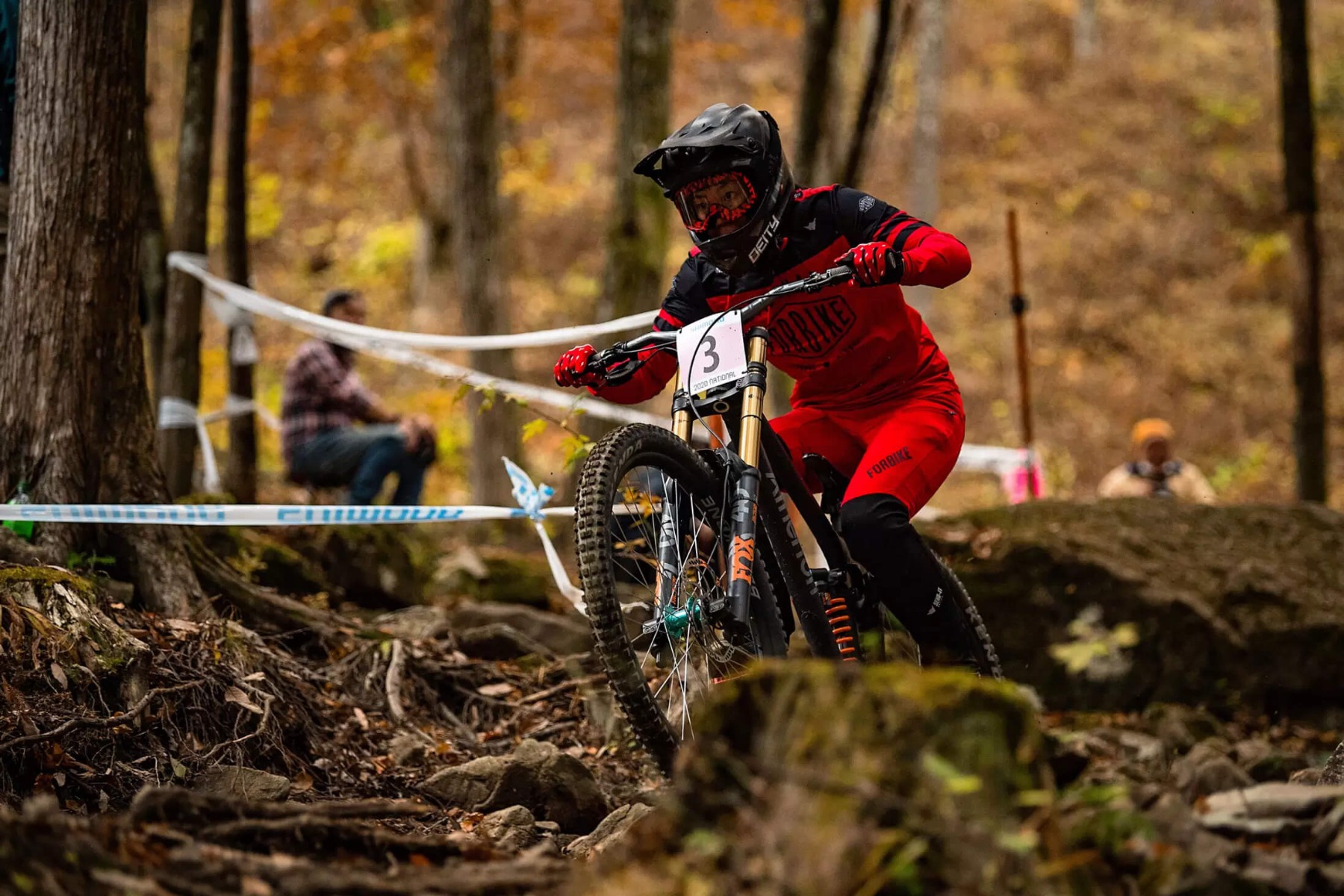 KT: We've both ridden a lot of bikes over the years, Atherton bikes is different from the others.
HA: I've never felt like this when I'm riding before, For the first time I felt a sense of unity between myself and the bike. The feeling and speed of repulsion, after the frame bends and comes back, is very different from the feeling of 100% titanium frames and 100% carbon frames.
KT: The feeling is not too soft, but I feel soft on the bike; I don't feel too stiff but it's not limp. It's perfect.
It took us a while to get our suspension settings right. Honestly at National Champs they weren't perfect. Hiroshi was riding 3 or 4 times a week but with a 500 pound spring he couldn't find his rhythm on the bike, I crashed…Hiroshi believes that Dave Weagle's linkage system is the best in the world…so we knew if we found the perfect setting we would be invincible! He tried a 475-545 pound spring but it felt worse, making the rear suspension hard just didn't work on this bike.
So we watched a classic DVD - Ironhorse Sunday. We pulled out an article and found a picture of Sam Hill's rear spring… Hiroshi changed his spring from 500 pounds to 425 and mine changed from 425 to 300.
We'd cracked it! The feeling was amazing and race times started to improve. Hiroshi won at Syobadani with the 425 pound spring and he felt "this is DW link! this is the DW6. The traction was great and changing lines felt really easy, no pitching, no bobbing when you pedal, Hiroshi said that he felt like his body got stronger. We can't wait to hit the racetrack in 2021.
HA: Before we built our bikes the main driver for us was the technology and the DW link, just seeing photos we thought maybe the look was a bit too simple but once the frames were in our hands we were blown away.
KT: Other riders are very interested in the simple design. Everyone wants to come close and have a really good look because they didn't expect to see Atherton bikes in Japan. Even riders we don't know will talk to us and ask where they can buy one, It's always slimmer than people expect, they say "This is so cool!! It looks like the forefront of design!
HA. People who understand bikes and machines are interested in the DW6. It's the evolution of the link system, it is the future bike! We'd encourage anyone to ride Atherton Bikes!