Meet Our Graduate Design Engineer Scott Aisthorpe
Meet Scott Aisthorpe, 22, our graduate design engineer. If you follow Enduro racing you may well have come across Scott, twice Overall Series winner in the Scottish Enduro Series. Scott chats about his motivations and the parts of his life that influence his approach to design, his appreciation of the Atherton Bikes concept and some his early creative moments…
Growing up, my parents were missionaries so until I was 7 I lived in Nepal. We were mostly based in Pokhara in the heart of the Himalayas .
The Nepalese culture was very creative, repurposing and upcycling most things. Car tyres were made into sandals and flipflops and the local kids taught me to make spinning tops from bottle caps and pens.
The happiness they got out of those simple toys stayed with me; making things that bring people happiness is a huge driver in my approach to design. For me, the process of making things was as much a part of the fun as actually playing with the finished article.
When I was 7 my family moved back to a small village near Aviemore. It was a huge cultural contrast but we were welcomed into a super-strong outdoor community. My Dad was a mountaineer and a paraglider so from an early age I came to love the mountains. Hiking, riding bikes, snowboarding, running …
While I was in primary school, I came across videos of pro mountain bikers riding snow bikes. I thought this was the coolest thing ever – combining two of my main passions. So I made my own from an old hardtail frame and some vintage wooden skis – it was awful! But V2, with a much smaller frame, high rise BMX bars and a snowboard rather than skis was far more stable and so much fun!
When I was about 12 I joined Wolfpax, the local mountain biking club and my love for riding grew massively. An amazing group of folk were involved and some of the kids who rode with me have gone on to be competitive at UCI Downhill and EWS races. Some kids were encouraged to race from an early age but for me, it was much more about messing around on the jumps that we'd built in the woods, the pure joy of riding my bike and exploring.
It took me a while to catch the racing bug. When I was maybe 16 or 17 I started racing Enduro and I wasn't too bad! I won the Scottish Enduro Series Overall title as a junior in 2016 and again as a senior in 2018. I have experimented with some endurance events too - like the 24hr, Strathpuffer which takes place in the north of Scotland in January. I love pushing myself to the limits, seeing how deep I can dig.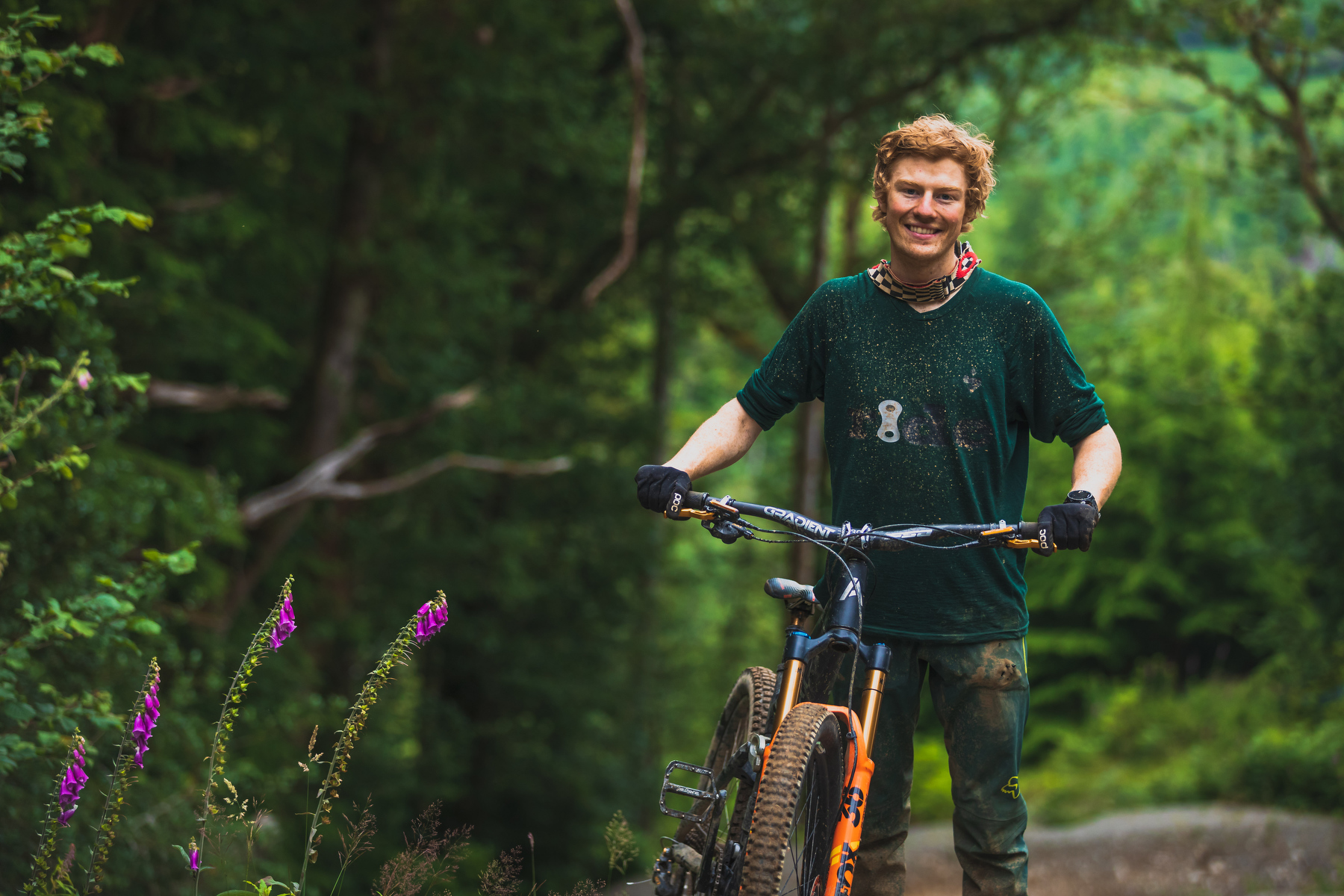 I studied Product Design Engineering (PDE) at Strathclyde Uni, it was the perfect course for me because it gave such broad experience of design, not only from an industrial design perspective but from an engineering viewpoint. Designing bikes was always the goal.
In the summer holidays, I worked in bike shops. I have worked on loads of different bikes and came to either love or despise certain design features that make or break a mechanic, or rider's experience. This informs much of my design approach at Atherton bikes.
I pulled back from racing a bit whilst I was at uni – I found that I didn't have enough time and energy to do both uni and racing to the level I'd want. I only want to commit to things if I can 100% give it my all and do very best that I can. Now that I have my weekends back I am keen to get back inside the tape and I've entered a couple of local enduro races to get me started.
I wasn't looking for a job when the Atherton Bikes opportunity came up – things were pretty full on at Uni and I was pretty stretched. A friend sent me the job ad saying "there's this ace job description I've seen, it's like it's been written for you." Despite being a keen rider and looking for a job himself, he was so convinced that the job was for me that he didn't apply!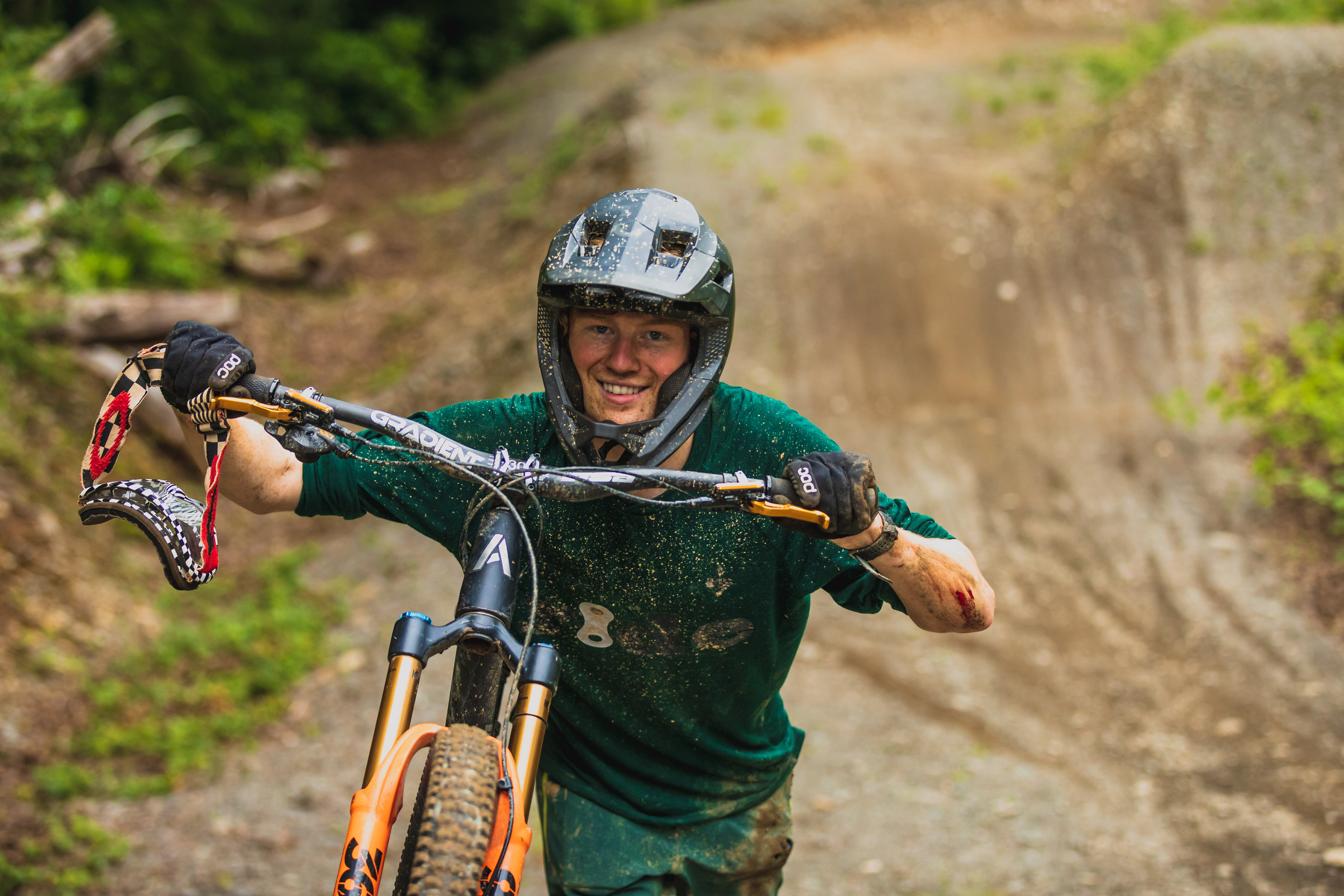 The experience of racing is definitely part of my sub-conscious mindset when I'm working on a bike design. I love the fine details that will enhance the rider's experience. For example, I'm working on a cable routing project at the moment. I'm trying to create a system that is super easy for our frame builders to assemble, and for riders to maintain, but everything is underpinned by my conviction that "racers need 100% focus on the riding and distraction caused by cable rattle is simply unacceptable …"
One of the things that really excites me about Atherton Bikes is that you can see the process, it's very intimate, very honest. You can see where Oscar and Ed have hand fettled each of the individual lugs. I love the raw engineering aspects of the bikes, it's like a celebration of the technology that has built it. These manufacturing processes are a huge part of the attraction for me, but in itself, that wouldn't be enough to sell me on the bikes. I like to feel connected and at-one with both the trail and bike and that's something the Atherton Bikes absolutely nail – the nimble and playful feel really allows me to pick lines precisely and pop around the trail.
I can't wait till I can get one between the tapes.
Scott.