Rich found his perfect match AM.150



Richard Lempicki lives near Southwell in Nottinghamshire, UK. He works for a large construction company, specialising in the water industry and uses riding bikes in the woods as the perfect antidote to time spent at the laptop. Rich bought his AM.150 with a "semi-custom" build through Cyclescheme* saving around 40%.
RL: I live in a little village just outside of Southwell in Nottinghamshire, so the majority of the terrain is woodland based. I'm lucky that my local trials are only a quick 10 min pedal from my doorstep, so it's ideal to nip out for a quick ride with the dog, or at the weekend I can get a few hours in at the trails while our 20-month-old is having a nap. 
Slightly further afield we have the Peak District, Sheffield's Grenoside and Wharncliffe trails. I'm pretty spoilt really. You can see why I'd choose the AM.150, it's the perfect all-rounder. We have a pretty healthy scene here with some of the BEST-WOODS just a stone's throw away from where I live. There are also plans underway for a large-scale bike park around 30 mins drive away which will add massively to the current scene around Nottinghamshire. 
Job-wise, I work for a large construction company, specialising in the water industry. The job can be quite mental at times and involves a lot of time in front of a laptop, so riding is a wonderful escape and freedom from that. I dabble in a bit of trail running but don't really have time for anything else at the moment as I'm busy running around after the little monster. The next few years it's going to be super exciting as he's just starting to use his balance bike, teaching him to ride is just going to be the best! I always remember having bikes as a kid going back to being 4 or 5 on a little 16" Raleigh Mini Burner. But it was when I met my two oldest riding buddies, street-riding in town that bikes became a big part of my life. We met after school and college most evenings and rode every weekend. We had some of the best times. But after a bad ankle injury and a new job, I took a long hiatus from riding.
I picked it back up in 2019 after a couple of guys from work were taking about mountain bikes and suggested I should get back into it. And so I did. Immediately, I was hooked, again! 
So after a few years of riding, I'd come to the conclusion that my old bike just felt unbalanced for the majority of riding I was doing. And so began the six-month mega-mission of test riding everything I could get my hands on, trying to understanding geometry to find what I thought was the right bike for me. I test rode; Santa Cruz Hightower, Bronson Nomad & Megatower. Nukeproof Mega, Forbidden Druid, Transition Sentinel and I rode a friend's Raww Jib. Then another friend sent me an Instagram post saying Atherton Bikes had a few test rigs. So a couple of emails later we'd fixed a demo and second run in, I knew I'd found it – THE bike. The Atherton just made me feel right at home. Precise steering, controlled and so much more grip. 
That perfect match with the bike is of course my key driver but I think it's still worth celebrating some of the underlying values. Not only is the tech used to create these bikes super cool, but the design and engineering that you don't see on the inside of the lugs is maybe even more impressive. I see similar levels of design and engineering demonstrated in the water industry and have friends who work at Rolls Royce where the Renishaw machines are used to print parts for their turbines. To have the same tech used to print parts for my bikes is incredible. The environmental benefits of the construction methodology tend to get left until last, but it's always nice to know that because there's minimal waste there's minimal impact.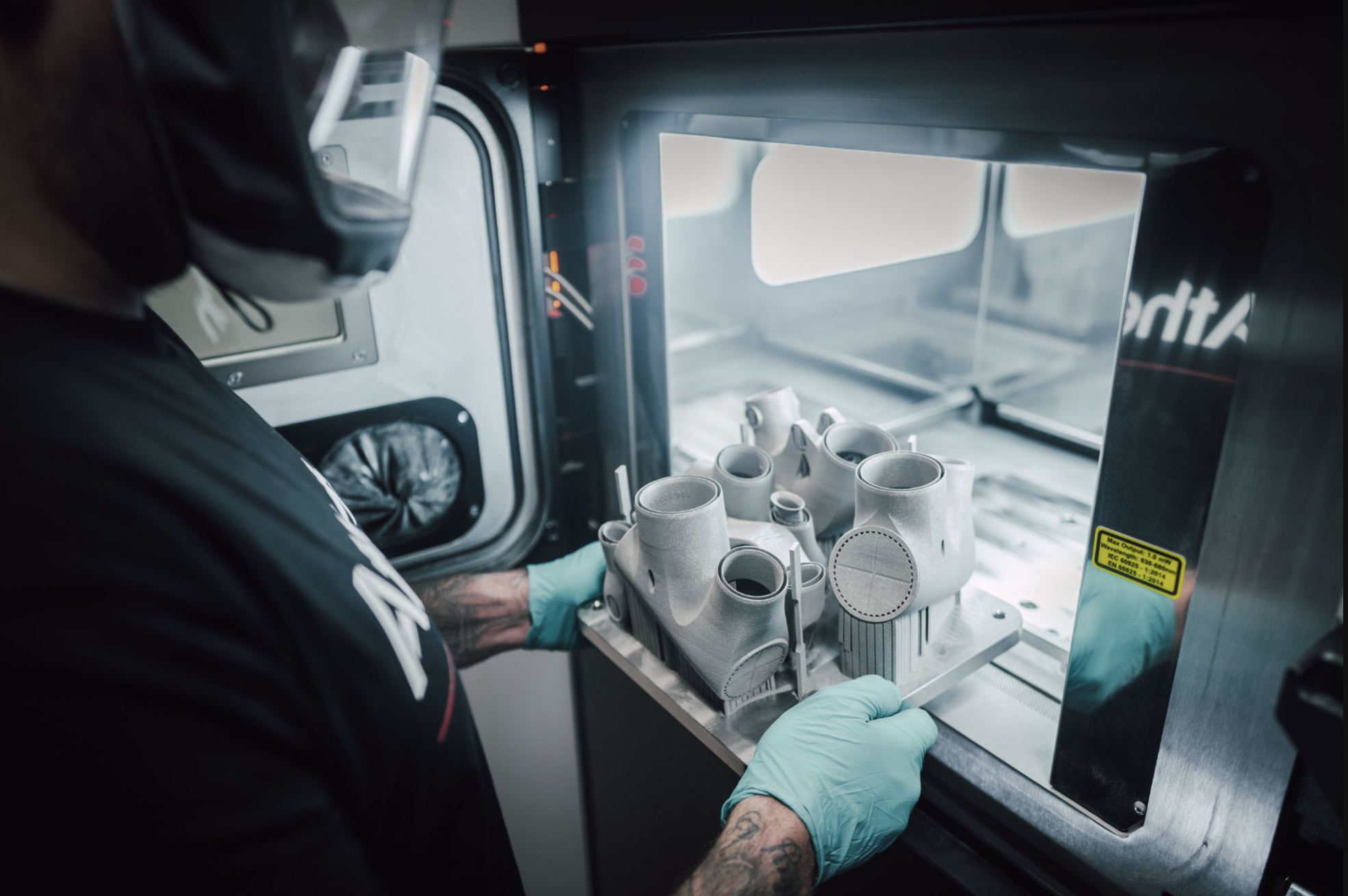 Decision made! Well, the first of many!! The buying process has been wonderful, the entire team were most patient with my several hundred emails. When I asked questions, they've been prompt and well informed… I sent A LOT of emails! 
The bike took a while longer to get through machining than planned, however, I was informed of this upfront and given more details on the specifics, from the perspective of my own work, I certainly understand the importance of absolute transparency when it comes to dealing with delays. If something is not going to meet a program deadline, I'd rather be upfront and give specifics so I appreciated the straightforward communication.  
When it came to choosing components it was great to be able to chat things over with the team and make the slight tweaks that would make the bike perfect for me. I'd ridden friends' bikes with coil springs and loved the feel, so this was the first change from the standard spec. The demo bike I had also ran a coil so I knew how well it complimented the bike. I selected Magura brakes because personally, I find SRAM brakes great initially, but performance fades. 
Finally, I requested a 170mm Fox 38 fork, rather than the 160mm 36. Joe was super helpful in explaining the effect the slightly longer fork may have in comparison to the standard spec, however I stuck with the 38s. I'd read a lot of good things, test-rode the fork on a few of the bikes and really liked the feel. I did at one stage request a cost for the bike with an alternate Shimano XTR drivetrain. At the time, however, the supply chain was still recovering from Covid and it was suggested that due to these issues, SRAM was probably a better choice, which was fine. The bike spec was carefully selected and then the purchase was made.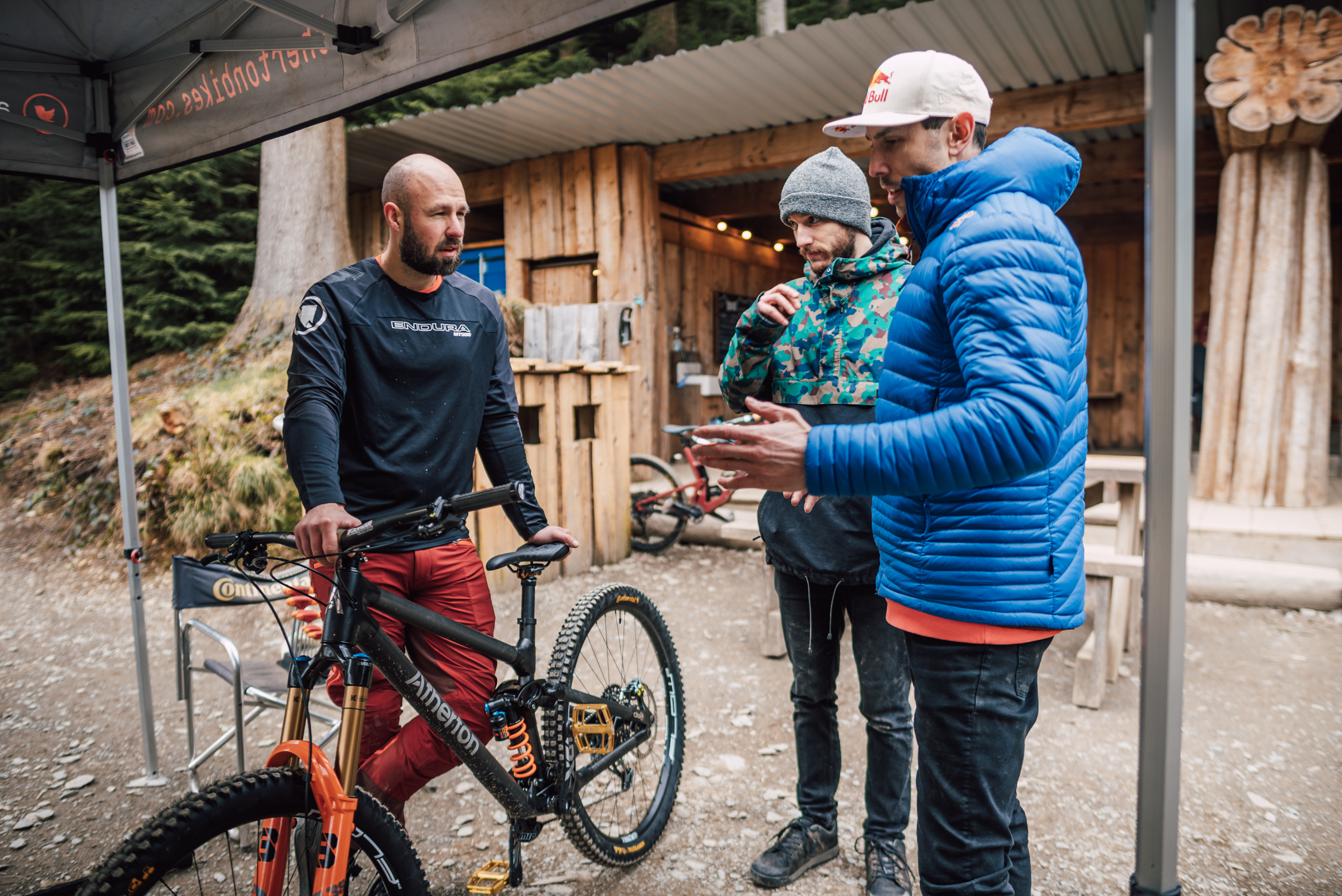 Fast forward about 20 weeks and Joe who's the Head of Sales at Atherton sent me a pic of my finished build and invited me to a handover where a few of us would pick up our bikes at Dyfi Bike Park, take some photos and have a mechanic on hand to help with set up and to give the bikes a shakedown test. The day was awesome! All the guys I've met from Athy Bikes are so passionate about the brand and its products and happy to chat about all things bike. Full geek mode!
The bike arrived, the pedals were screwed on and Jamie the mechanic took the bike to add some pressure to the forks, I jumped on to make sure the sag was set up right and was ready to go. I had a steady ride down Super Swooper, I knew what I was expecting because I've ridden at Dyfi quite a few times and I'd demo'ed the bike there but I was still blown away with how well the AM.150 pushes through corners. It made the first ride down just that bit more special as I knew I was taking the bike home with me this time!  
 
Back in Parc Fermé, the guys asked me how things felt and if I had any feedback. The forks felt a little soft so Jamie took the bike, ran through checking all the bolts and gave me a brief overview of the mechanics before putting some more air in the forks and sending me on my way. Much better.   
At the end of the second run, I was greeted by Gee Atherton. He had a look at the bike and the spec and asked how it was feeling, I mentioned that the rebound was possibly a little on the slow side. Down he went and twiddled with the rebound adjustment. Which made things way better. He also suggested that as I've spec'ed Fox 38s it might help with the bike's balance to drop the stem a little lower. Again, Jamie took the bike and sorted this straight away. Top service! 
 
As I write this I've had the bike for three weeks, so this weekend was the first opportunity to take it to the local trails. They're situated in a woodland where the ground is a hard-packed sand and due to the space restrictions, there's a myriad of tight berms and a criss-cross of jumps. Quite different to the slate at Dyfi but a great test for the bike. The first run, the speed at which I was able to exit the berms was totally noticeable, the balance of the bike in comparison to the previous is by some great order of magnitude, better.  
For me, riding bikes evokes childish freedom. The adrenaline after a big send, the social aspect and the exercise. All things I love.  In these three short weeks since owning the AM150, I'd say I definitely have a sense now of having a bike under me that's not going to hold me back and will take my riding to the next level…  
 
Even after such a short time, I'll happily say the bike will allow me to push myself far more than I would be able to on the Mondraker. I'm due back to ride at Dyfi this month so will be able to report more fully after that but I have no doubts that I'll be hitting the Oakley line at some point this year, with every bit of confidence the bike will handle it. I like going fast, enjoy pushing myself to hit new lines and ride faster. I suppose this is an inner competitiveness I have. There's a great sense of achievement knowing you've ridden at 110% or hit a line or jump you've seen one of the pros do online.  
 
The AM.150 has solved the problem of me now having no excuses to go and hit some bigger stuff! Thanks ☺.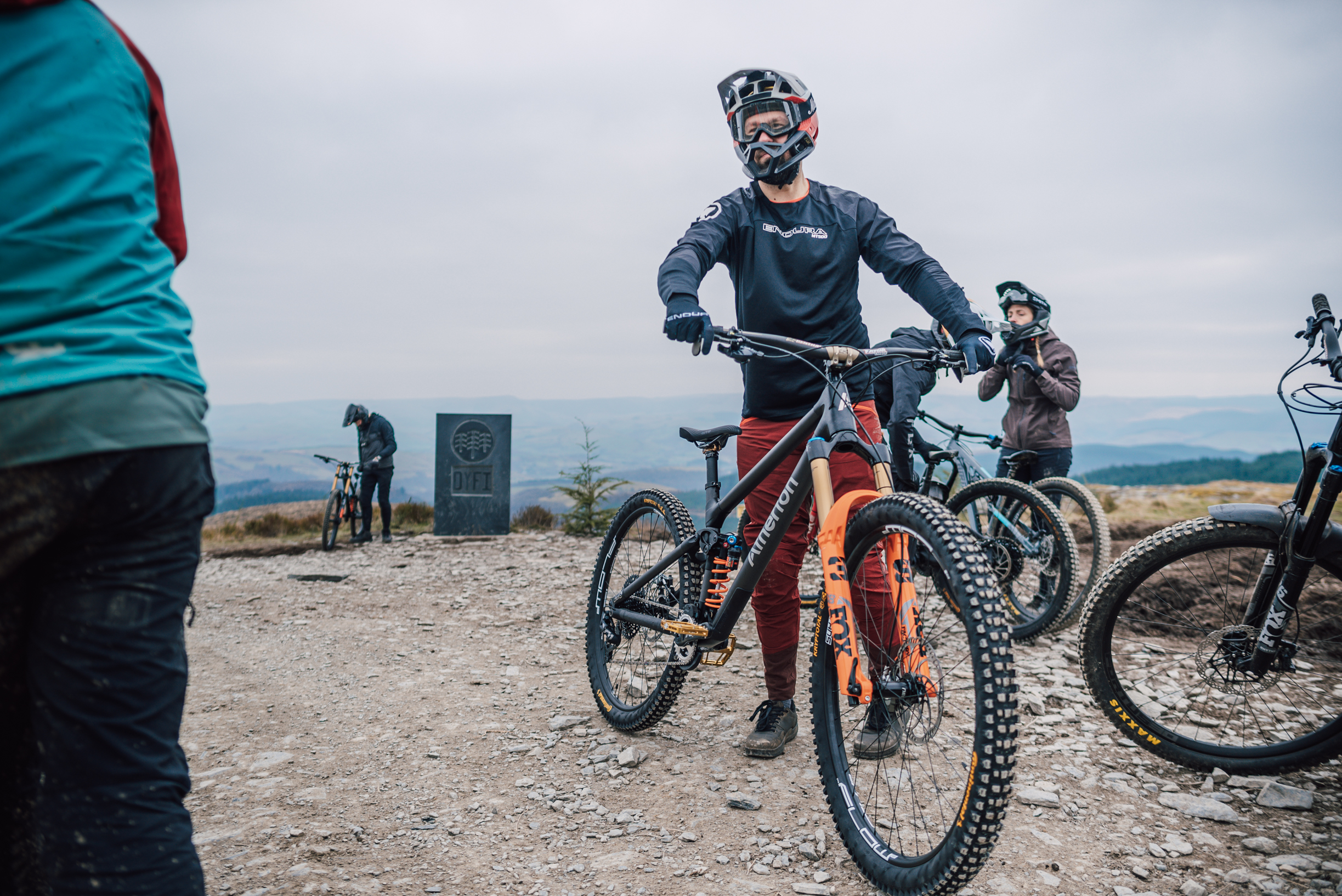 If you not ridden the bike, grab yourself a demo, it definitely does the fast thing well! It descends superbly, it pedals as very well (with a coil) up hills and on the flat. It feels super balanced and composed translating to it cornering like its on rails. You can push into a turn so much harder than other bikes I've bidden but this  just grips. The AM150 really is the perfect do it all enduro bike, takes hitting the big stuff at the park in its stride but also great for a casual hour pedal with the dog. Its epic! 
Overall the whole experience from the first email through to picking the bike up and now progressing my riding with my perfect bike underneath me, the whole thing has been great.  I feel when you buy and Atherton you're buying into something unique, heightened by the fact that the Atherton Bikes brand also has a bike park as its big brother!!
10/10 Would recommend…