Bike Check: Rachel Atherton's AM.2OOM World Cup Winning Bike
Rachel Atherton is back! At Lenzerheide World Cup Round 1 "The fastest mum in the World" inspired hundreds or maybe thousands of riders and ex -riders to get back on their bikes, and just one week later she followed up with a 3rd place in Leogang, World Cup Round 2! Rach loves to race but, with daughter Arna now her top priority, feeling safe and confident on board her bike is paramount… Rach rides the AM.200.M in a standard size 6 (460mm reach) Watch out for Leogang's Winning bike check on our website later this week… Men's Elite rider Andi Kolb rides a standard size 8… 
RA: I absolutely love this bike! Riding a World Cup on a bike that we've designed ourselves, built-in Machynlleth and tested at Dyfi Bike Park…I can't begin to tell you how special that is! And it goes so well, it's literally the best bike I've ever ridden! Everyone keeps saying that I must have a super-custom bike because the Additive Manufacturing process that we use would allow that, if I wanted to, in theory, I could completely change my frame for every race, but in reality, I ride a standard size 6 production model – you can buy one exactly the same on the website…  
I was so unsure of how racing was going to go; being at a World Cup is an absolute world away from shredding Dyfi Bike Park where I'm completely in my comfort zone and can stop whenever I want, but the bike felt amazing!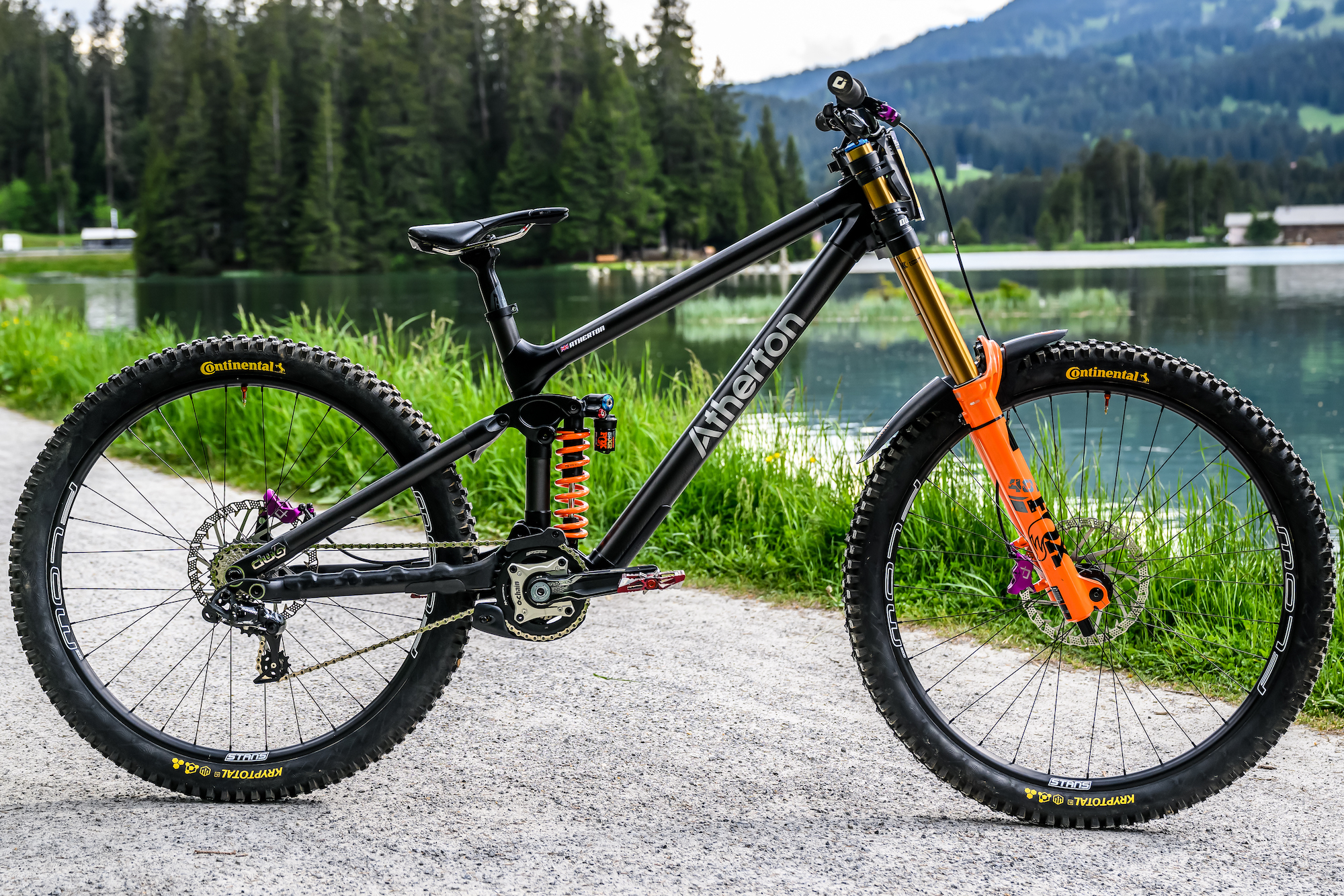 The AM.200.M is a seriously good bike, and that makes me feel more confident, it's so predictable that it opens up more line choices than ever before, my lines were clever and safe and that made me feel so much better… 
I loved the AM.200 when it was a 29er and I won two World Cups on it before we even started to sell, but when we tried the bike as a mullet the whole team were 100% that it worked better; it's so playful and manoeuvrable it's absolutely unbelievable in the tech sections. The difference was so clear that we don't even offer the 29er any more  - the mullet is just so good!  
People are surprised at how simple my set-up is, maybe because I write so much about how a good set-up can transform your riding experience, and I stand by that! But I was really involved in the design of this bike so it doesn't need any crazy set-up…the DW6 gives amazing small bump sensitivity but is progressive enough to hold you up for the big drops. I like to run my suspension quite firmly and for the race I had a brand new custom tune from the team at Fox, it was so good to get advice from Jordi and Jules, they are like magicians…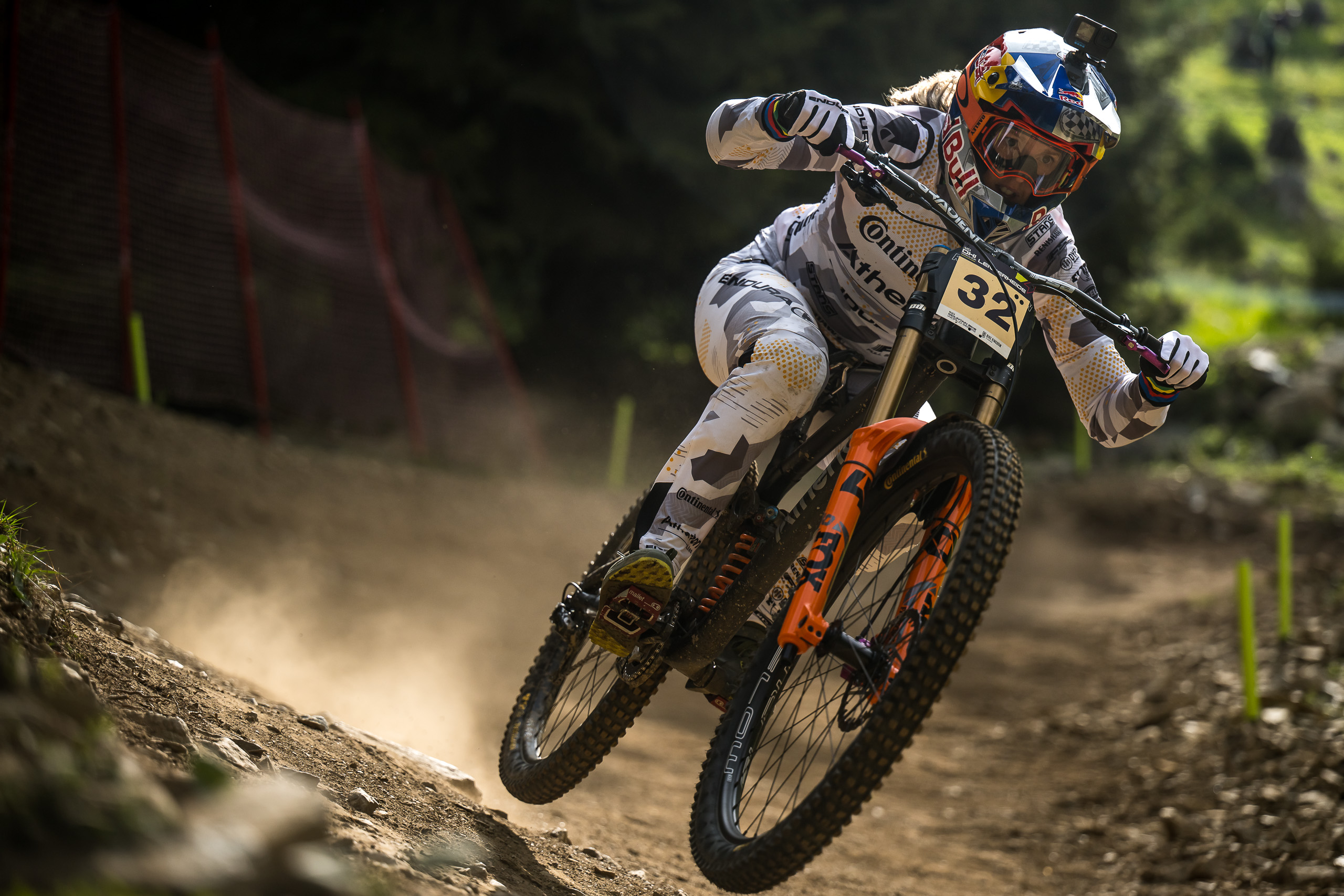 My Lenzerheiderace run run was pretty rad, I f***inglove racing because that's the only time I ride like that, super committed to the gnarly sections and ready to lean into the turns a tiny bit moreand brake a little bit later, to ride like that you need to be 110% certain of the bikeunderneath you.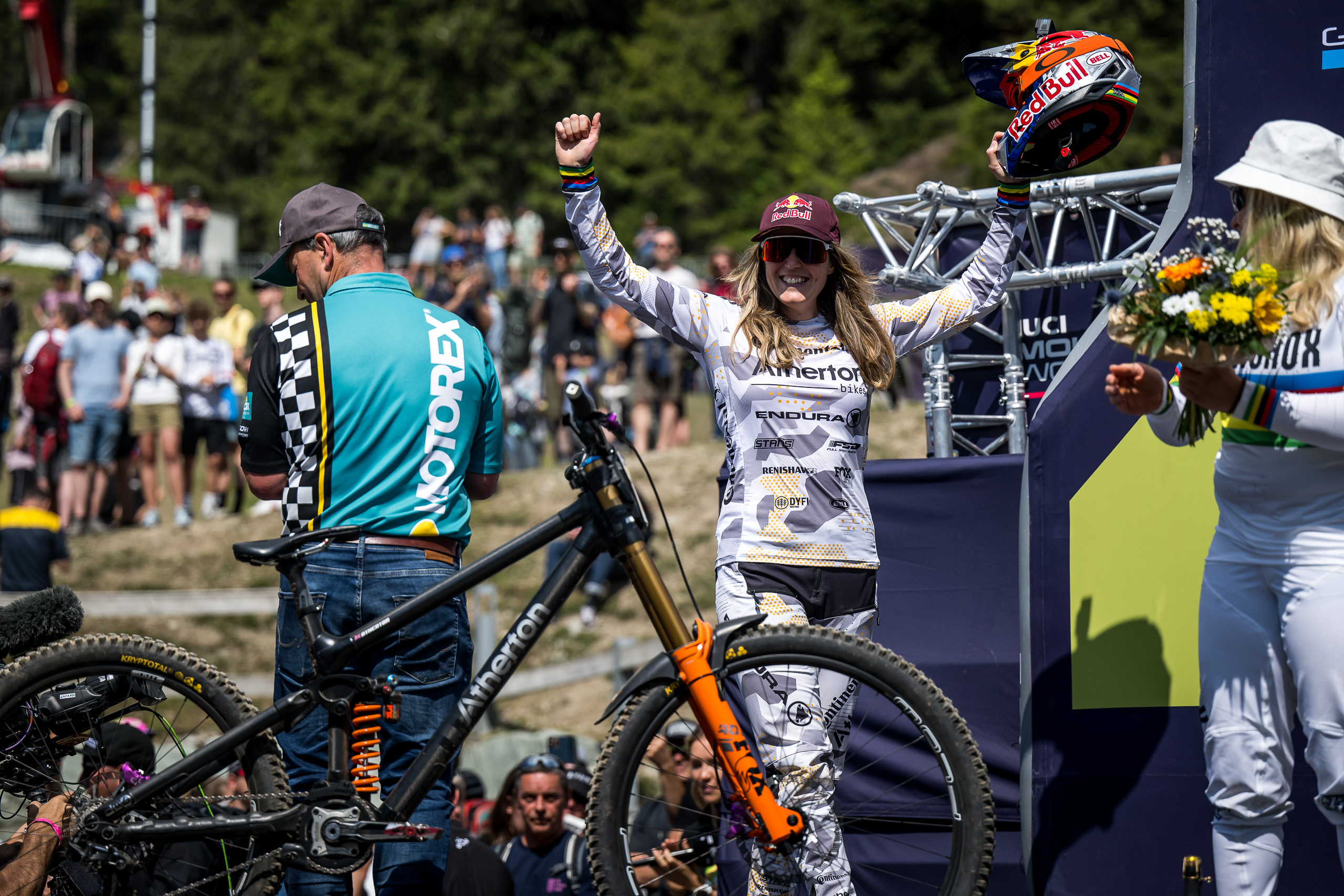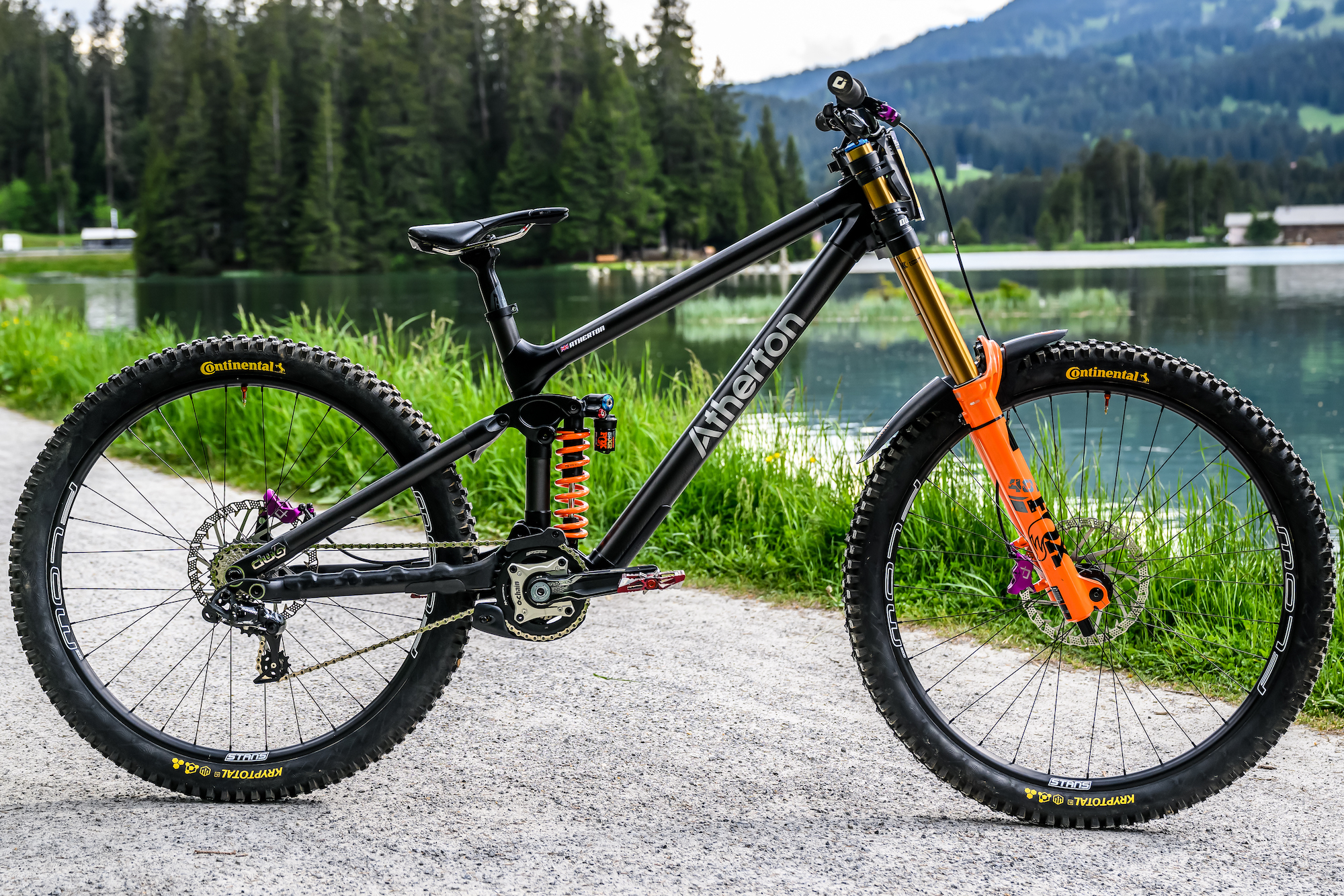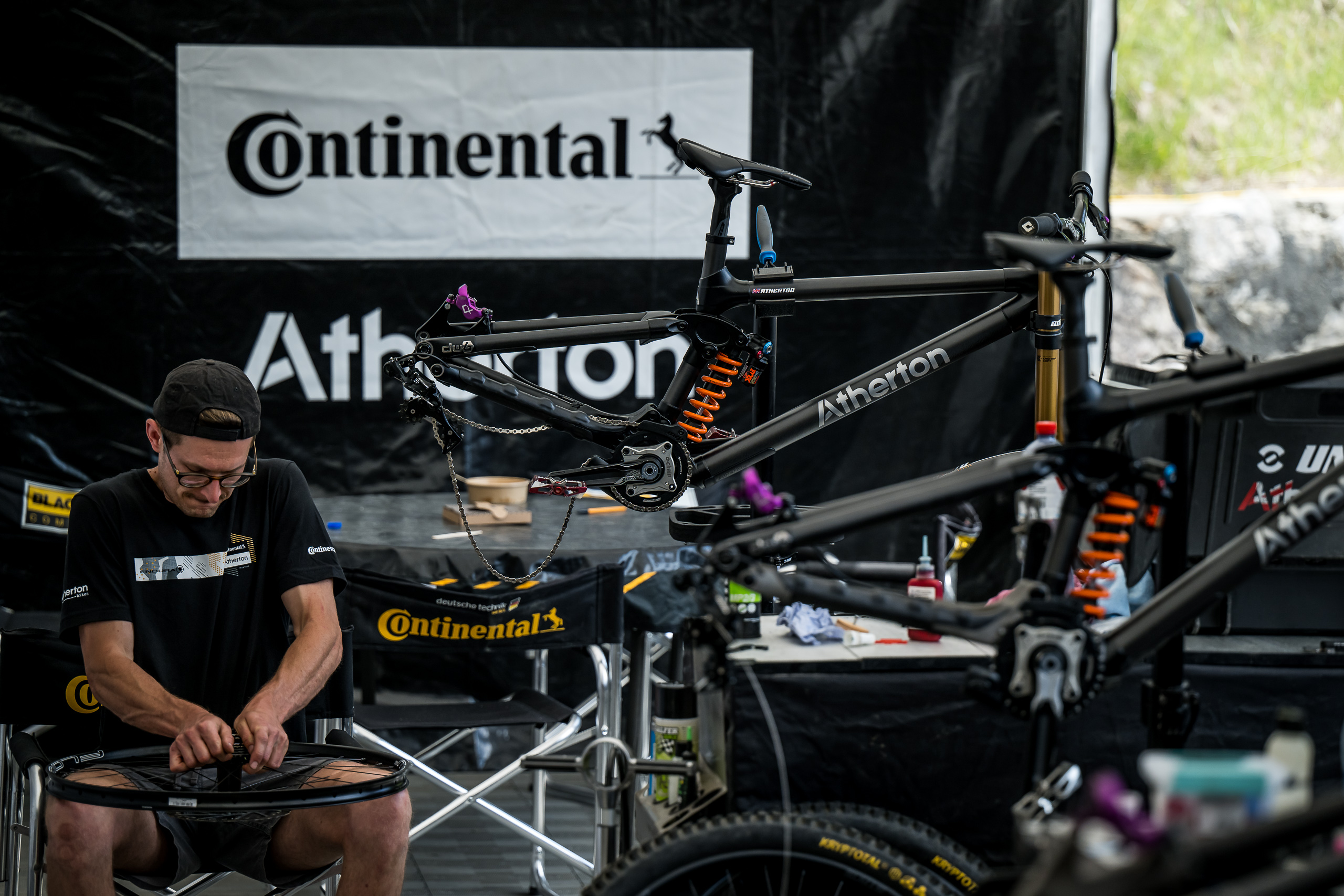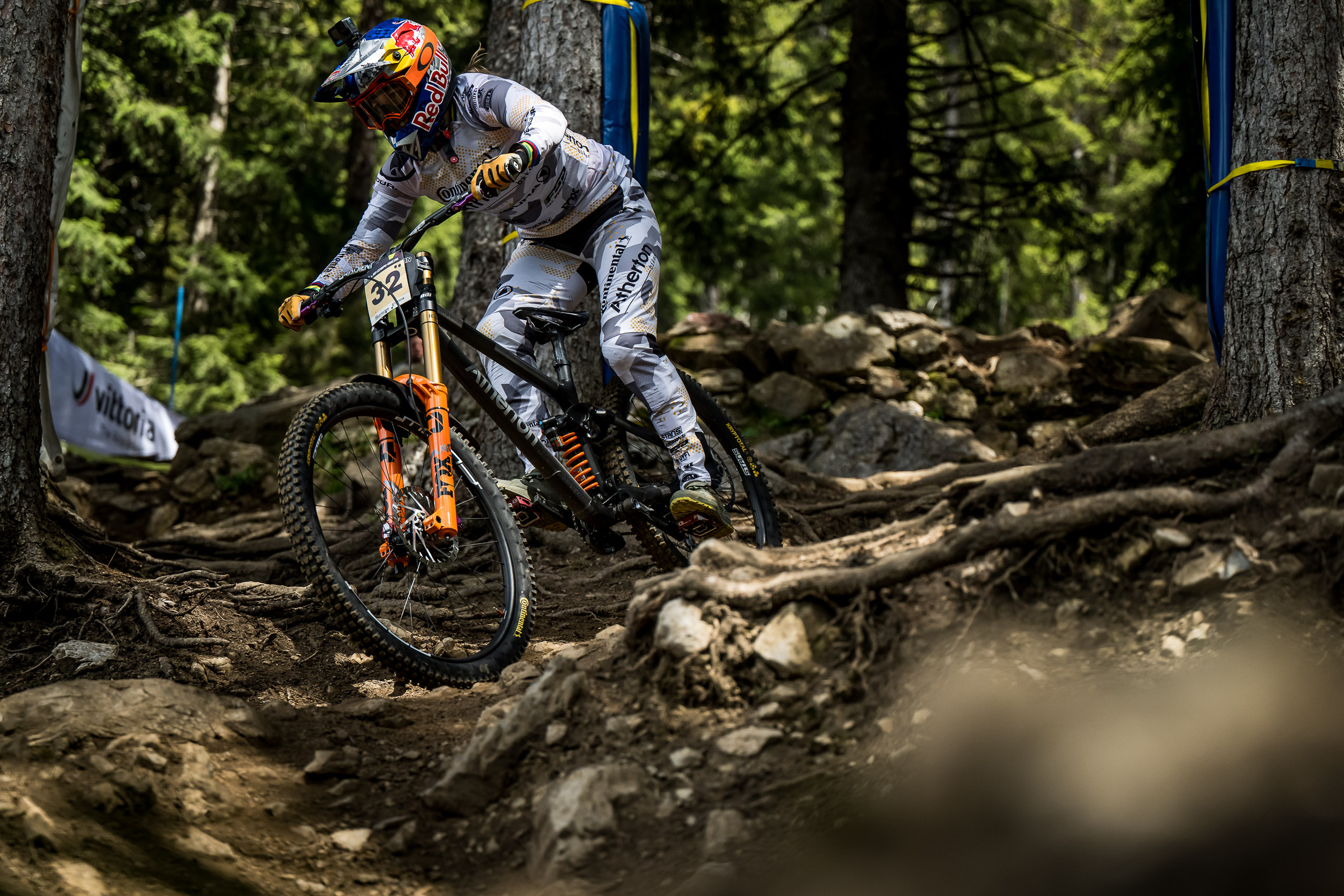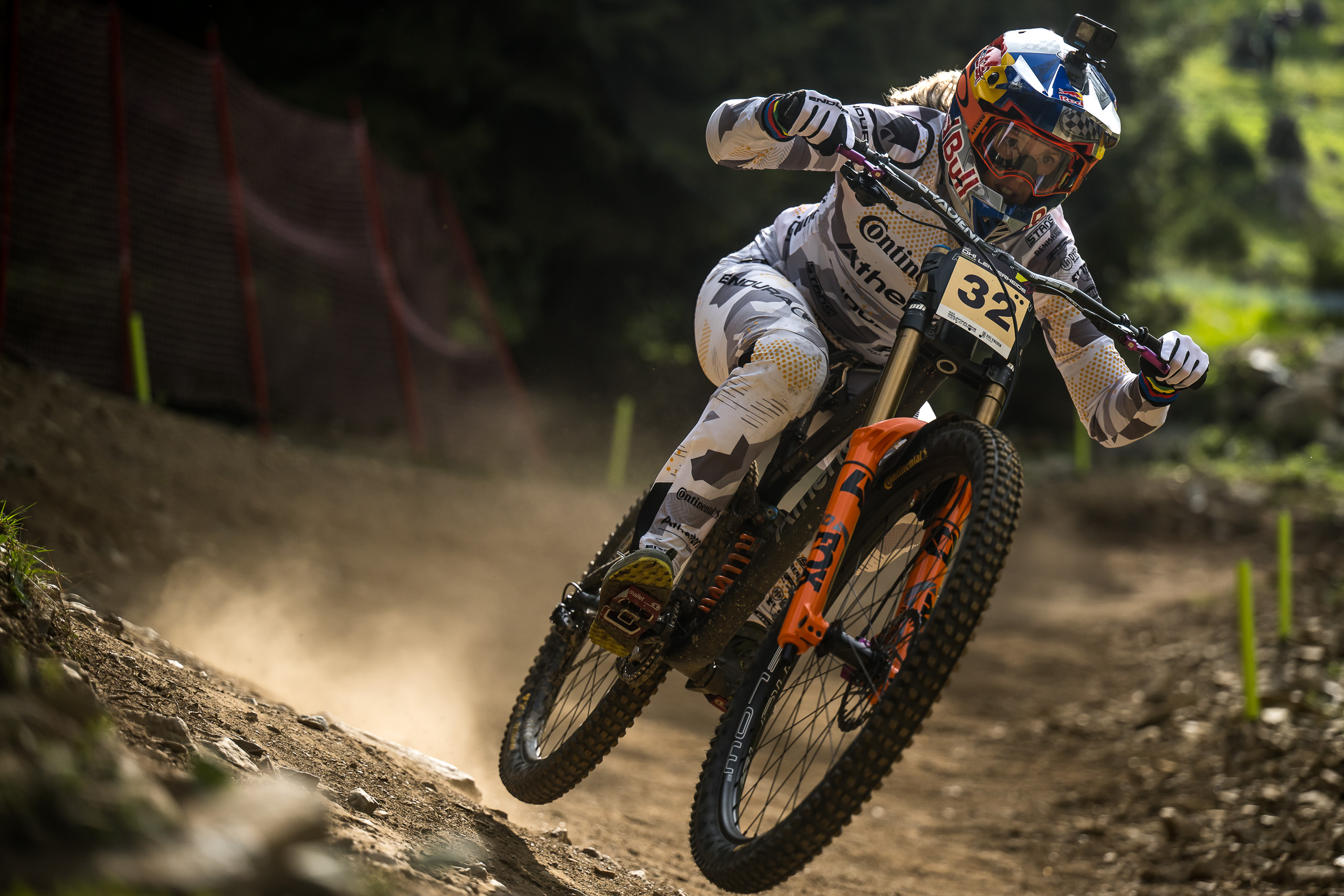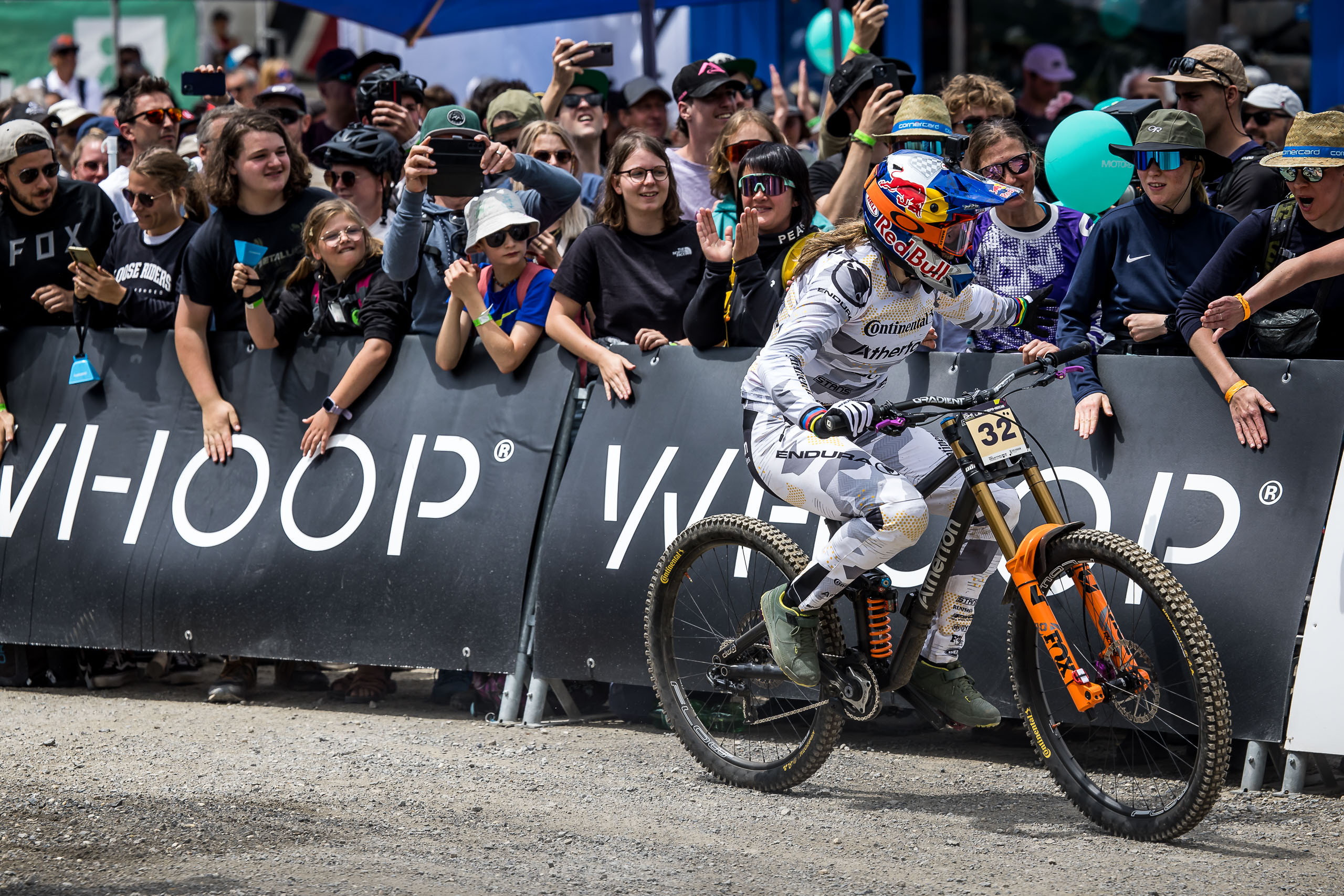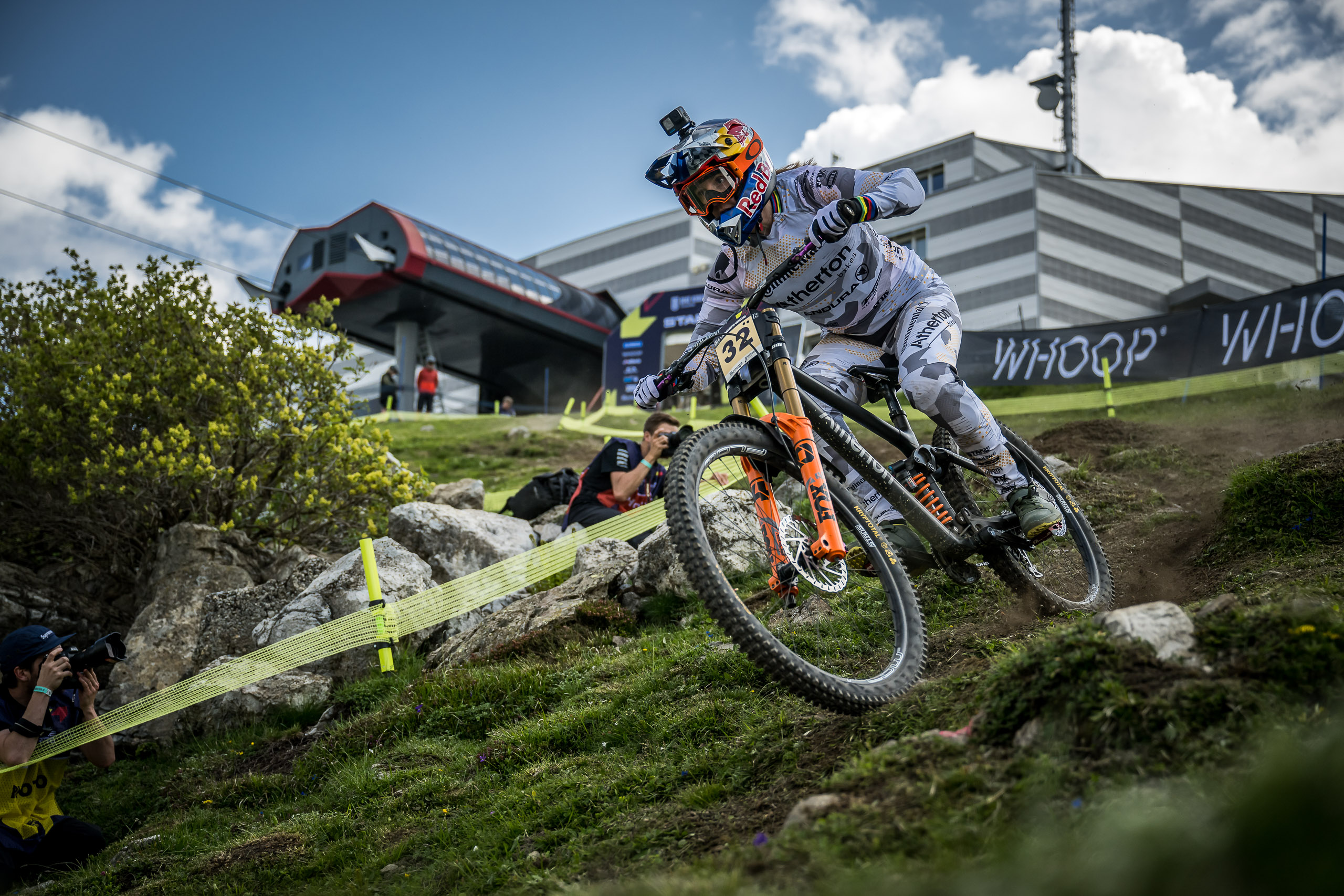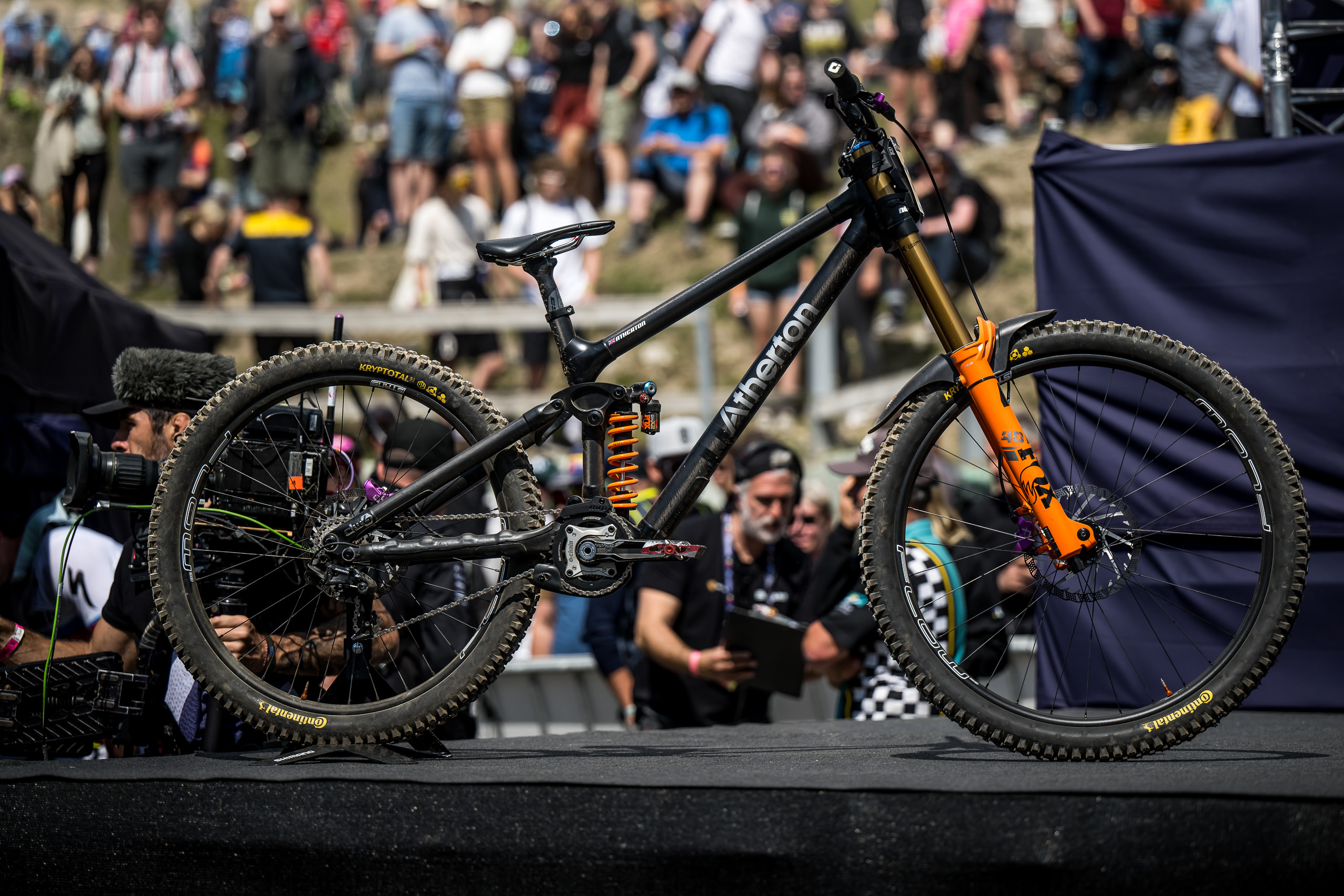 Specifications
Frame: AM.200.M, Size 6 of 12 standard sizes (460mm reach)   
Suspension Shock: Fox DHX2 225X75mm, 475lb spring 

Fork: Fox 40 Factory 83psi with 5 vol spacers 
Brakes:  HAYES DOMINION PURPLE HAYES 
GALFER rotors and pads with sharkfin discs, 203 front and back 
Wheels:  29" front, 27.5" rear, Stans Flow EX3 rims and Stan's M pulse hubs  
Tyres:  Continental Kryptotal front on both front and rear 24 psi front, 28 rear, Tubeless with Stan's sealant  
Drivechain Cassette: FSA k Force 
Derailleur: Sram DH XO 7 speed 
Shifter: Sram DH XO 7 speed 
Chainring: FSA 36t with O-chain 
Chain device: MRP g5 
Chain: FSA 11 speed 
Cranks: FSA gradient 165mm 
Pedals: Crankbrothers  Mallet DH 
Cockpit Headset: FSA 
Stem: FSA Gradient  
Bar: FSA gradient alloy 760mm 
Grips: ODI long neck lock on  
Seatpost: FSA KXF carbon post  
Seat:  Proxim 450