Rene Stent's AM.200M "Fits like a glove and rides like a dream"



Somerset-based Environmental Advisor, Rene Stent describes herself as an "MTB addict" who has wanted a Mullet after "Buzzing her butt" on 29" rear wheels too many times". Rene is "5 foot 4 on a good day" so Atherton's perfect fit was a key driver for her. Rene loves to race and after spending most of 2022 rehabbing injury she's excited to see what she can do with her AM.200M in 2023…
RS: I was after a downhill bike that was purposely designed as a mullet.  When I bought my previous DH bike, there weren't many specifically built mullet bikes around. I tried to mullet it myself using headset cup adjusters and flip chips which was OK but I was always aware that it wasn't quite right and that it wasn't being ridden as designed.  The availability of the Atherton DH mullet came along at the perfect time for me and offered a great choice of sizes.  The fact that they could make one in my size was pretty much the deal winner as I had been struggling to find a DH bike with the reach that I wanted (I'm 5 foot 4 …) I ordered size 2 of a choice of 12 from Atherton's DH range and it's mm perfect…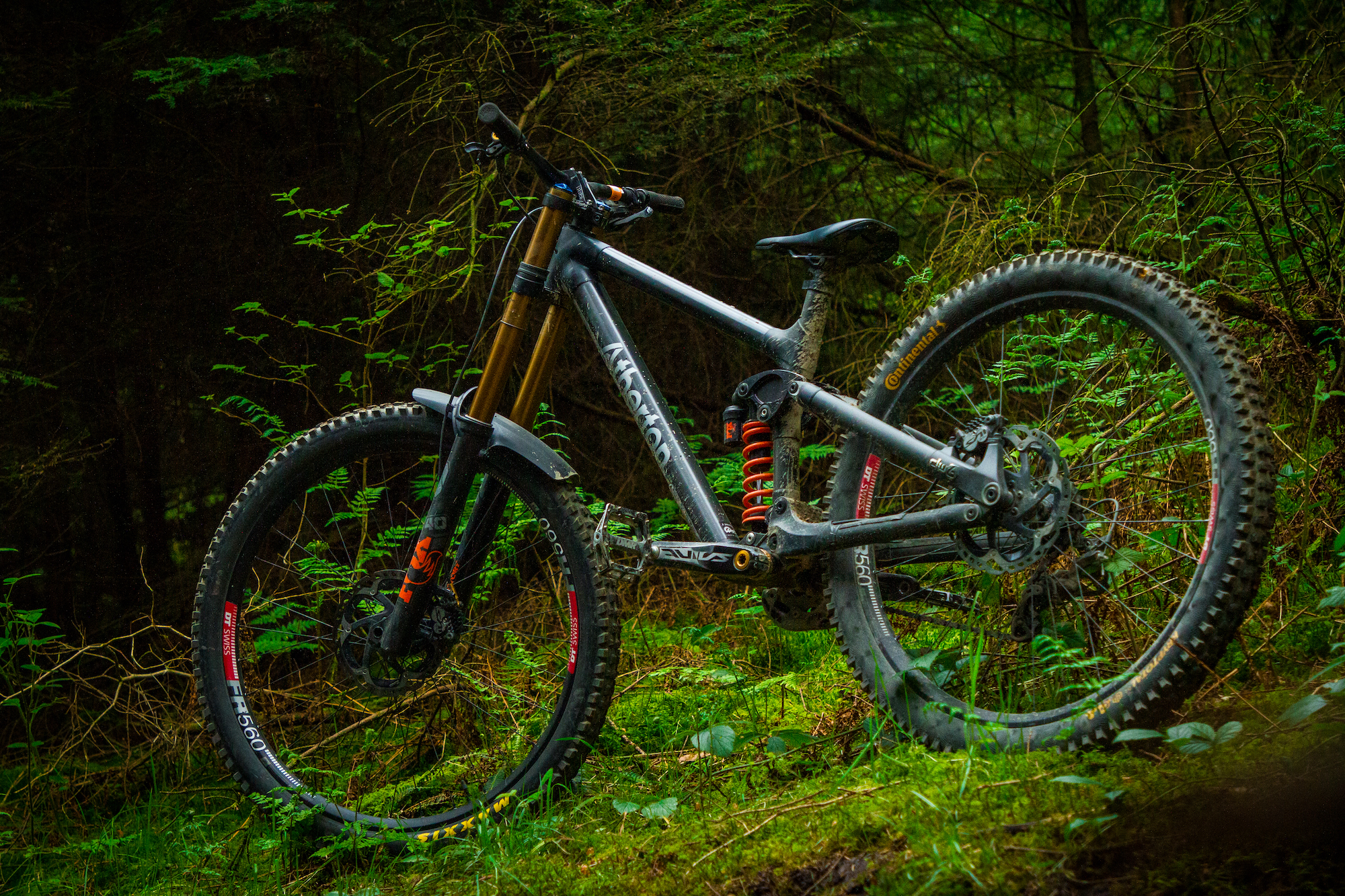 I grew up in Australia and had a very outdoorsy type childhood. I rode bikes, played hockey, and cricket, but mountain biking wasn't really a well-known thing back then (I'm in my 40s, well, at least physically…) Sport in general was very much encouraged, I never felt like there was anything in terms of sport unavailable just because I was female. In some sports I guess the opportunities were perhaps less well presented and limited, but not off limits.
I quite enjoy snowboarding and surfing but in recent years these have taken a back seat to mountain biking … I only started riding MTB only eight years ago but I've become addicted to it. My boyfriend Anton had booked a week's holiday to Wales for us and I'm not very good at sitting still on holidays so he suggested we hire a couple of MTBs and ride around Coed y Brenin. 
At first, I thought it was a terrible idea as I was more of a road biker and 'why would I want to ride on unstable wobbly terrain?' But eventually, I agreed and surprisingly had the best time ever. Within two days of returning from that break I'd bought a mountain bike off an auction site and all my other hobbies pretty much went out the window.  Anton hadn't really ridden off-road much before then either so it was the start of both of our MTB addictions.
We ride most weeks somewhere or another, often taking the camper for a long weekend somewhere. I dabble in racing, but nothing too serious.  I see the races as great for practice and progression whilst having a great weekend with my other racing friends. Anton is happy to act as my mechanic and enjoy the event and chatting to everyone.
I've lived in Somerset for 30 years.  It's a great place to be. We live in a rural area which is quite chilled out but has everything I need.  It feels remote, but in reality, I'm able to drive to many good riding spots. We both like to ride with chilled people who are just out for fun and not too serious.  Life is for fun, no? You tend to end up in groups of similar like-minded people. When you are in the right group or with the right friends, you can feel the energy and elation from them when one of you achieves something new. Good simple fun!
Our local riding areas are Triscombe and Minehead.  They are mostly pretty natural, rooty and rocky trails.
There are no uplifts so they aren't ideal for the DH bike although some people do push their DH bikes up.   I ride my YT Decoy mullet ebike here;  the AM.200 can actually pedal surprisingly well… but horses for courses …!! The vibe is relaxed and quiet compared to say a popular bike park. There are some real gems of trails if you know where to look and people will always help point out directions if you need. 
When I ride my DH bike, it's mostly on uplift days in Wales or racing, or in the Alps. Bike Parks are such fun, just like-minded people out for a good time with friends.  We've already ridden Dyfi three times this year with the next two sessions booked in! There's always someone to help, whether it be to ask what a track is like before you set off or show you the features.  We often see the same faces around.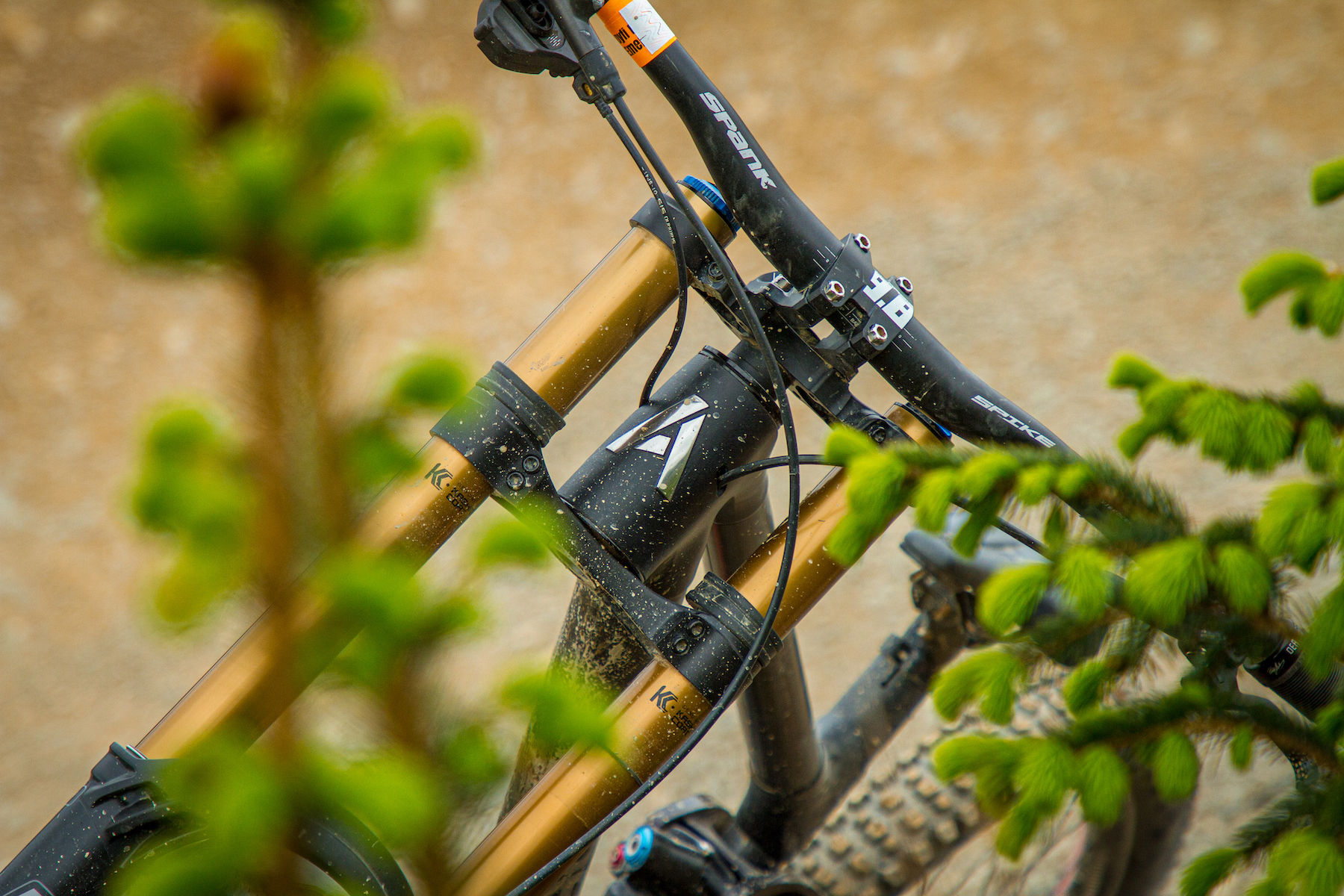 So looking back to how I came to buy my favourite bike ever; part way through 2022 I was sat on my sofa, injured, frustrated, looking for something to spend money on while I recovered. I have always wanted a mullet after buzzing my butt several times on my 29ers.
The key thing I was after was a mullet DH bike that fits.  I am quite short and have small arms so I have been finding it hard to find a bike that I fit properly on.  A lot of DH bikes are getting bigger and bigger which is fine for taller people but I was starting to find the reach even on the small bikes a bit of a stretch.  Atherton bikes have so much choice in size that I found my size there pretty easily.  The other thing that made me buy the AM200M, was that I had seen them in the flesh at Dyfi Bike Park and they look amazing!!  I also felt like the Athertons would not put their name onto something that was just average so I just trusted that the bike would be good.  Their World Cup team also seemed to have a pretty outstanding year too… it all helps to paint a positive picture. The added bonus was that I was supporting a British brand that was also quite innovative, and I like the idea of that. 
The first interaction when buying is quite important really.  Right from the first enquiry I was given great information and prompt response to any queries or advice required.  This sort of sets the tone for how communication will be going forward.  Mine was actually one of the first mullet DH in production to the public and as part of that early stage development there was a wee delay in finishing my bike that was out of the control of the Athertons.  This might have meant I had no bike for my holiday to the Alps, but they somehow managed to get me a loan bike to take while I waited for mine to be finished up.  Now that's what I call good service!!  I very much doubt that would have been the case with many other companies.  You can also go to HQ and see the process of manufacture which is quite unique.  Whenever I have since been back to ride my bike at Dyfi bike park and bump into one of the family or the Athy Bikes crew with it, they are always keen to chat and know how It's going.  You can really see that they take real pride and believe in what they are doing. 
In fact,  I was there just last week. I'd booked a day coaching with Al Bond to set me up for the race season. Mountain Biking is quite the mental sport and Al is known as once of the best confidence builders in the business, he was such an inspiring chap with a huge wealth of knowledge and experience.  He has a great ability to communicate his expertise in a meaningful way that I could understand and then put into action.. I think that on a confident day, you just have the best fun and I feel like the Atherton Bike helps me have more of those confident days so working with Al at Dyfi seemed like a great fit.  I identified some issues I was having before we started, but Al also intuitively sees 'everything' as you ride so will advise as he goes.  All I can say is that the improvement was pretty much immediate!  There is nothing better than taking a (calculated) risk and getting the reward afterwards, whether that be a feature or just riding as fast as I can.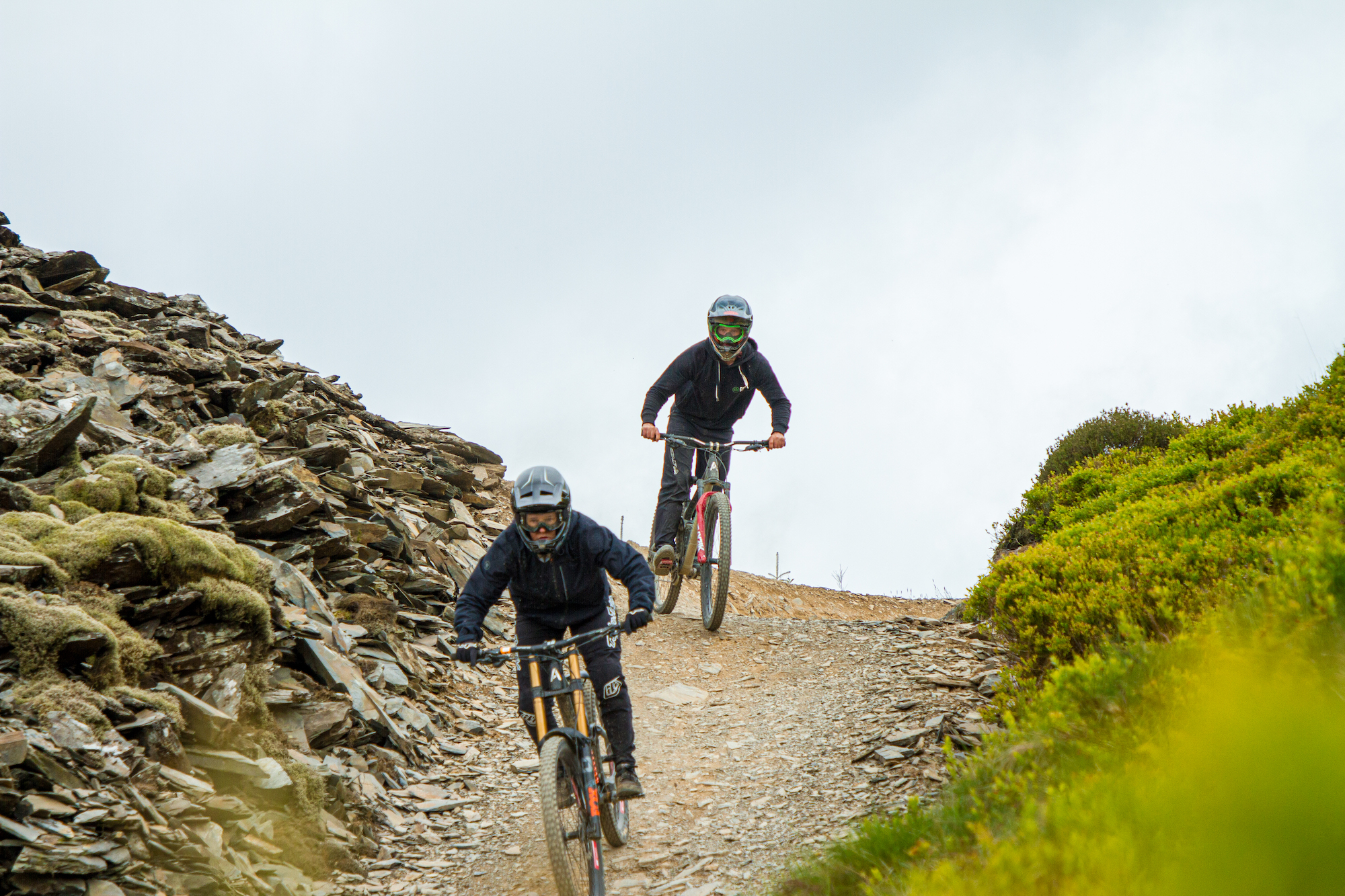 This weekend I raced at Rhyd y Felin and the combination of bike + coaching meant that I definitely felt comfortable doing more stuff. It's not an easy track but I ticked off all but one of the jumps and finished second! The Atherton is a beaut, a little rocket and pretty much doesn't need my help/hindrance to get down the hill 
Racing for me is about fun and learning.  I do podium from time to time, but it's just not important at my level, they are sometimes a bonus from a fun race weekend.  Don't get me wrong, I try my absolute best at every race and am competitive in that sense, but it's more about the whole weekend,  I love the whole process of a race. The results are just a final summary. 
The grassroots women's race scene is a bit inconsistent.  Let me explain: At grassroots level, and even non-elite National Level here, it's quite sporadic with the number of women who will turn up, or even what age categories they will run. In some races I will be guaranteed a podium just because I entered as there are not many in the category.  For other races there will be one category for non-elites which can sometimes span 5 decades of age so ladies in their 50s or older will race 19-year-olds.  I often compete against people half my age.  So, you see, I know whether my result is a good one by how I feel I rode, and by comparing my time against the people who I know are the fastest, rather than by a podium.  In fact, by my own reckoning, some of my best races haven't been podiums.
Outside of racing, I've managed to put in a good few uplift days in Wales;-  Dyfi Bike Park, Revs ( ) My first proper ride was at BPW.  I was immediately at home on it right from the first ride, even though I hadn't even set my suspension up properly and was still sort of getting back into it after injury.  It just felt like it was my bike right from the off, It pedalled well for a DH bike and was really confidence inspiring.  I think it was the fastest I had been down some of those tracks even on the first day. I followed up with a professional suspension set-up day at the Forest of Dean (RSR Bikeworks!) which just tweaked it to make it feel even better. It was the quickest way for me to get it just right without all my usual trial and error and guesswork. It's just the best bike! I feel at one with it. Forgiving and stable, yet nimble and responsive, a contradiction I know, weird huh? I'm not sure how it manages to be stable and planted and yet responsive when you need it, it's quite the enigma. And have I mentioned it fits?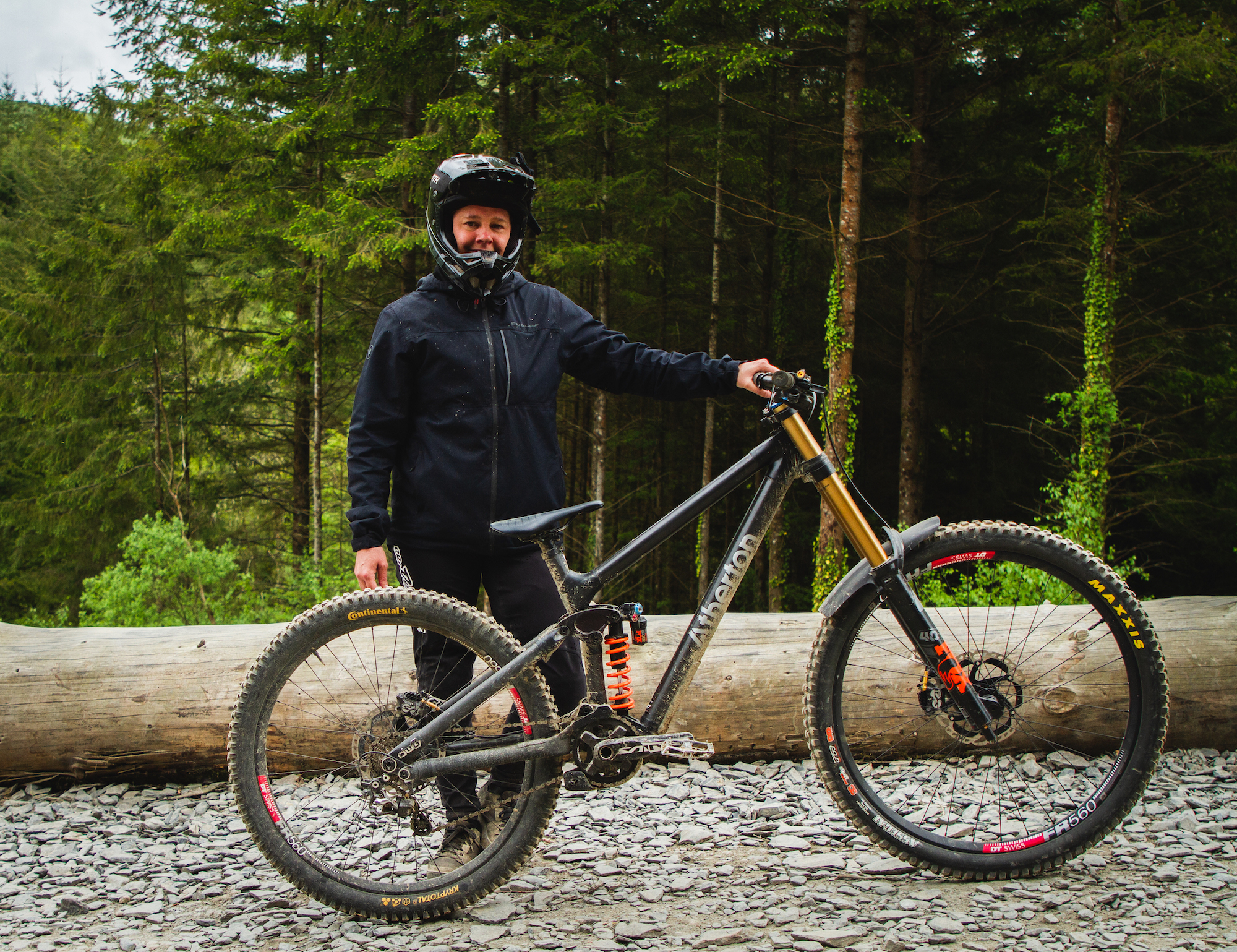 I just love my bike, it's quite simple. It seems to know how to behave in all manner of situations. A bike that fits correctly and just 'feels right' has improved my confidence and has actually sped up my rehab from injury. I love the adrenaline rush that bikes offer and the Atherton fits like a glove and rides like a dream. 
There are not many of these bikes out there yet so it always gets a bit of attention.  I have had so many people say it's an amazing-looking bike. One chap in the Alps was quite excitedly looking round the bike and asked me what I thought of it.  He said 'I have been waiting to actually see one in person, I'm now going to buy one'. I hope he did! People are quite interested in how many sizes there are too.
I really think this is the bike I have been waiting for.  You know when you ride a bike and sometimes it just feels like 'the one'?  Well, that's how it is. The only limiting factor on that bike is 'me'.