We believe that having the right fit bike can transform your riding experience. A perfect fit can transform how you feel on the bike, it puts you in the right position, the balance is better, you're instantly more comfortable and more confident.
With Dan, Gee and Rach at the helm of our new company one of the first parts of our mission was to offer the level of fit that they'd demanded throughout their careers as factory riders to absolutely everyone who buys one of our bikes.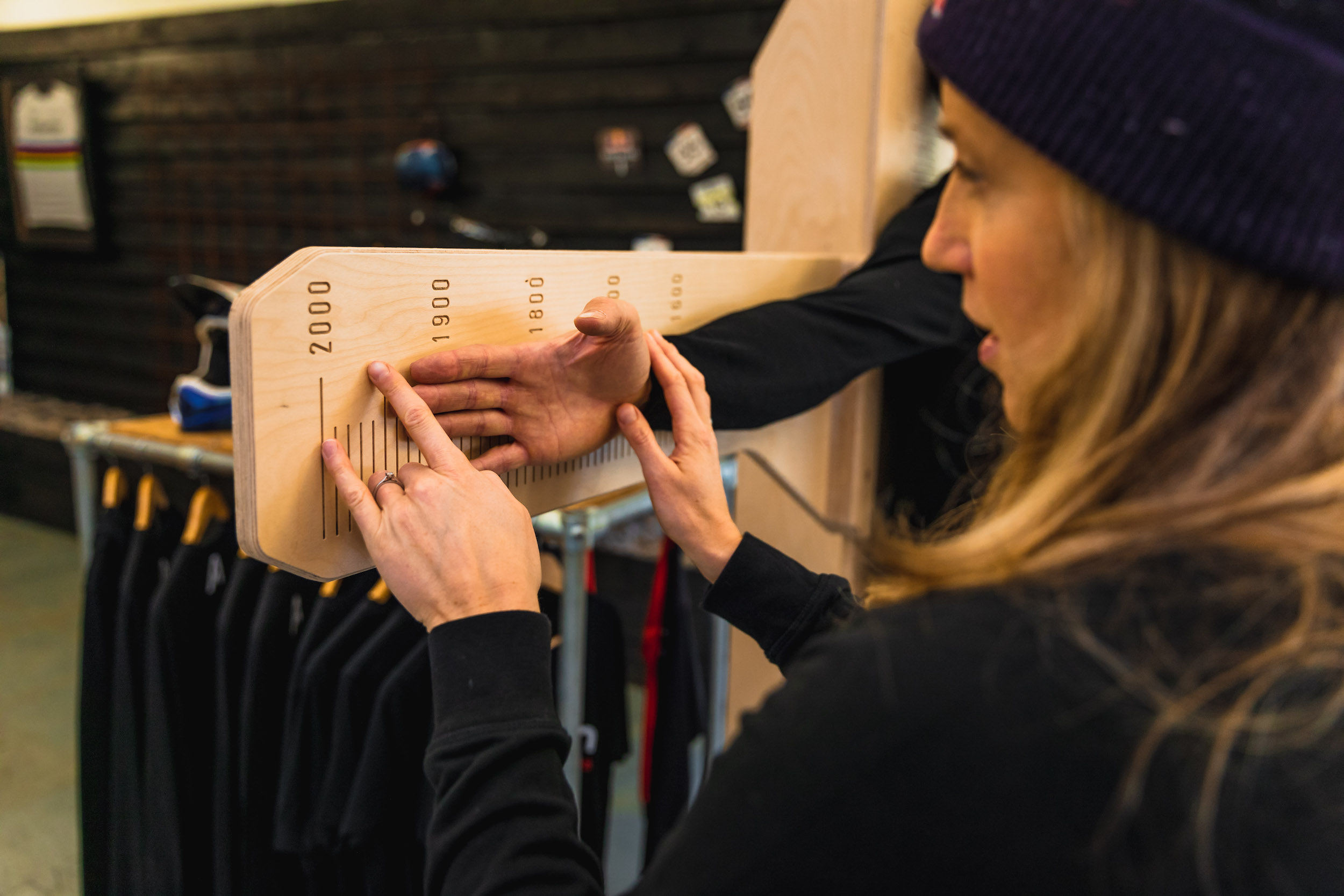 Rachel Atherton: "The perfect fit part of our offer Is really important to me. We're racers first and foremost and I think that shows in our products. Being on the right size bike, correctly set-up for you – that stuff can shave seconds off a race-run; I'm always telling riders about it! We've been super-lucky; where most people are limited to three or four sizes we were in a position where our sponsors would even make a special carbon mould for us but to get that sizing right first time was such a pressure!"
With a traditional manufacturing model involving carbon moulds, getting a race bike dialled to win a World Cup is a long and sometimes risky process. Additive Manufacturing (AM) gives us the potential for endless iterations of our frame, all delivered super-fast.  We've written before about making changes to Charlie Hatton's bike between World Cup rounds; Similarly at Maribor 2019 (our first World Cup rides on our own brand) Rach felt that she'd gone too long with the rear end of her bike (actually it was longer than Greg Minaar's!)  Because of the way AM works we could tweak the back end in a matter of weeks and the proof that we were onto something good came gratifyingly early when Rachel took the Fort William win on a four month old prototype …
So AM offers huge benefits when it comes to perfecting our race bikes, but these benefits transfer across into our production models. We currently offer 12 sizes on the Downhill bike from a reach of 410mm, right up to 520mm. The 63-degree head angle and 350mm bottom bracket height remain the same across all sizes. On the 150mm Enduro we offer a range of 22 standard sizes, but because every bike is printed to order we can also offer custom sizes
To select your Atherton bike we'll ask you for your height, arm's span, and inside leg, all measured in mm in your normal riding shoes and enter them into the fit calculator on the website. It recommends your perfect size – or if you're not a standard kind of shape (more than 3mm either side of the set sizes or with super long legs for example) it will recommend a custom option…
Customer Chris Owens was one of the first fifty customers for our 150mm enduro bike and has just ordered his Atherton DH bike so he's well qualified to comment.
CO " I found the sizing process really easy and intuitive, I've had my Enduro bike for about eight months now, it's hard to describe it, but in a good way! The only thing I tell people is go and ride one, then you will see what I mean… I am normally too big for a small and too small for a medium, so the breadth of different options made a huge difference."
All of our bikes can be fully custom-fit but we quickly learnt that for a lot of people that's pretty overwhelming. There's just 10 mm between our sizes so most people are very well served by 22 standard size options. This is where the language is important; What we offer is custom – fit; we're really proud of our geometry and don't recommend going slacker or raising the BB for instance. We've designed the bike to be a close to perfect ride (in our terms) so we ask people to trust us on that and concentrate on getting their sizing dialled… Creating a playful, lively feeling was a huge focus; people often ask "Shall we go down a size?" but our sizing method is already very progressive so we mostly say no…
There's a great customer insight that helps to illustrate this from Piotr Wojnarowski who features in one of our latest blogs ;
PW: Ordering my bike I was worried that the geo seems fairly standard, but in combination with the kinematics of the DW6 suspension it feels anything but! Even though this bike has a headtube that is the same angle and a seat-tube that's a degree steeper than my old bike, it inspires much more confidence on the descents. Back when I was in the ordering process, I kept asking if I could change the angles, but I'm super glad that they said no…The first ride on a new bike is always filled with adjustment, tinkering and such. Not on this bike! Getting that fit so dialled means you're in a great riding position so the slightest shift and the bike reacts immediately .. it's very lively, very playful, - I can't describe how magical the ride on this bike is.
Our fit calculator combines the bike-fit experience of every one of us – racers, designers sales team, frame -builders and engineers, all of us here at Athy Bikes, so we're always stoked to hear our customers' point of view on their new bike's ride characteristics – especially when they're so close to what we've set out to do! Check out our fit calculator on the product page to see what a perfect- fit bike could do for your riding experience!