Gee is well known for his attention to detail and his exacting approach to bike set-up. It's a quality that has served him well in his race career (in the history of the sport* only Greg Minaar has more Elite Men's podiums) but it wasn't always the case…
The Intense M1 was THE DH bike of the times. Every period of mountain-biking has a bike that embodies everything about that period and in the late 90s, early 2000s that bike was the Intense M1. I was riding for Muddy Fox but on a stickered up Intense. It wasn't just me and Dan, loads of the fast boys were doing the same – Minnaar had one, Mick Hannah, Andrew Shandro, Lopes. Intense bikes were never off the podium, whether it was their sponsored rider or not. You can compare it to Commencal these days.
Sam Hill beat me into 2nd at Junior World Champs on a Intense M1 in 2002, and Chris Kovarik who was sponsored won Fort William by 14 seconds – I guess I wanted one after that!
It was their four bar linkage that really changed the game. By today's standards it was a pretty chunky bike, over 40 lbs. Bikes back then were much shorter, heavier, with a higher bottom bracket , It had 26" wheels of course. Nowadays we go longer and lower and I've been riding a 29"/27.5" mullet.
The way that it worked still holds up though, the setup I'd use then is pretty much the same as now – I don't like it when the bike pings off roots or rocks, I want it to soak up the small bumps, especially because I prefer riding natural trails to being in a bike park.
That race at Schladming was pretty pivotal in my career. It was my second season of World Cups. There wasn't a World Cup junior category back then so I was racing Elites even though I was just 19. I'd come in 21st at my first World Cup race and I remember everyone saying it was great but I felt really crap! I knew that I could do way better.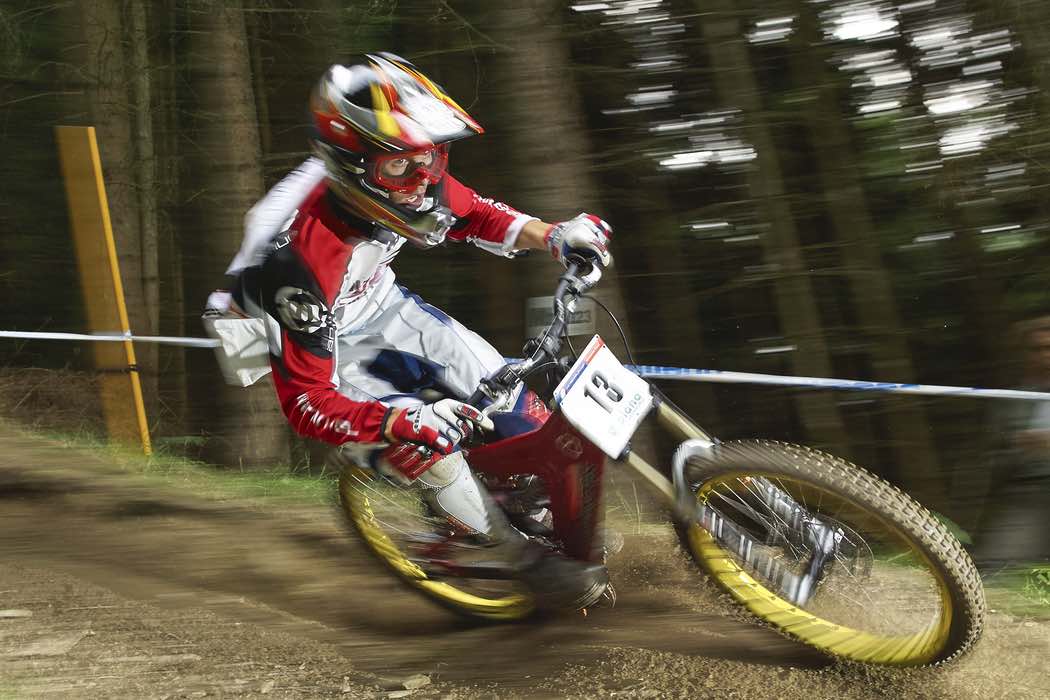 Gee Atherton riding an Intense M1 for Muddy Fox, World Cup Schladming 2004"
Pic: Malcolm Fearon
World Cups for us back then were as pikey as you could imagine. There was me and Athy with a white van and an Ezy-up, a mechanic called "Bob-a-long" and whatever friends fancied joining in.
We were still at the stage where we had one bike for the season with hardly any spares, 9 out of 10 times if something broke we'd have to got to the shop and buy a replacement. Nigel Page was riding for Intense that season so if we broke a mech hanger or something like that we'd try to blag it off him!
I remember that weekend after practice buying parts form the Rockshox truck – the week after they looked at me a bit differently, definitely more smiles!
We were still riding 4X but I remember that weekend it was pouring with rain so we both gave it a skip. I felt bad about being so lazy!
Athy was riding so well that weekend – the track was wet and technical, which suits us both. I don't remember but I guess he must have crashed out in Finals (he came 47th) because on a heater he was pulling down top tens.
I was so young and inexperienced. At that stage of your racing career you think "all bikes are the same" and you just jump on and ride it. We didn't have that relationship with the brand or engineers or with experts in suspension, or tyres or any of the other the other components manufacturers like we do now, we just ran the bike it as it was, straight out of the box. But moving from the bikes I'd been riding before this season onto the M1which was literally streets ahead I started to learn about set-up really quickly.
I got used to being on the podium pretty fast too, later that season I was 5th at Mont St Anne and I remember being so pissed off – it was ridiculous!
I do remember how proud I was of that bike, how nice it looked; bright red with this really great aluminium welding. It was just a bloody amazing bike.
I wish I still had it, its such a cool part of our racing history but I've got no idea where it went. I probably snapped it!
GEE
* World Cup Downhill since 1997