The Seasonnaires: Ben and Jim hit Queenstown
Race Team Mechanic Ben Lovell is one of the top technicians on the World Cup Circuit, but he's also an awesome rider and a committed traveller…Jim Monro is a member of the Continental Atherton Race team and the Dyfi Dig Crew; this was his first big foreign trip outside of racing.  With the Welsh winter stretching ahead of them the boys headed South for a couple of months…
Here's how it went down in their own words…
BL: My name is Ben and I'm the baddest mother f***er to ever swing out of a toolbox! 
JM: I'm Jim and I dig trails, currently at Coronet Bike Park but usually at Dyfi Bike Park, When I'm in the UK I mainly just stay in Dyfi, I'd say for the UK it's deffo the best place to be, wouldn't wanna be anywhere else
BL: So working for the Continental Atherton Race team I have a pretty normal work hours contract but over summer when we're away racing I bank up a lot of overtime so the lovely people in the office let me take it all off in one hit over December and January. To be fair the boys back home are just chilling and riding motos so they don't need me so much.
I'd kind of had the NZ trip idea in my head all summer and just needed to work out some dates that would be OK if I wasn't around with Lloydy (Tom Lloyd, Team Manager) and Brownie (Dan Brown, Atherton Bikes CEO), so it wasn't super last minute which is unlike me aha! 
New Zealand was the obvious option for a bit of an adventure as it's summer down here and the riding is insane! I used to live here in 2018/19 so it's been awesome to catch up with friends. But trying to find accommodation in Queenstown is harder than trying to find the Loch Ness monster so I decided to buy a van and live in that for two months which of course led to loads of road trips!
Because there's such a high density of athletes here in Queenstown I've been riding every day with some class riders and then on our chill days we've been going to the coast for some surfing or pulling the little CRF100's out for some Moto missions. It's so hard to not do something here as there's always the most fun stuff going on!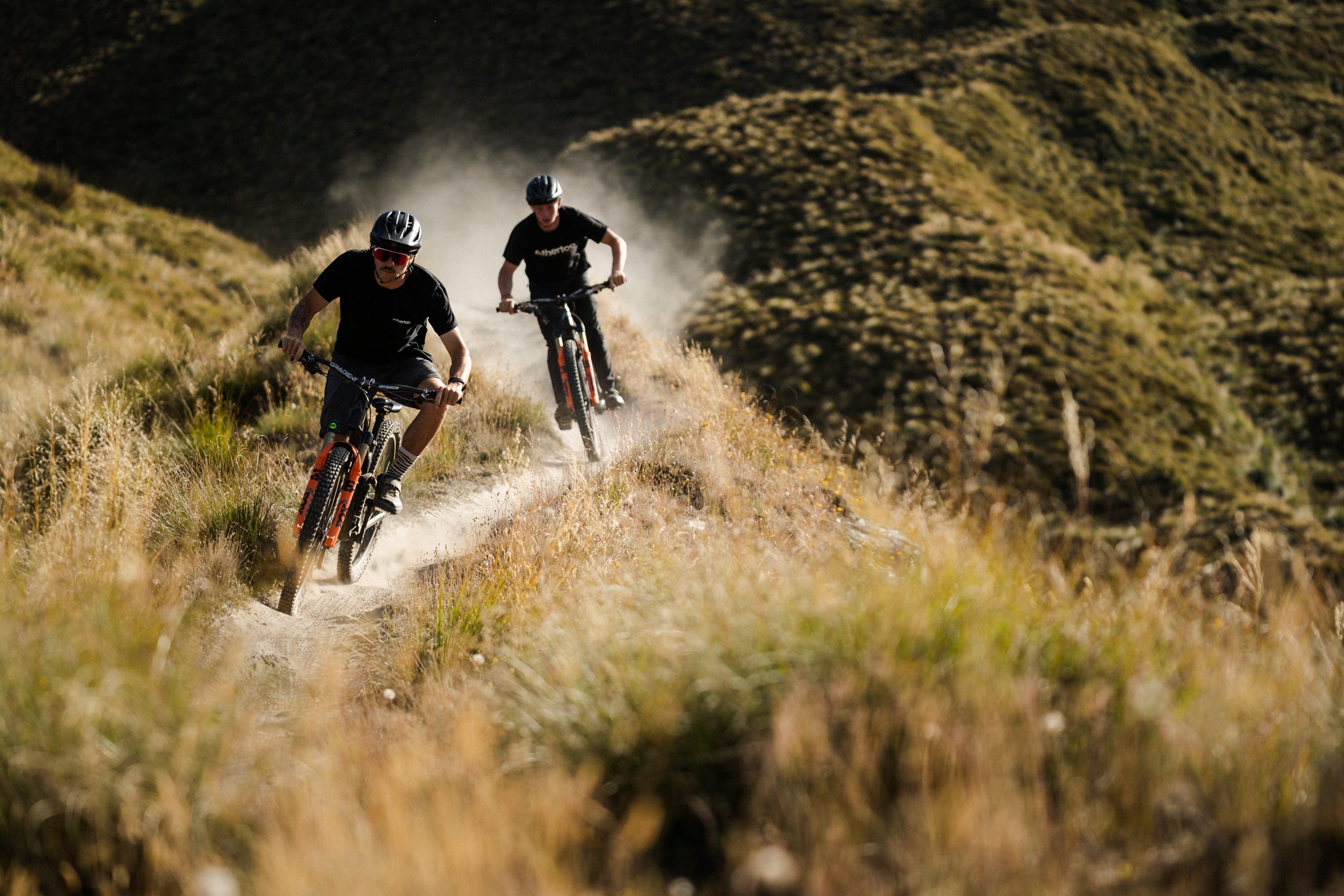 JM:  I've always had Queenstown on the bucket list and everyone I've met who's been has fully recommended it so I was keen as to come out. Also swapping Welsh winter for NZ summer is a bit of a bonus, I've been here for 2 months now and I'd say it's probably my favourite place I've been to.
I'm staying in a lodge at the top of Coronet peak with a group of riders and filmers all passionate about riding and having a good time. We've got a good crew now and work is just out the front door which is ideal. I didn't really set out with any objectives for the trip other than to ride heaps meet new people and have a good time, luckily I've met a bunch of legends that have helped me out a lot so it's worked out mint; there are so many underrated riders here and so much talent.
I haven't even travelled much outside of Queenstown, there's three bike parks within 45 minutes, the best dirt jumps in the world, and so much trail riding, been here 2 months and still not even close to riding everything in the area. For our trail bikes shoot we chose to shoot on the famous Rude Rock trail because it's such an insane track with mad views over-looking Queenstown, it's also just out the front door… Ben had the 130X, I was on the 150, it feels so good on these fast open trails and then it pedals back up after just as good.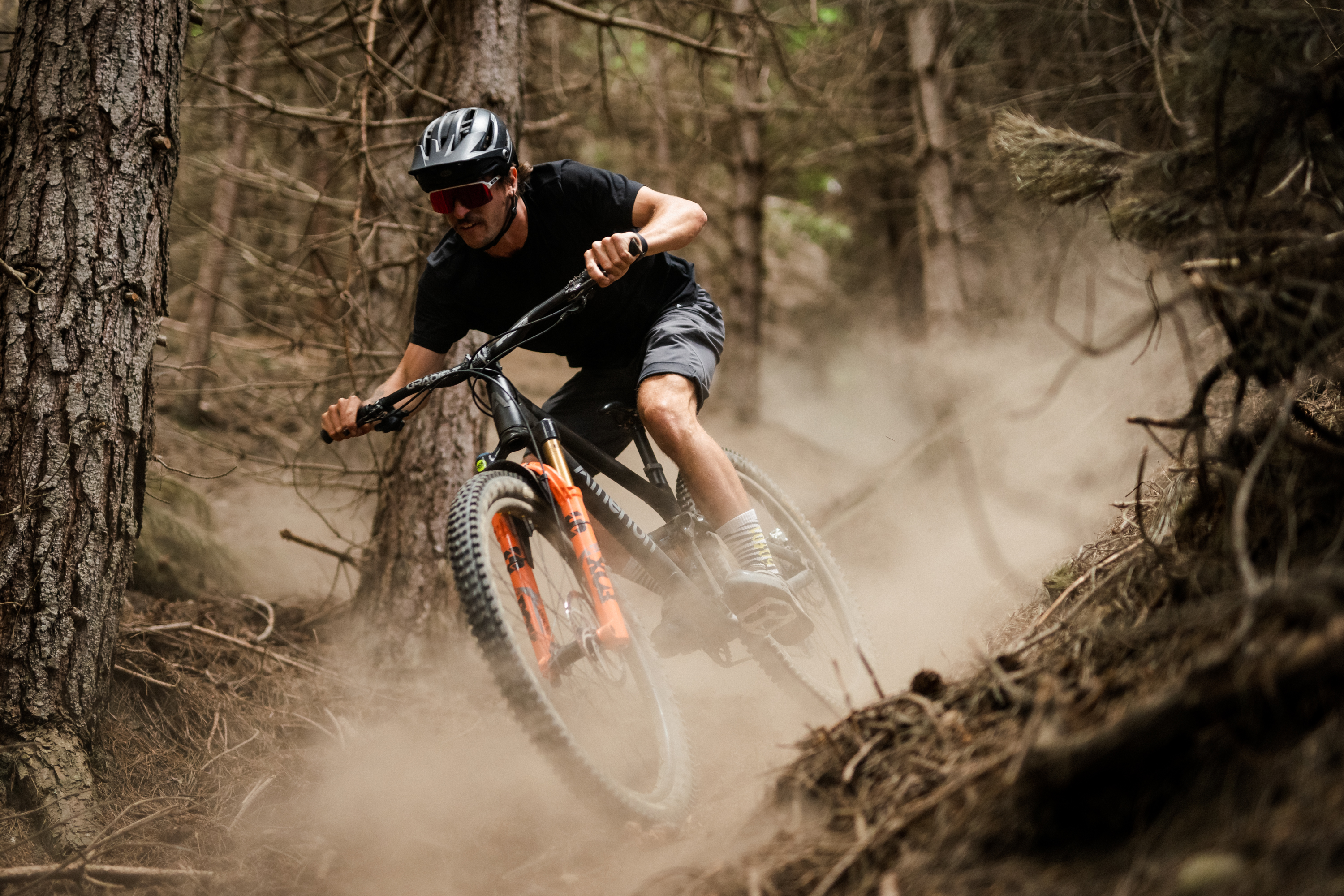 BL: I've been riding the AM.130.X as my trail bike out here which has been unreal. Since the very first tests when we tried the frame with the bigger fork up front I've loved that version of the bike. I'm a huge fan of big missions so having the shorter travel bike has made those long days a bit easier but then there's some really gnarly trails here that I've been riding and the 130.X has taken it all, it's gotten wild at points but it definitely feels like more than a 130! 
I've also been spending a lot of time on the DH bike as DH bikes are Fuck'n sick! I've probably done about 150 runs over this trip and haven't had to put an tool to the frame. One of my favourite tracks has been the Coronet DH track in the wet. With the AM.200.M underneath you, you feel like you're on a bobsled run, it's so fast and the corners are so steep; after one corner you're already going Mach10 and it's the sort of track that just gets better with speed, the bike takes literally anything you throw in its path, easy as, it's a pretty cool feeling! 
For the pics you see here on the DH bike we went to Skyline and rode a track called Slippery Ninja it's pretty open and rough with some cool beech forest and boulders, then we wanted to get some airborne shots so we went over to Huck Yeah which is a super-fast fairly large jump line.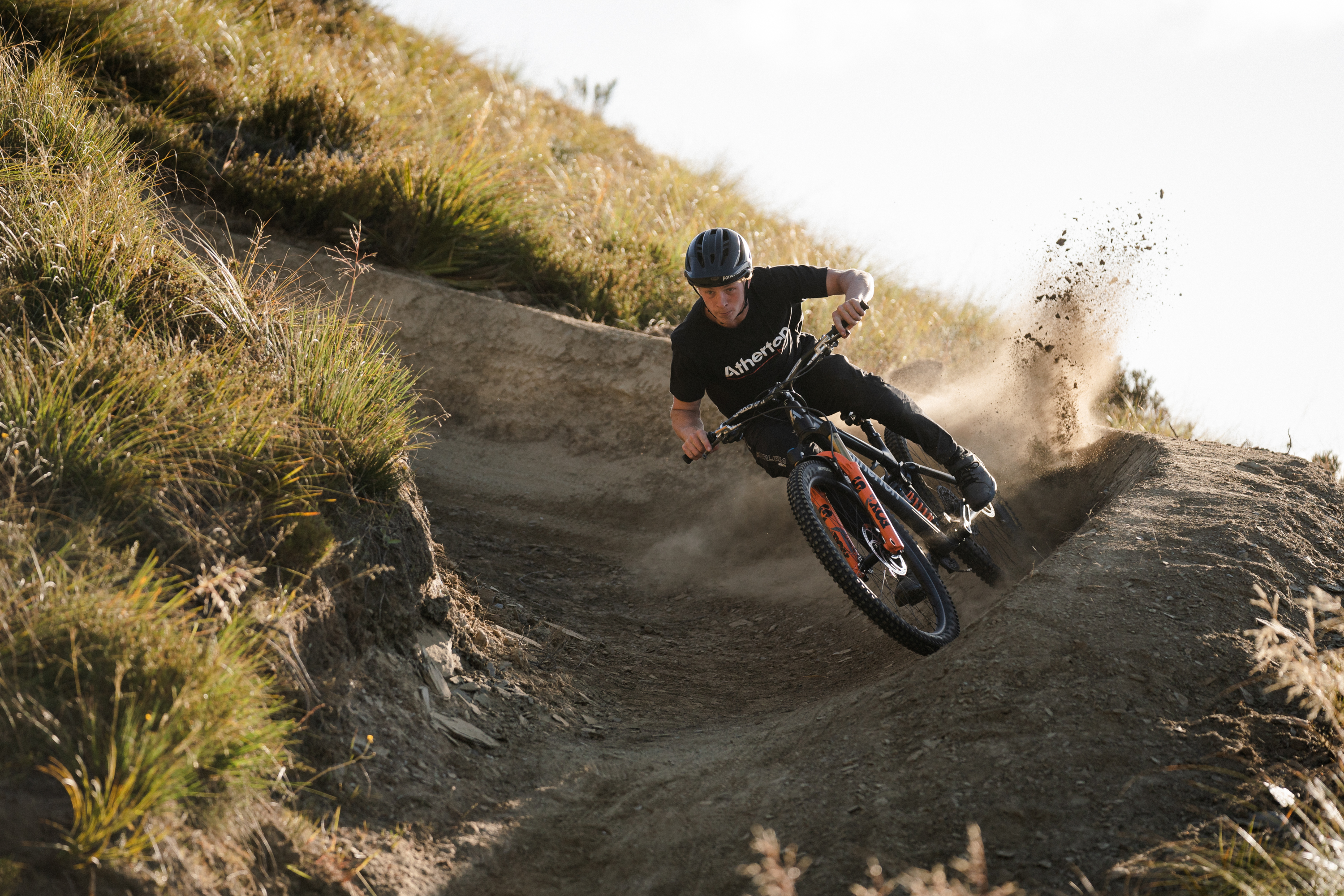 JM: Yeah same here, the DH bike rides so well at Coronet and the dirt here is like nothing I've ever ridden before especially after the rain, it's primo. We didn't shoot this track because Rude Rock where we shot the trail bikes is quite a similar landscape and we wanted to mix it up, but I'd say when the conditions are good there that's my favourite place to ride my DH bike. Both bikes have been faultless since I've been here  - which is a good job as Ben's officially on his holidays!
Queenstown Bike Festival was a blast, I rode Whip-Offs at the Festival then Dreamline and Gorge Road for McGazza Fest on my jump bike. It was so mad with so many people there, I think there was around 1000 people watching the Dream session so the atmosphere was insane! It's not really that official so you kinda turn up and ride with your mates which makes it super chill and really fun! 
The bikes have had so much interest it's mad! Every time I go out I get at least two or three people asking about the bike and how they can buy one and everyone seems very interested in them. I think it's good people seeing them in the flesh too and sitting on them/ riding them, people love them!  Judging from what people have been saying I bet there'll be a few about next year if I come back…
BL: It has been really cool seeing the attention that the bikes have been getting over here; I've let a few people go for a lap on them and it's cool seeing their face after, it kinda validates what we're doing back in Mach and at the World Cups. It's hard for a rider or someone who works for the company to explain how good the bike is as it feels like we're pretty much paid to say that; but being able to just hand the bike over and tell someone to make their own opinion is class! It makes me feel good as I ride their bike and confirms ours is way better.