"Atherton AM.150 is British Perfection"
Velovert's reviewer Guillaume Allard was so impressed when he tested our AM.150 that he ordered his own (full price) Atherton Bike, the AM.130  - here's a translated extract of what he had to say …. Big thanks to Guillaume for the great review and use of his images!
GA "Lately the British have not managed to shine against the French in rugby or football but there is still a discipline where they're doing OK… Last season we saw Andreas Kolb of Continental Atherton team take 5 podiums and the European Championship onboard the AM.200.M, but what about his bike's little brother, AM.150?
The Atherton's goal is simple: to create the most advanced bikes in their category.
At first glance, the bike is not the sexiest, even a bit 1990s. But when you look closer you realize that you should not trust appearances and that the devil is in the details.
Atherton believe that to make the ultimate bike you have to start from a very simple principle: lug and tube construction, on paper it seems simple, but it's the alpha and omega of current engineering. When you start to look closer, you realize that the AM.150 is a real work of goldsmithery: no trace of glue, resistant paint with a matte finish, no play at the junctions between titanium and carbon, no parasitic noises… and what about those titanium lugs?
Put simply, to have a part of the same strength as steel, you will need 4 times less titanium …Suspension is entrusted to the excellent Fox Float X2 associated with the new kinematics: the DW 6 link. Developed by Dave Weagle for this bike, the DW 6 link offers spectacular in-use sensation with increased sensitivity in the first millimeters of shock stroke and enough support in the middle of the stroke without being too firm towards the last millimeters and losing control of the bike.
With the AM.150 we're looking at an All-mountain / Enduro bike developed by downhillers, so I was expecting a clumsy and difficult bike to ride, a bike that does not necessarily like riding in areas where you have to pick your way more carefully … that was my first big mistake! Despite the test bike having a reach of 480mm which is considerably too big for me (I've ordered a 450mm) I was pleasantly surprised by how easily I was able to place the bike through hairpins and rough technical trails. I definitely like the way this bike moves  - very playful, very sexy!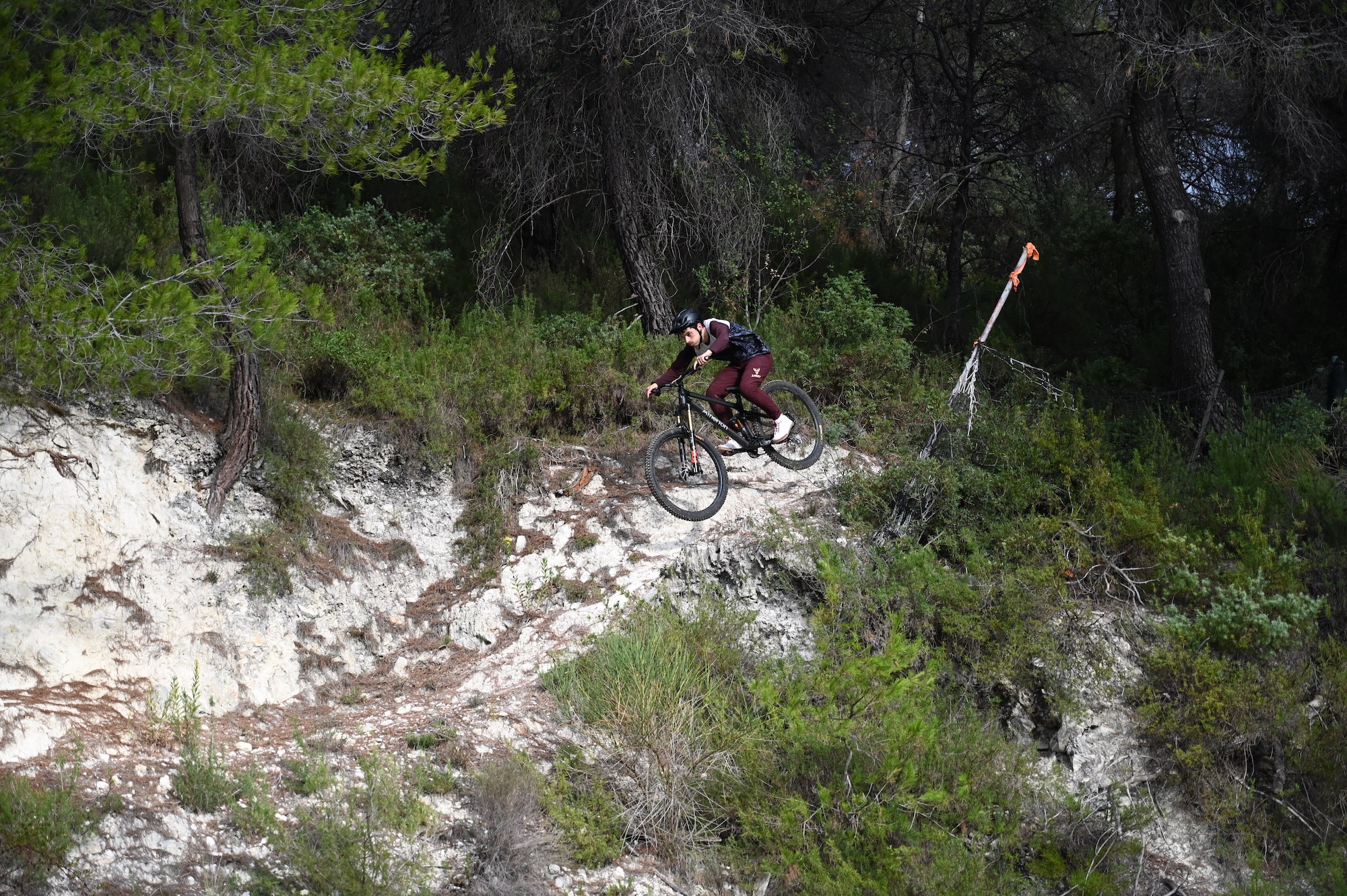 I have to confess something, my second mistake… in fact, my first outing didn't go so well, the Brits have a dodgy sense of humour and sent me a bike with the brakes mounted upside down… (we're friends again now, despite an OTB) but once I had that sorted  - wow!
The bike picks up speed absolutely everywhere! Why did the sensation of speed strike me so much? Maybe the 480mm reach helped but the stability of this bike is just phenomenal, especially when the well-trodden path turns into a dry riverbed littered with rocks. But to get to the bottom of the speed question, nothing beats a downhill run…
The moment the bike started going downhill it confounded all of my expectations – with the frame's geometry figure it should not have been half so much fun…it was impossible for me to conceive that a bike like this could behave like a real toy but it was the best fun ever!It's ultra stable; at high speeds you'll feel like you're on rails and the suspension is spot on, the bike is planted, composed and reassuring.
The kinematics result from the close collaboration between the Athertons and Dave Weagle and seem to work wonderfully to give an ultra stable bike in all situations and all terrains, and without having to fiddle around with the settings.  Kinematic theory takes on its full practical meaning in a banked turn - where current enduro bikes tend to come crashing into the curve to die, the AM.150 behaves quite differently, in this case the kinematics help generate effective shock compression to get you out of the corner at entry speed without losing the ability to pedal on the exit. So now that we know that it's OK to let go, we discover the ability of the AM150 to glue you to the ground while propelling you out of a turn at Mach 12!
This phenomenon also occurs in the compression phases such as on natural  ruts and hollows which allow you to come out from a slightly messy line like a bullet – AND without getting tired.I even felt this in tighter corners, although a pair of carbon wheels would allow a more pronounced dynamism in slower parts of a track.As far as overall behavior goes, the bike is outstandingly responsive Its sharp geometry allows it to maintain excellent stability when the slope becomes steeper and steeper,. The handling and maneuverability,  stability and responsiveness make it an ultra-tolerant bike that will forgive a lot of piloting errors, if you make a mistake, don't worry, the AM150 will not let you go!Combine all of these attributes with its agility and we get a bike that is really balanced on all fronts and has a marked penchant for downhill, as evidenced by the pair of Continental Kryptotal mounted on the test model. I couldn't find any mud for the test but I guess the frame has enough space between the wheel and the frame to allow mud to drain easily, even when riding in the rain. When it comes to a climb, the AM.150 will generously reward every pedal stroke.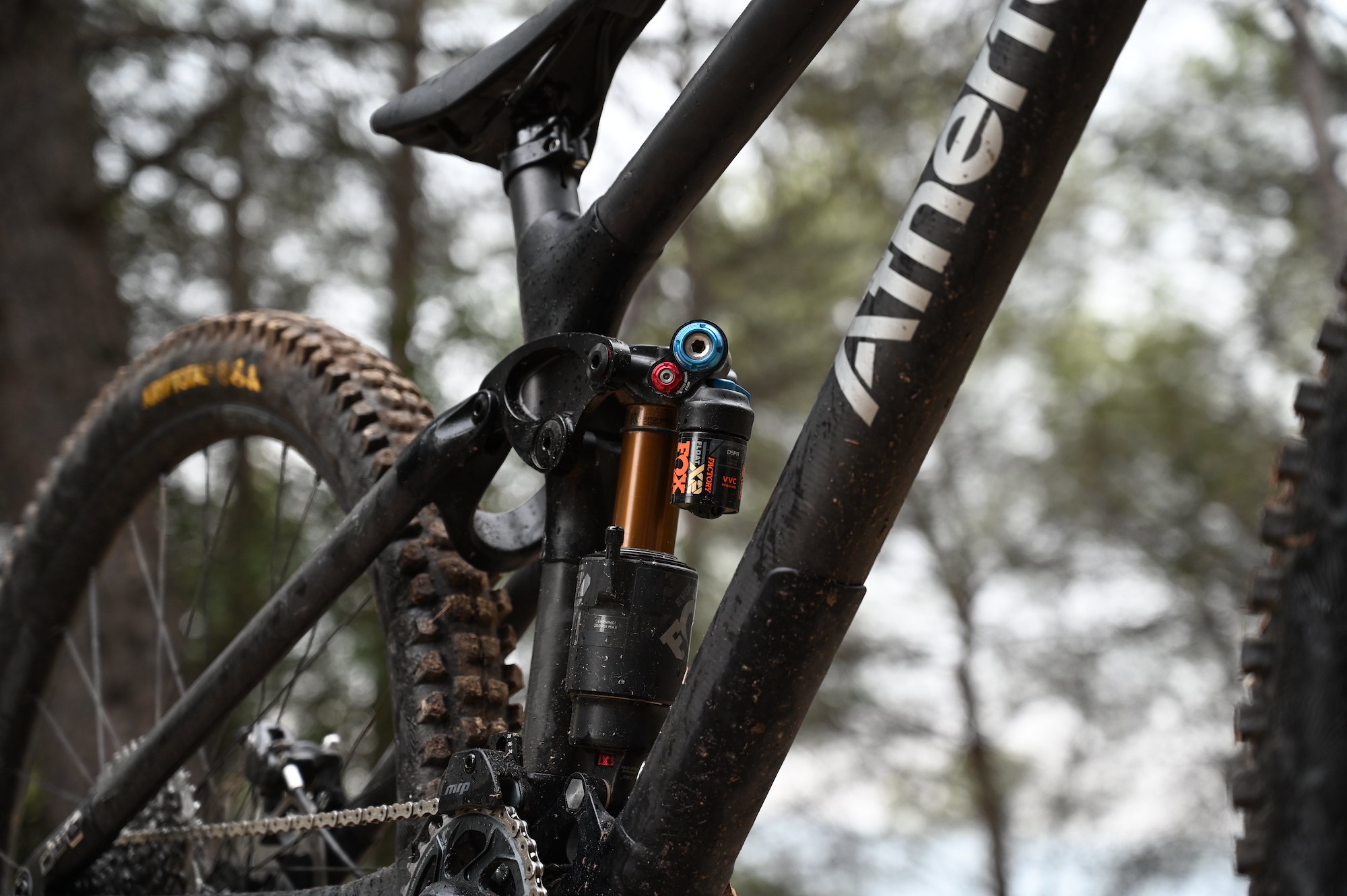 Overall, I came out of this test with the feeling of having alternated between bikes, from Dr Jekyll to Mr Hyde: a well-planted bike capable of wild-handling. To expand the metaphor, the AM.150  is a gentlemen who will bring you effectively uphill to make you understand that in the end, a climb is only a descent gone wrong.
To emphasize its noble side, the bike is cut to perfection, no welding, no sheath or chain noise, no creaking, nothing sticking out. But when it comes to destroying the track, the English gent disappears and the beast takes over! Gap, double, scree, root, road gap, nothing stops him! I repeat myself but the 150 mm of travel announced at the rear are never at their limit, every millimeter is used to perfection and nothing will spoil your ride.
This bike is not only intended for riders with a huge technical background, it can also be aimed at intermediate riders who want a platform capable of evolving according to their level and their orientation of practice. Not to mention that the bike offers more than respectable uphill performance without being a galloping cross-country.
When the climb becomes too steep, the bike can tend to pitch up slightly, 2 or 3 additional degrees would be welcome in order to straighten the angle of the seat tube to make it really perfect for me on the most technical climbs, but we nitpick! Being a loyal participant in the enduro shuttles, that doesn't bother me. 
So after all there's only one area that annoys me … the price, its not cheap… but I've bought the AM.130 for myself, which should say everything that's needed to say about my perception of its value… 
"It's a Swiss army knife bike that excels in all areas, an ideal platform for enduro racing that will never make you waste energy as you might see with bikes that should in theory be better suited to these terrains. Pedaling through the rough stuff won't be a problem because the kinematics deliver the perfect sensitivity and firmness to keep your feet glued to the pedals and keep going."
However, pay attention to the travel of your seat post because the seat tube is really short, if you opt for a post that is too big the saddle could get in your way. It would take you too far from the cockpit, you would find yourself too far behind the bike and the steering would lose all of its special flavour.  
The AM.150 is not a shrunken version of the AM.200.M, it has a real adventurer/freerider spirit, your riding will bring out the essence you are looking for in it. Crazy trail-wreckers and lovers of big jumps do not be afraid of the 150mm of travel at the rear because you'll feel at least 50mm more when the ground becomes more chaotic! 
This bike will never be at the limit, attack all the jumps you encounter, pull everything and the ride will be all the more fun! In a race it will be the opposite: choose a line, attack and the bike will stay in the trajectory without flinching. 
In short, this is the bike that can replace all the ones you own, it'll happily take you from a whole weekend of races to a lunch break pedal! Bravo the Brits!