Andreas Kolb is the hottest talent coming out of Austria right now and the latest signing to our World Cup race team. Andi is super fun to have around, and an instant hit with the crew. He talks to us about his career to date, from buying a DH bike with his first pay packets to unboxing his Atherton Bike and the thrill of walking into the Continental Atherton pits for the first time as well as being a long-time Atherton fan and breaking promises to his mum.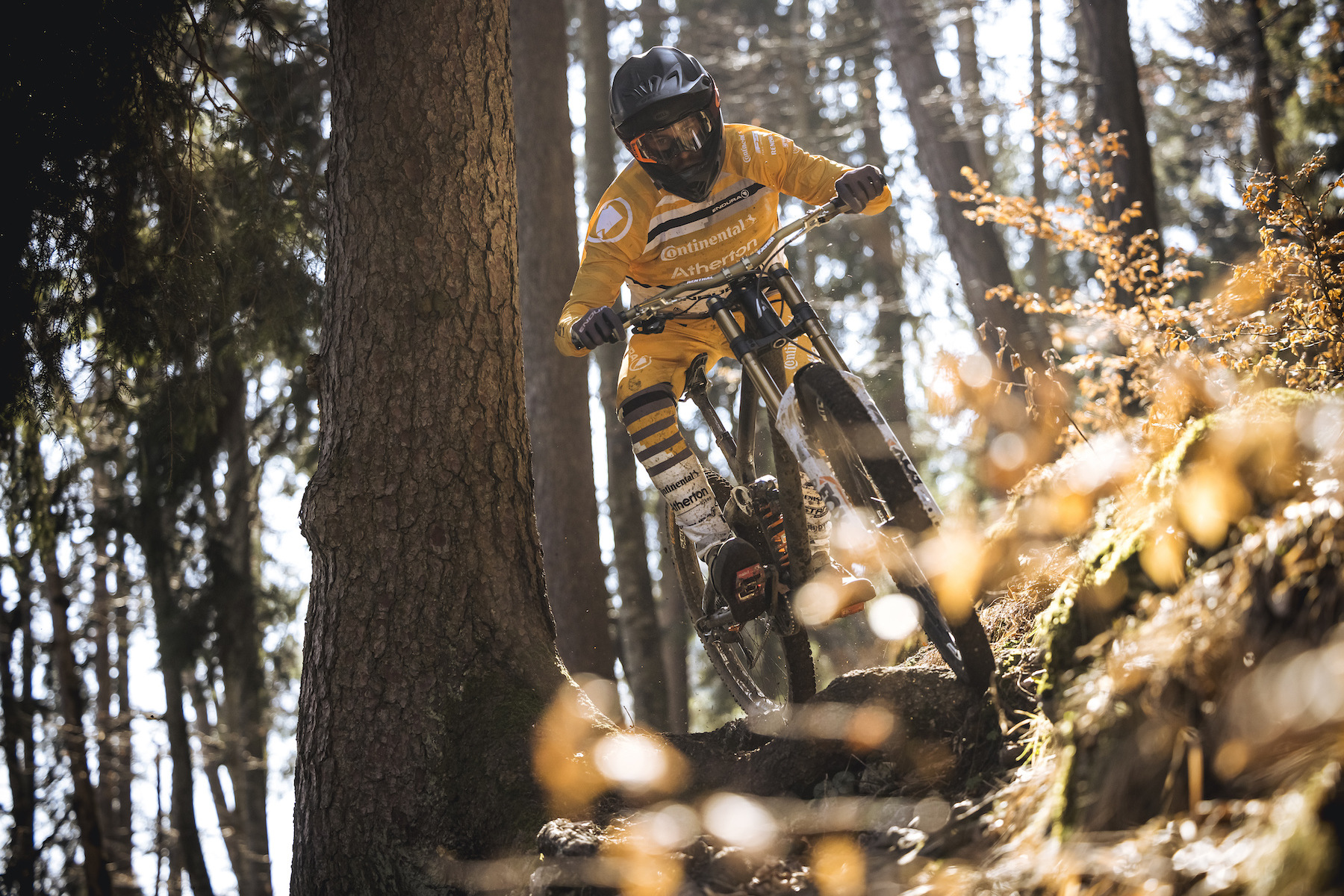 PHOTO: Klemens König
AK: I went to Schladming to watch the World Cup with my mum in 2008, I was 12. All three Athertons podiumed that weekend, Rachel won, Gee in 3rd and Dan got 2nd in the 4X; I got a poster signed. It was unbelievable to see them all flying down the hill. I told my mum I would never do something that crazy… But from that day onwards I rode a lot, pushing up the 4X track the whole day. Sometimes I went up in the lift to ride the DH track with my hardtail, every 100 metres I had to stop and put the chain back up but it was worth it.
I left school in 2011 when I was 15 and started working as a car mechanic; the first few pay packets bought my first downhill bike and a few weeks later I competed in the Austrian Champs; I got 45th in the fun class.
It turned out that I got better and better at racing, so I quit my job as a mechanic to work three days a week in a ski rental shop. In 2013 I started training, took racing more seriously and in 2014 I competed my first international races; IXS Cups at Maribor and Val di Sole. My results were somewhere in the 40s for the Elites but that year I also took my first Austrian National Champs in the 17-18 category and I got my first sponsors. I rode for Morewood Austria, it was a team of friends who just got a discount on our bikes (around 20 % I think) so I was stoked when MRC Trading gave me a neck brace.
From 2014-2016 I rode for SportsNut DH Team, where I got my first sponsored bike – it was another Morewood makulu, a pretty good bike but they don't make them anymore. From 2017-2018 MRC Saracen Racing supported me with a Saracen Myst, it was great to have the bike but they only came to the local races, I was on my own for the bigger stuff or when I travelled. My first top 20 was in Croatia in 2018 on a fully privateer setup. I had a flat tyre just before my final run so I was rushing through the pits asking everybody for tubeless tape. I made it up the mountain just a few minutes before my start time.
In 2019 I turned pro with Gamux but still I earnt some money with woodwork on my uncle's farm. It hasn't been an easy ride for sure but I gained a lot of experience and it taught me to be myself and that mental and physical training is the key to success. The hard work began to pay off in 2020 when I started to pull in some top 20s. That gave me the courage to get in touch when I heard that Atherton Bikes were looking for a new rider – I was crazy nervous.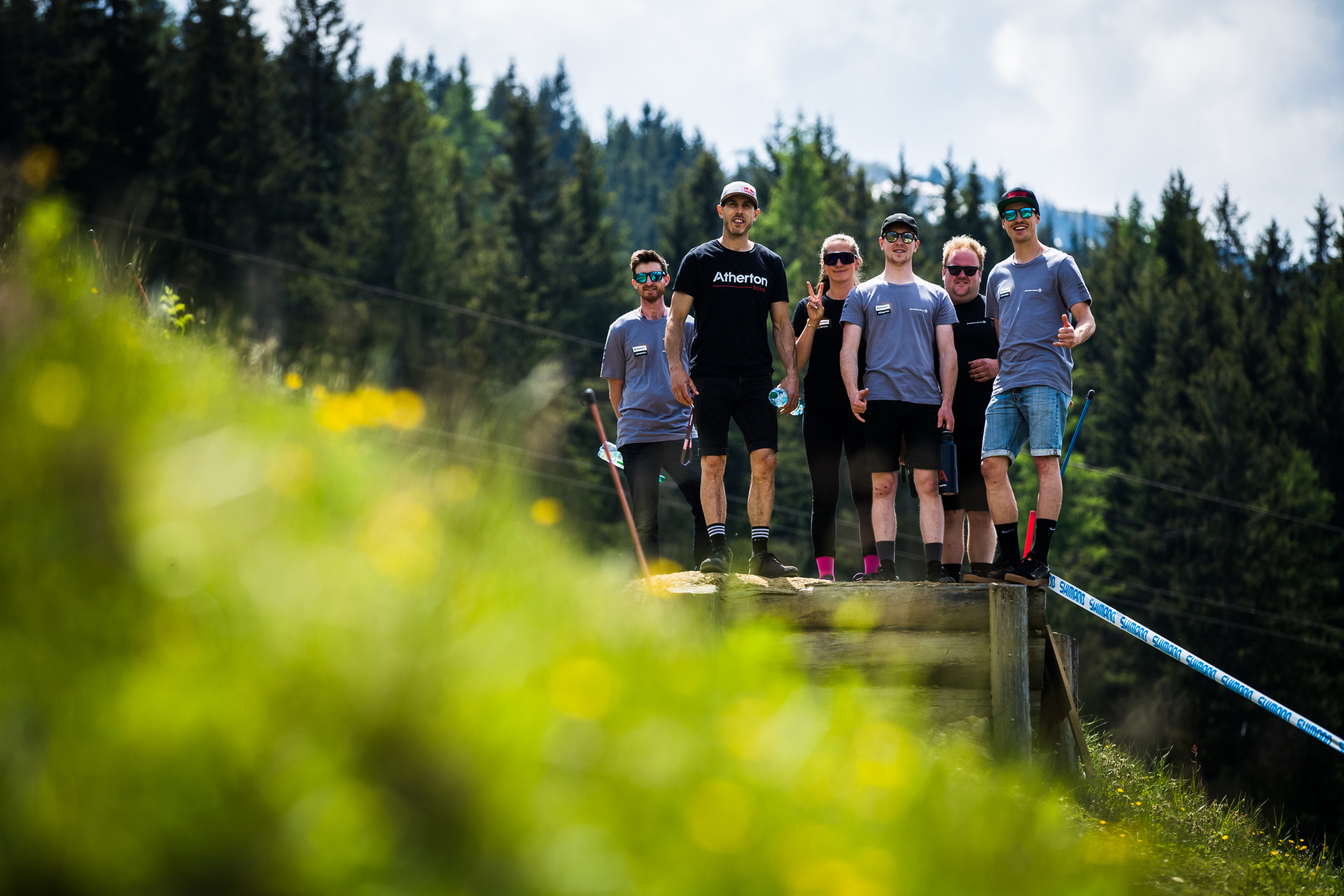 PHOTO: Sven Martin
The first Atherton bike I got to ride was the 150mm. On the first look you can see that someone put a lot of love into it. It just looks phenomenal, so clean with no cables hanging around. I'm a big fan of that, unboxing it was something else. I'm overwhelmed by the way the frame is constructed and how the 3D printed lugs fit to the carbon tubes. It's awesome. The trail bike is really playful but it's also good on the fast, a real all-rounder. I never liked pedalling but having this bike has made training much more fun.
The DH bike really affects how I ride in technical sections. Because it's so playful I can ride lines that I never could have handled before, the Conti tyres hook up really well and the Trickstuff brakes are amazing, so even though the bike is faster than I'm used to I feel like I can brake later and stronger.
It's been great to have a few days riding with the team before we head straight into World Cups. Riding with Gee is an honour and walking into the pits for the first time was breath -taking, such a crazy dream, but everyone was so nice and chilled. I'm so glad to have that time to settle in and do some riding. Charlie (Hatton, my 2nd new team -mate) is really good at finding crazy doubles or triples in the roots, we always go for different lines so it's cool to learn from each other. Last year we were pretty much the same speed, so hopefully we can push each other further up the ranks.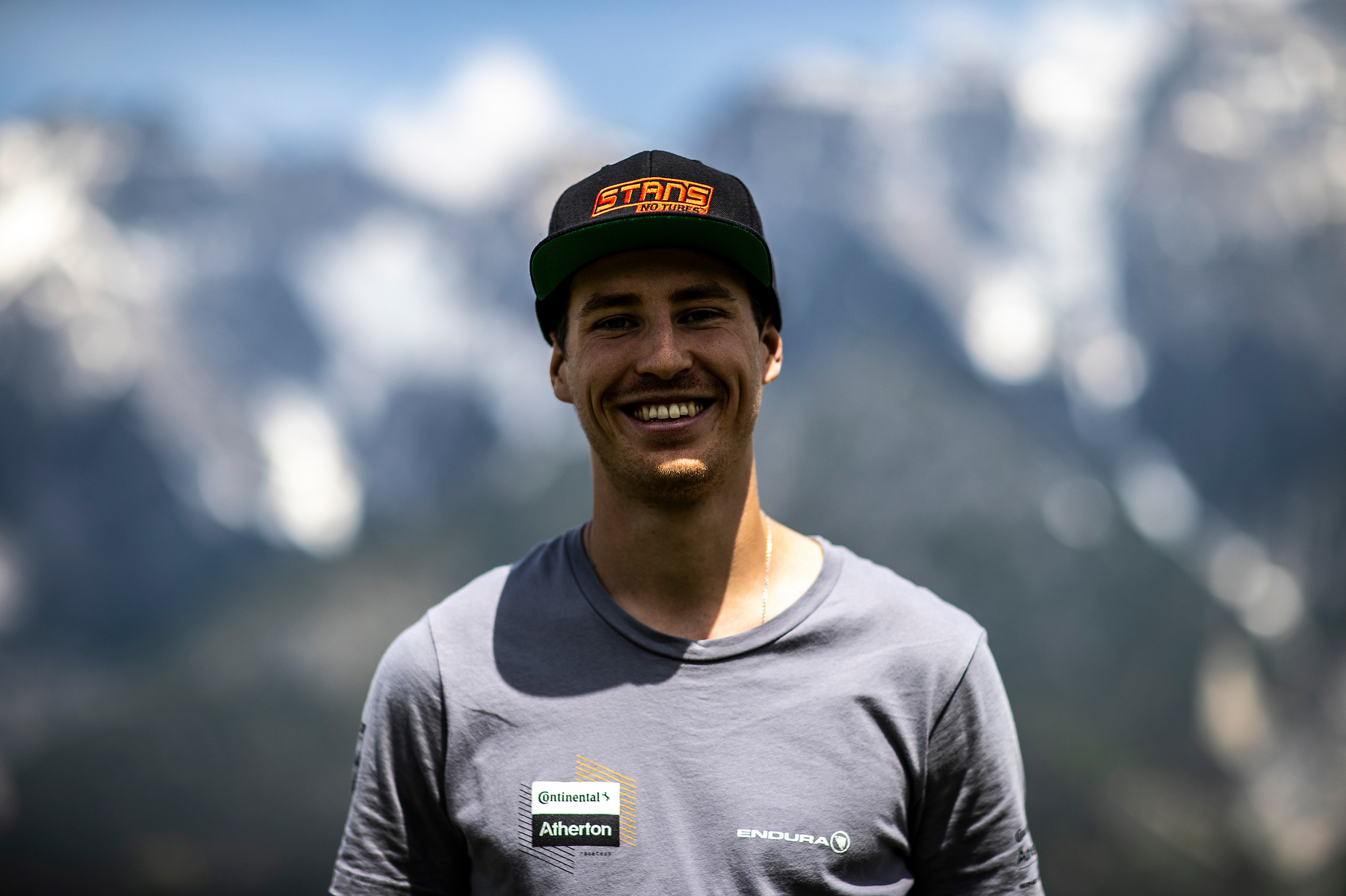 I really like the Leogang track and I'm on my home turf so starting the season here is great.
In summer, I mostly ride in Schladming and Leogang. I've also got a few secret tracks which are a little bit tighter and harder than the bike park tracks. In winter I ride a lot at Schöckl near Graz city and David Trummer`s home spot. Schöckl is one of the toughest tracks I know but the Atherton DH Bike was amazing there. I also managed to get a few full runs of the World Cup track in Maribor – I've never seen it so rough; the bike felt great – no weird moves, really stable and with exactly the right amount of stiffness. I usually get a lot of arm pump but that's so much better now I'm on the Atherton, it does exactly what I want.
Last week I rode in the Austria Cup in Königsberg, my run was in a massive storm. I was 3rd overall but the 2 guys who beat me rode in the dry – I know that I'm consistently faster than them so I was Ok with being fastest in the wet. It really was no fun, creeping down the hill at 5 km per hour but I'm definitely more in control on this bike. I was always the guy who crashed a lot but I feel way safer, I think I've only been off three or four times since January and one of them was a really dumb mistake, that's really good for me!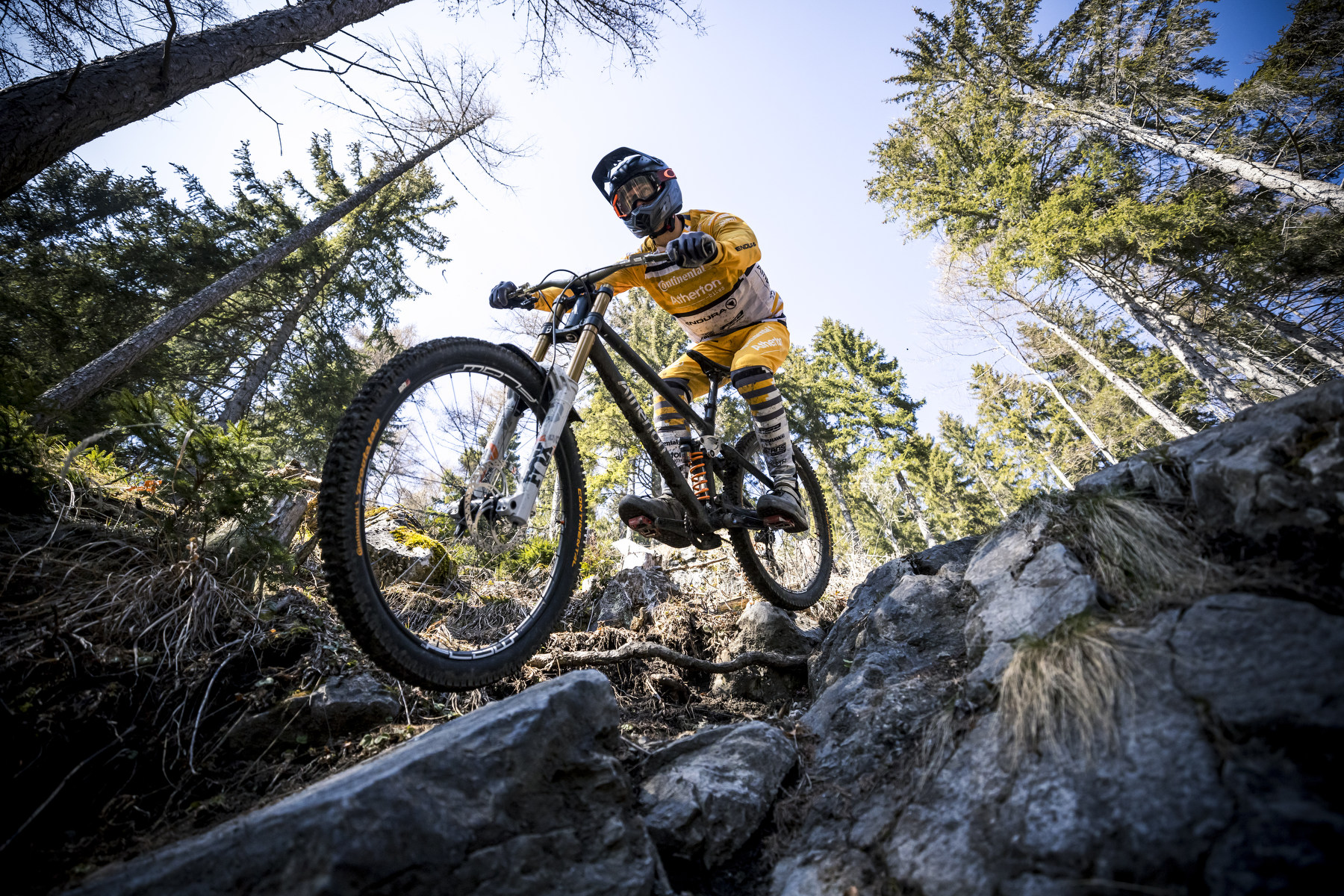 I've had such great reactions to the new bikes, in the lift queues everyone wants to touch it. When I tell them about how it's constructed they're absolutely blown away. Everyone here loves the clean lines, the engineered look it has and the simplicity, everyone wants to buy the mullet!
Having such great bikes and being part of such an awesome professional team means I feel really great mentally. How can I blame any shortcomings on anything but myself? It's amazing to have that level of confidence, to be free of any distractions; it definitely makes me a better rider. Track walk with the team was all time. Some really good chat, and the Leogang track is the best I've ever seen, there's more flow. There was a tiny treble just before the motorway that they've taken away so we should be able to hold speed through there, and they've improved the woods. The weather's looking a bit mixed so let's hope that settles.